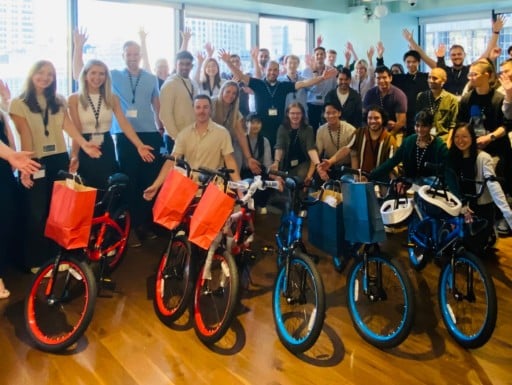 Addepar gathered 45 recent hires from international locations for a Build-A-Bike® event at their New York office. This event was particularly meaningful for these new team members, many of whom were visiting NYC for the first time. The bicycles assembled during the team-building activity were donated to Children of Promise NYC. This organization is dedicated to supporting children with incarcerated parents.
Founded a decade ago, Addepar has revolutionized the financial sector by providing real-time reports and insights to wealth managers across thirty global markets. The company's technology empowers wealth managers to make better investment decisions, fostering a transparent financial ecosystem.
New Hires at Addepar Assemble Bicycles for Children of Promise in New York, New York
This was not just another team-building event for Addepar. It was an initiation of international new hires into the company culture. The excitement was palpable as these recent hires, many experiencing the Big Apple for the first time, came together. The Build-A-Bike® event not only helped them connect with their colleagues but also with the community they're now part of.
What set this event apart was its charitable angle. Addepar partnered with Children of Promise NYC, an organization that works exclusively with kids who have an incarcerated parent. Over 100,000 children in NYC fall into this category, and the organization plays a critical role in their lives. The assembled bikes were a beacon of hope and joy for these children, and the Addepar team found the experience incredibly rewarding. Knowing that their efforts would directly improve the lives of children in challenging circumstances added a layer of meaning to the team-building activities.
We extend heartfelt thanks to Addepar for their generous donation to Children of Promise NYC. Their efforts have a profound impact on the lives of these children. A big shout-out also goes to Children of Promise NYC for their incredible work in supporting this vulnerable segment of our community.
Are you a new team looking to bond over a meaningful cause? Connect with us to host your own charity event in New York, NY, and make a lasting impact in your community!