The American Textile Company decided to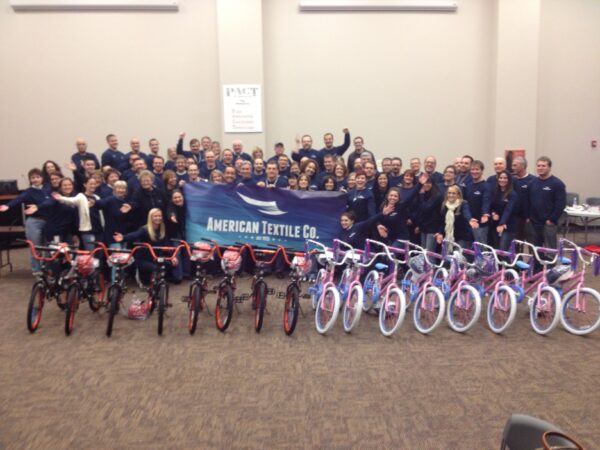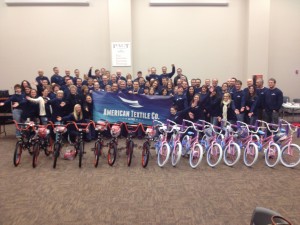 host a Build-A-Bike® Team Building Workshop to kick-off a 3-Year Strategic initiative they wanted to launch.  The event took place adjacent to their company headquarters in Duquesne, Pennsylvania, which is located a few miles Southeast from downtown Pittsburgh.  The uniqueness of the location is that their headquarters are located right in the middle of where the major steel companies had their factories on the bank of the Monongahela River.  The American Textile Company for nearly 90 years is one of the industry leaders in the manufacturing and supply of bedding products such as mattress and pillow protectors, bed pillows and mattress pads.
The leadership of the American Textile Company wanted to launch their new strategic initiative called PACT, which is a three-year plan to drive greater success and growth for the company. For the unveiling of this initiative, the company gathered over 100 of their top management and first went through a series of principals that the strategy is based on.  Many in the audience were also introduced to the display of their newly designed company logo.
Afterwards, as the snow started to pick up outside, the team went to work by engaging in the Build-A-Bike workshop and enthusiastically working through challenges to accumulate their bicycle parts.  With the large audience, 16 bicycles were constructed and the teams realized that in order to be successful in putting their bikes together they had to work together as one unit rather than 16 individual teams.
All 16 bicycles were graciously accepted by the Wilmerding YMCA.  The bikes will go to at risk children in 3 different housing projects in McKeesport and North Versailles, PA.  The YMCA will work with the housing authorities to identify specific children who can benefit the most from these bicycles.  They are also looking partner with the American Trauma Society to do a bike safety program in early spring so that the children who received the bikes can be educated on safety when riding their bikes. Overall, children in McKeesport, Clairton, East McKeesport, North Versailles and Braddock, PA will benefit from the donation by the American Textile Company.
| | |
| --- | --- |
| | Mitesh Kapadia is the Regional Instructor for the Northeast region. He is based in New York City, but he also teaches in Newark, New Jersey, Philadelphia, and all New England Cities including Boston, Providence and Hartford. |
Interested in a Team Building Event of Your Own?