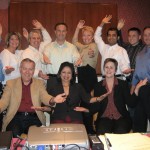 The Fearless Presentations® Public Speaking Class is the fastest, easiest way to reduce stage fright and the fear of public speaking. This 2-day presentation training seminar helps participants gain poise and confidence in front of a group — fast! Stage Fright is still the #1 fear in America. And, right or wrong, people form a perception of who we are and what we represent by the confidence that we show when we deliver business presentations. A person who can stand in front of a group, with poise and confidence, can immediately create the perception of competency. However, a person who is shy and timid in front of a group will have a tough time convincing the audience that he is capable.
August and September Fearless Presentations® Public Speaking Classes
2011 Aug 11-12 Indianapolis IN
2011 Aug 15-16 Dallas TX
2011 Aug 18-19 Miami FL
2011 Aug 23-24 Boston MA
2011 Aug 25-26 Baltimore MD
2011 Aug 25-26 Philadelphia PA
2011 Aug 30-31 Seattle WA
2011 Sept 8-9 Columbus OH
2011 Sept 13-14 Chicago IL
2011 Sept 15-16 New York NY
2011 Sept 20-21 San Diego CA
2011 Sept 22-23 San Francisco CA
2011 Sept 27-28 Austin TX
2011 Sept 29-30 Orlando FL
Click and of the links above for details about or to register for any of these public speaking seminars.
---
Author: Doug Staneart, Date Published: August 3, 2011
Doug Staneart is president of The Leader's Institute ®. He is based in the Dallas, Texas Region. He is a specialist in corporate team building activities and custom presentation skills seminars.
More Articles Like This... Past Fearless Presentations ® Classes Tagged with: baltimore • boston • class • classes • dallas • fearless presentations • indianapolis • miami • philadelphia • public speaking classes

---