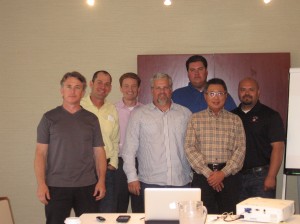 Public speaking class comes to Los Angeles, California.  The Leader's Institute® recently held its public speaking class in Los Angeles, California.  This was an extremely varied group, with participants in the health care industry, jewelry design, well servicing, and auto manufacturing, to name a few. Because the group was so diverse, everyone was able to learn from other participants by seeing different styles of presenting.  One of the items the class covers is the strengths and weaknesses of different types of speakers.  The goal of the class is for everyone to maximize their strengths and improve upon their weaknesses.  Rather than coach the participants to present the same way, each individual is coached to utilize their own style and uniqueness when presenting.  This particular class had everyone from entry level employees to Vice Presidents of companies, which allowed for a great learning experience for all of the attendees.  By the end of the two-day public speaking class, everyone was able to vastly improve presentation skills. The Leader's Institute® conducts its public speaking class in Los Angeles, California every three months, as well as all major cities across the United States.

For a Complete List of Upcoming Classes, Visit the upcoming presentation skills classes post. You can can click here for details about the Fearless Presentations ® class.
---
Author: Chris McNeany, Date Published: May 29, 2012
Chris McNeany is an instructor for The Leader's Institute ®, and he is based in the Los Angeles, California Region. He is a specialist in custom team building activities and presentation skills classes.
More Articles Like This... Past Fearless Presentations ® Classes Tagged with: california • class • los angeles • public • public speaking • public speaking class • speaking

---