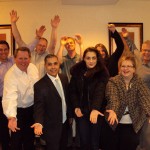 Last week in Chicago, nine people were in attendance at a Fearless Presentations ® class by The Leaders Institute ®. Everyone shared openly and enjoyed the different activities aimed at increasing their comfort in presenting and their ability to deliver effective public presentations. Feedback suggested that people most benefited from the preparation and delivery advice for effective presentations. During the class and they learned a lot from the over correction (adding enthusiasm) exercise. Many expressed success in addressing their fear of public speaking. It was a great group from all over including people from: Nova Scotia, Iowa, Wisconsin, Indiana, Michigan and Illinois.  Presentation skills and training are great assets, regardless of career or industry.
For a Complete List of Upcoming Classes, Visit the upcoming presentation skills classes post. You can can click here for details about the Fearless Presentations ® class.
---
Author: Craig Wagganer, Date Published: April 5, 2010
Craig Wagganer was an instructor for The Leader's Institute ® from 2007-2012. For more details, you can find him on LinkedIn.
More Articles Like This... Past Fearless Presentations ® Classes Tagged with: chicago • fearless presentations • presentation skills • public speaking • public speaking class

---