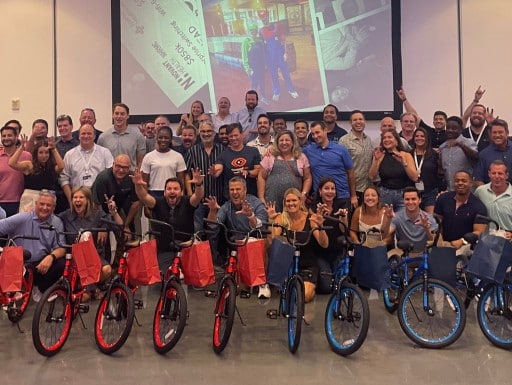 Cisco Systems, Inc. gathered its Southeast region sales team for an exhilarating Build-A-Bike® event at The Cosmopolitan of Las Vegas, NV. With 110 participants, this team-building activity offered a unique blend of competition, collaboration, and philanthropy. This set the stage for a memorable experience for all involved.
Listed on NASDAQ as CSCO, Cisco Systems, Inc. has been revolutionizing the way the world connects since 1984. A group of computer scientists from Stanford University originally started Cisco. They specializes in hardware, software, and service offerings that enable robust Internet solutions. Today, Cisco employs more than 71,000 individuals globally. They continue their tradition of innovation in key development areas like routing and switching. Additionally, they develop advanced technologies like home networking and IP telephony.
Cisco Southeast Sales Team Assembles for Build-A-Bike® in Las Vegas, Nevada
The sales team from Cisco's Southeast region came together with great enthusiasm for this special Build-A-Bike® event. The event fostered strong communication and teamwork among the participants. The energy and competitiveness inherent in sales roles were channeled into constructing bicycles, offering an engaging way for the team members to collaborate and bond.
Beyond team building, the event had a charitable aspect that left a lasting impression on all attendees. The bicycles built were donated to the Pearson Community Center, serving the local community of North Las Vegas. This act of giving back not only fulfilled a social responsibility but also imbued the event with a sense of purpose and achievement that went beyond individual goals. The Pearson Community Center graciously accepted the bicycle donation, affirming the positive impact Cisco's team building activities will have on children in the community.
We extend a heartfelt thank you to Cisco Systems, Inc. for incorporating charity into their team-building experience. Our deepest gratitude also goes to the Pearson Community Center for their ongoing work to improve the lives of local children.
Interested in mixing business with philanthropy? Explore our Build-A-Bike® and our other charity team-building events in Las Vegas, NV!