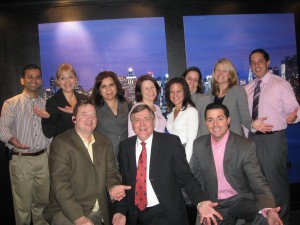 Class participants showed great interest in advancing their careers at the Fearless Presentations ® Public Speaking Course class recently in New York City. The class was held at our office at 80 Broad Street, New York, NY. Having long been considered the "melting pot" of America, the New York class had participants from several states in the U.S., India and Brazil, and all were interested in how improving public speaking skills could advance their careers. One participant owns a global business consulting company and needed to improve her ability to speak publicly about her company. Another has a new position in sales and needed help becoming more clear and concise in sales presentations. Still another will actually be making a presentation to the senior leadership in his company regarding his promotion.
How does one class address all these needs? Fearless Presentations ® is about so much more than anxiety in public speaking. The class deals with using personal examples, how to be persuasive, impromptu speaking, and to write a speech, power point tips, enthusiasm and energy and how to be impactful with your audience. Josh who completed the class in New York said, "The class took a novice speaker and developed a semi-advanced speaker in just 2 days!" Janet commented, "Thank you so very very much. I have taken plenty of classes through American Management Association as well as the Horizon Institute and this was by far one of the best classes I have taken."
Rick Highsmith is a Senior Instructor with The Leader's Institute. He is the author of the book, Squish Creativity Like a Bug.

For a Complete List of Upcoming Classes, Visit the upcoming presentation skills classes post. You can can click here for details about the Fearless Presentations ® class.
---
Author: Doug Staneart, Date Published: May 28, 2011
Doug Staneart is president of The Leader's Institute ®. He is based in the Dallas, Texas Region. He is a specialist in corporate team building activities and custom presentation skills seminars.
More Articles Like This... Past Fearless Presentations ® Classes
---