Hilton Hotels in Baltimore Maryland Create a Memorable and Philanthropic Rescue Bear Team Building Workshop: Fun and Team Building were the goals of this exciting and memorable event located on-site to one of Baltimore, Maryland's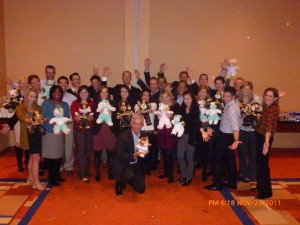 most beautiful hotels located right next door to the Historic Camden Yards (home to the Baltimore Oriels).  Members of the Luxury Brand of the Hilton Family of Hotels participated in tam building activities that focused around communication, problem solving, and most important, FUN!!
And, the big winners were the Baltimore Police Department.  They will be the recipients of the awesome stuffed animals that the teams worked together by solving clues to earn all the supplies necessary to assemble the stuffed animals.  To say that everyone fun was said to be an understatement.  The laughter was from beginning to end with this incredible event.
If you would like your group to participate in a fun, challenging, and true bonding time contact The Leaders Institute to get information on the Rescue Bear Team Building Workshop.