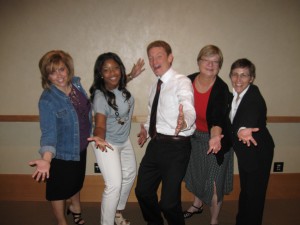 We had a really nice group of women attend the Fearless Presentations ® Public Speaking class in Detroit, Michigan last week. This was a smaller class, so each participant got a great deal of one-on-one coaching from the instructor, and the presentations that they designed were very well done. Fearless Presentations ® helps participants eliminate the fear of public speaking by coaching them during a series of step-by-step presentations leading to a fairly complicated final presentation. However, by the time that the participants get to this final presentation, it's really almost second nature. This group was even able to cover some additional material because we had a little extra time due to the class size. We had a lot of fun!

For a Complete List of Upcoming Classes, Visit the upcoming presentation skills classes post. You can can click here for details about the Fearless Presentations ® class.
---
Author: Doug Staneart, Date Published: July 11, 2011
Doug Staneart is president of The Leader's Institute ®. He is based in the Dallas, Texas Region. He is a specialist in corporate team building activities and custom presentation skills seminars.
More Articles Like This... Past Fearless Presentations ® Classes Tagged with: detroit • fear of public speaking • fearless presentations • michigan • public speaking class

---