Steele Steadiman is a boss… (not a leader or a manager) and is in an eternal conflict with human resources. If you are looking for leadership training or to be a good coach with your direct reports, it's a good idea to just do the opposite of what he suggests. However, if you are looking for a very entertaining keynote speaker, Steele will get your group fired up.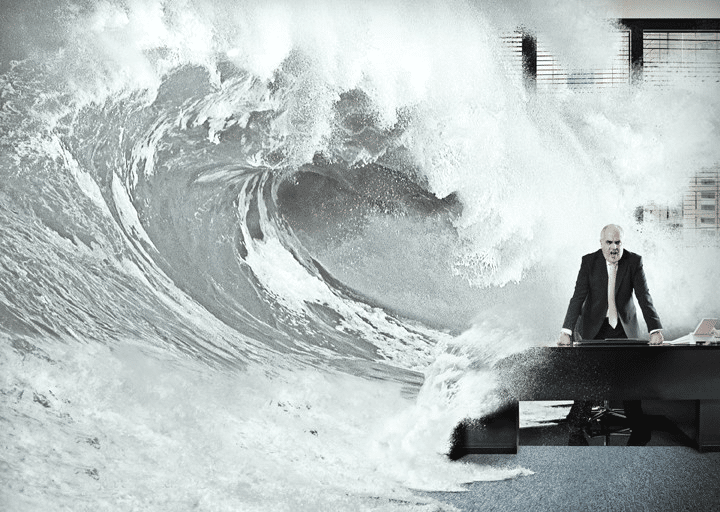 A survey by Accountemps indicates Managers spend an average of
18 percent
of their time intervening in employee disputes. That is more than seven hours a week or nine weeks per year.   Past Accountemps studies from as far back as 1991 show very similar results.
These survey results show what it is important to be a Strong Boss.  Employees' personal problems are messy and like a tidal wave of emotion can eat up a lot of time.  The touchy, feely folks at Accountemps offer five tips for minimizing personality conflicts.  I have added my own suggestions.
1.     Know when to step in. You don't want to interject every time a minor issue arises, but you can't afford to turn a blind eye to problems that jeopardize the group's output… Steele says, "Punish all parties involved in the disruption.  This will keep employees from bothering you with their petty problems."
2.     Don't let one bad apple spoil the bunch. When friction is clearly stemming from the actions of a single individual, remind that person that the ability to collaborate and treat coworkers with respect is a requirement of the job.  Steele says, "Collaborate?!?  No, Elaborate your dissatisfaction with the employee twice and then fire the troublemaker."
3.     Help employees get to know each other. Provide opportunities for your staff to interact in non-work activities, such as lunches or volunteer activities; familiarity can breed greater understanding.  Steele says, Oh please!  Strong Bosses don't get involved in familiarity.  Remember familiarity breed's contempt.  Keep your distance from employees and don't waste time on socializing.
4.     Reward positive role models. Dole out praise, promotions and choice assignments to individuals who contribute to a supportive work environment. Recognizing staff for being team players sends a clear message that how they interact with others is as important as their job performance.  Steele says, "You can tell eggheads from Human Resources are involved with this suggestion.  Nothing is as important as job performance.  To suggest that being a team player is the same as being the top producer is just silly!
5. Make good hiring choices from the start. Hiring individuals with excellent interpersonal skills who are a good fit with your organization's culture will reduce the potential for future conflicts.   Steele says, "It is a big mistake to look for interpersonal skills in hiring.  People like that talk too much and want to be happy.  I think you look for the best talent with the least interpersonal skills.  This way the new employee keeps their mouth shut, head down and focuses on the work in front of them.
Steele Steadiman is a Bosses' Boss.  After a successful career in the business world, he is committed to showing weak leaders the path to control.  Steele is the author of "Squish Creativity Like a Bug." He lectures and travels the world helping bring managers and leaders to his level.