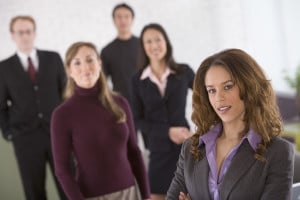 High Impact Leaders is a powerful leadership course focusing on soft-skills that help participants become more confident leaders and managers. While technical skills and knowledge are important to start you on the road to success, the "soft skills" like communication and leadership skills will speed you down that road much more quickly. Skills focused on in this program include public speaking, listening and communicating, people skills and how to motivate people, memory, problem-solving, meeting skills, and the ability to develop more leaders within the organization. This program is composed of over 30 different 1.5-hour leadership modules, so it can be easily customized to fit the specific needs and time frame of your company! (Add a Pre and Post Assessment to the program for added value.
Key Soft Skills (Outcomes) Developed in this Leadership Course.

Custom Leadership Development Workshops

Below are the sessions from the High Impact Leaders Leadership Course. Each session is its own, stand-alone, course, and you can attend single sessions or purchase multiple sessions for a discounted tuition. Click any of the titles below for additional details about a particular session. Each session is designed to last 3 to 3.5 hours with a 15 minute break in the middle. Sessions work best when they are spaced a week apart to increase application at work, but sessions can be delivered in a 2-day or 3-day format as well.




High Impact Leaders

Average rating:

1 reviews

Jul 31, 2017

Chris has always done a great job when he works with our District!! He does... See More
Part A: How to Remember Names
Part B: Setting Clear Visions and Goals for the Future
Part A: 10 Ways to Reduce Public Speaking Fear
Part B: Mastering the Talk of Introduction (Your 60 Second Commercial)
Part A: A Simple Behavior Assessment Tool that will Help You Communicate with Masses
Part B: Improve Your Memory and Improve Your Status Among Your Peers
Part A: Seven (7) Ways to Build Trust and Rapport with Your Team
Part B: Leadership through Story Telling
Part A: The Ten (10) Commandments for Conducting Meetings
Part B: Group Problem-Solving and Mastermind Meetings
Part A: Seven (7) Ways to Reduce and Resolve Conflict
Part B: Motivation and Persuasion Skills
Part A: Design Your Presentation with Ease
Part B: Add in Powerful Visual Aids and Showmanship
Part A: Seven (7) Ways to Gain Enthusiastic Cooperation from Your Team
Part B: Coaching Your Team
Part A: Five (5) Ways to Add Enthusiasm to any Presentation
Part B: Adding Entertainment Value to Your Presentations
Part A: Seven (7) Ways to Build Leaders Around You
Part B: The Best Leaders Ask the Best Questions
Part A: Time Management and Stress Reduction Clinic
Part B: Efficient Coaching and Disciple Sessions
Part A: Impromptu Speaking with Confidence
Part B: The Leadership Toolbox
Tuition is $395/individual session, $1295 for four sessions, $1695 for eight sessions, or you can purchase a year membership to attend any or all sessions of the class for an entire year for just $1995. Tuition includes all materials and instruction and also includes the ability to come back to a future classes to qualify for the Leadership Development Certificate given to participants who demonstrate real-world application of the leadership skills and management skills developed in the seminar.
"This program has helped me to create a better working atmosphere where employees are encouraged, praised, and empowered, and they feel like they are each important and valued." –Ralph Marquez, Beck, Area Mgr
For More Information, Complete the Form Below