Miami Florida Team Building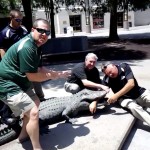 All of our fun Miami Florida team building activities are custom programs designed just for your team. We service all of Miami, Ft Lauderdale, and Hollywood, FL. Most of the team building activities that we conduct in the Miami area are at hotels on South Beach and Ocean Drive. However, we also have led a number of programs for companies downtown and in Coconut Creek. The most popular event in Miami is the Camaraderie Quest outdoor scavenger hunt. It offers your group a way to build teamwork while exploring this resort area. If you are looking for a more philanthropic team activity, we offer five different charity team building activities in Miami as well. For a complete list of programs, click the links below for details.
Team Building Activities in Miami, FL
The Leader's Institute – Miami ®

201 S Biscayne Blvd #2800
Miami, FL 33131 US
Phone: (786) 472-1254



For More Information or to Request a Quote…
A Few Recent Miami Florida Team Building Activities.

Aug 2013 Fearless Presentations Miami, Fl The Leaders Institute ® facilitated their signature public speaking workshop in Miami Florida in August, 2013. Ten participants from various industries attended the two day workshop looking to improve their public presentation skills. The participants were attracted to the Leaders Institute's ® Fearless Presentations ® workshop for its' strong reputation in public speaking expertise. ...
Cisco Buld-A-Bike Orlando, Florida Cisco Corporation chose The Leaders Institute to put on a Build-A-Bike ® team building event for their Military Division at their annual conference in Orlando, Florida. Maggie Shaffer, the planner for this event had gotten strong recommendations from former Build-A-Bike attendees within the Cisco organization to influence her decision. She was looking for a ...
Cisco Corporation Bulid-A-Bike Orlando, Florida Cisco, a long time client with the Leaders Institute, chose to do a Build-A-Bike with their Orlando Florida  conference at the Embassy Suites. This was a natural choice for Tony Blount of Cisco to include the Build-A-Bike. Tony contacted The Leaders Institute upon recommendation from Cisco employees who had experienced The Build-A-Bike event at other Cisco company conferences. ...