Team Building Activities San Diego
Team Building San Diego
San Diego is a very popular location for conventions and team building activities. We offer over eight different San Diego team building activities that your team can choose from. Because of the fantastic weather in San Diego, outdoor team building activities like the Camaraderie Quest are often requested. In fact, we had a blast delivering one of these for ViaSat at Legoland recently. Southern California is also know for it's focus on the community, so many of our charity team building events are also very popular here.
List of Activities
Event Catalog PDF
Fun things to do in the city where leadership starts!
Balboa Park is a 1,200-acre urban cultural park in San Diego, California, United States. In addition to open space areas, natural vegetation zones, green belts, gardens, and walking paths, it contains museums, several theaters, and the world- famous San Diego Zoo.
The San Diego Zoo is a zoo in Balboa Park, San Diego, California, housing more than 3,500 animals of more than 650 species and subspecies. Its parent organization, San Diego Zoo Global, is one of the largest zoological membership associations in the world.
La Jolla Cove is a small, picturesque cove and beach that is surrounded by cliffs in La Jolla, San Diego, California. The Cove is protected as part of a marine reserve; underwater it is very rich in marine life, and is popular with snorkelers, swimmers and scuba divers.
The USS Midway Museum is a historical naval aircraft carrier museum located in downtown San Diego, California at Navy Pier. The museum consists of the aircraft carrier Midway. The ship houses an extensive collection of aircraft, many of which were built in Southern California.
Belmont Park is a historic amusement park located on Ocean Front at Surfrider Square in the Mission Bay area of San Diego, California. The park was developed by sugar magnate John D. Spreckels and opened on July 4, 1925 as the Mission Beach Amusement Center.
Birch Aquarium at Scripps is an aquarium and the public outreach center for Scripps Institution of Oceanography at the University of California, San Diego. Accredited by the Association of Zoos and Aquariums.
WHAT ARE YOU WAITING FOR? VISIT SAN DIEGO!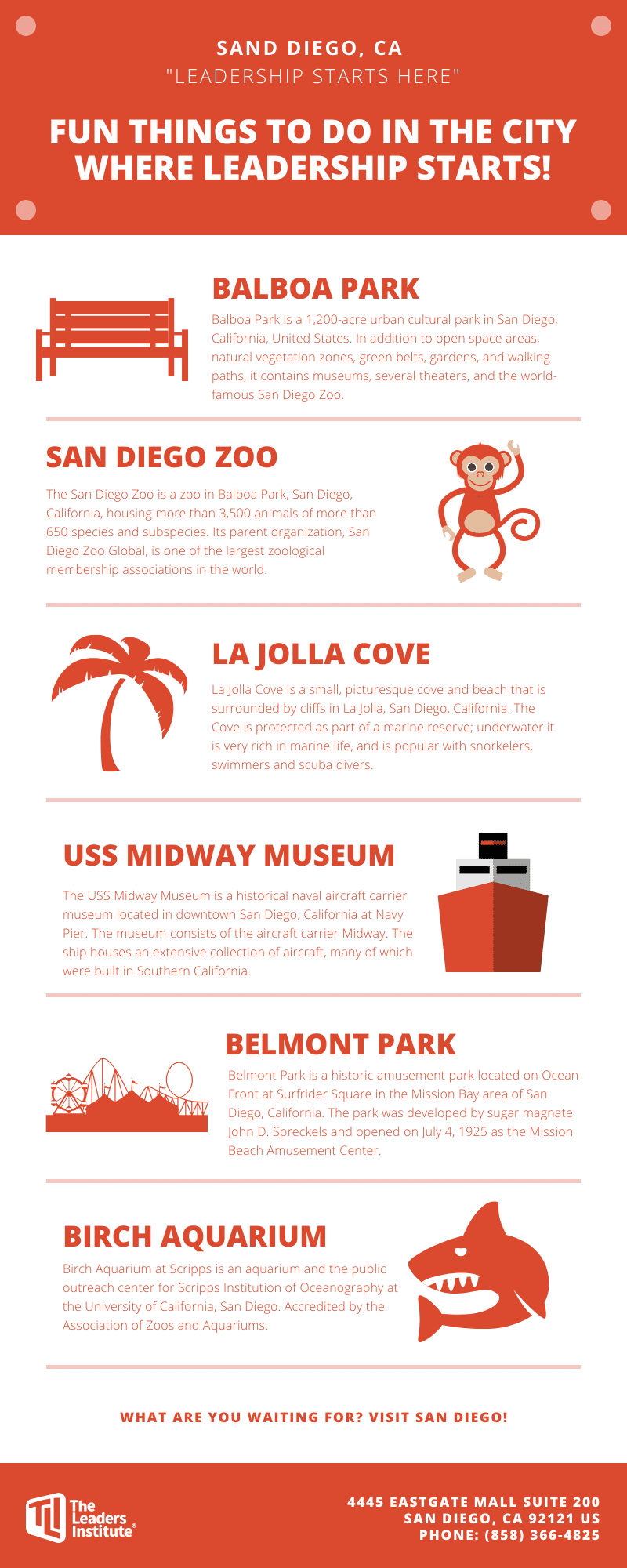 A Few Recent San Diego Team Building Activities.
Lytx hosts Build-A-Bike in San Diego, CA Lytx hosts Build-A-Bike ® Event: Lytx, a company which provides technology and analytics for transportation companies, hosted a Build-A-Bike ® team building event in San Diego, CA just before the holidays. Most of the group of 30 participants has been working for Lytx for less than a year, so they wanted to find a way ...
ViaSat Build-A-Bike event in Carlsbad, CA ViaSat has worked with The Leader's Institute ® two previous times in 2015, where they participated in Camaraderie Quest team scavenger hunts. They decided to do one more event in 2015 as a good way to end the year. The goal was to have fun and give back to the community, so they chose to ...
ViaSat, Inc. Team Scavenger Hunt at Legoland Hotel in San Diego, CA ViaSat, Inc. wanted to end a full day of meetings with a fun team building event on July 30, 2015, so they decided to do a Camaraderie Quest team scavenger hunt. The location of this event was the Legoland Hotel in San Diego, CA, which was a perfect venue for this type of activity. Each ...
Team Building Activities in San Diego
4445 Eastgate Mall Suite 200
San Diego, CA 92121 US
Phone: (858) 366-4825
Mar 6, 2020
The instructor was great and so was the event!
Mar 6, 2020
This event was the highlight of our marketing kickoff. Our team members were beaming with pride in the work we did together that was supportive of the local community. Having the four kids there to get their bikes and celebrate with us was just over the top. The process of working with you was seamless from inquiry to SOW to the handoff to the instructor and then the logistics at the hotel. The instructor was fantastic onsite. The team loved his sense of humor and engagement with the team. We would definitely turn to you and your team for future similar activities!
Request more information by filling out the form below!