Like this Post? Share it with Your Friends: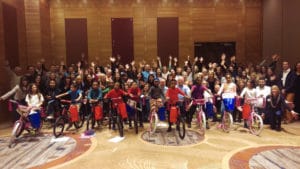 The Leader's Institute ® recently taught a one-hour personality temperament and Build-A-Bike ® team building event in Seattle, Washington. Both events were led by Los Angeles based instructor, Chris McNeany. The personality types workshop is similar to other personality temperament workshops, but more simple and easy to interpret and use. After doing a brief personality types assessment, the instructor then gave a brief description for each personality type. He then gave a quick overview of general strengths and weaknesses for each type in the way they communicate. The group then broke into smaller groups, according to their personality types. The small groups discussed with each other what they felt that their strengths and weaknesses were. The discussion concluded with ways to overcome the weaknesses. They then shared this information with the larger group, enabling all the participants to learn something about their colleagues they might not have known before. The group then worked together on a Build-A-Bike ® team building activity, where they had to complete tasks in order to build their bikes. Once the bikes were completed, they had to pass a safety check. Some very excited children in need in the Seattle area then came to receive the bikes, to the surprise of the very moved participants.
A Combination of Personality Temperament and Build-A-Bike ® Gets Great Feedback.
"Thank you so much for facilitating a wonderful activity! As I'm sure you can imagine, we got nothing but positive feedback." — Moss Adams.
The combination of both the personality temperament and Build-A-Bike ® workshops fit really well together. With both activities participants get solid team building skill development and a philanthropic or charity donation to benefit the local community. Whether you are looking for a fun, high energy activity or solid team development, our instructors can help.
This event was held at the following location:
Hyatt Olive 8, 1635 8th Ave., Seattle, WA 98101.
Like this Post? Share it with Your Friends: