Posts Tagged 'build-a-bike'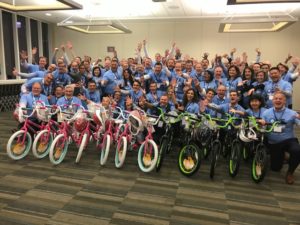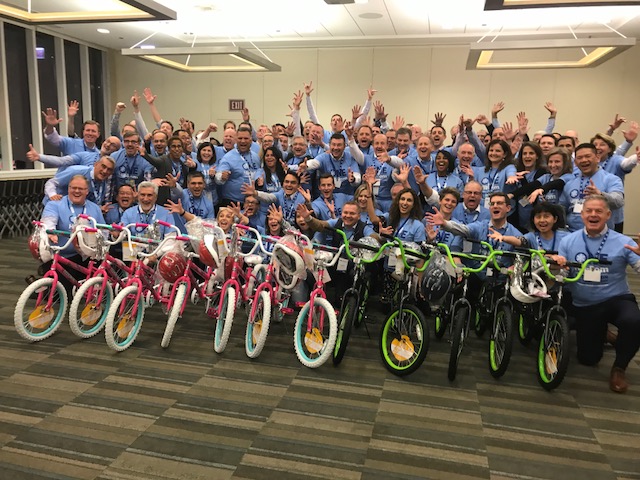 Last week, Hill Rom conducted an annual meeting for the executives in Chicago, IL. Hill-Rom is a healthcare company that is best known for 85 years of "bringing the home to hospitals". The company specializes in mobility equipment, wound care, and patient monitoring and diagnostic equipment. So, they conducted their healthcare philanthropic meeting at the Lurie Children's Hospital near the Navy Peer. The Grossman Group, a Chicago consulting firm, organized the healthcare philanthropic meeting. One of the executives at Hill Rom had worked with The Leader's Institute ® (TLI) at a previous company. He remembered that Doug Staneart, CEO of TLI, lead his meeting and wondered if Doug could do this one as well. So, Doug worked with a number of consultants at Grossman to really customize the program for Hill-Rom.
Customizing the Content of a Healthcare Philanthropic Meeting.
The Grossman team and Doug worked together to outline a specific agenda that would work well for Hill-Rom. Then The Grossman team went into action. "I enjoyed working with a detail-oriented consultant. They took a lot of weight off of our shoulders," said Doug. "The Grossman team inspired me.  They started with just a couple of ideas and put those ideas into action so quickly."
According to Doug, "To be honest, I don't get to do as much of the creative stuff, myself, anymore. We have a great team that customizes our events and activities for clients, now. But it was fun to get back to the TLI roots and create something from scratch with a professional client."
The group had a wonderful time at the event. We received a bunch of nice compliments after the program!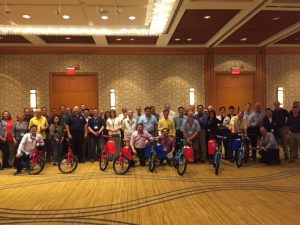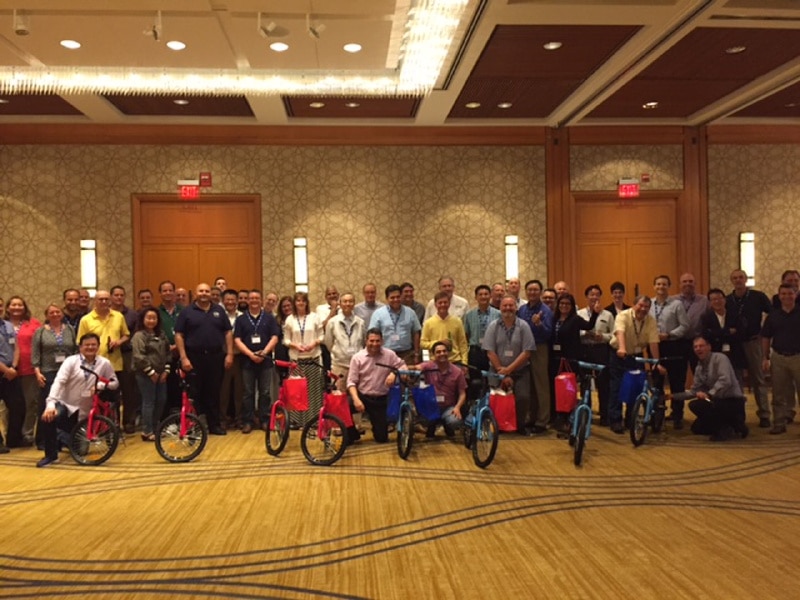 Sixty engineers from around the world came together for their yearly meeting. The ballroom was set with giant tic-tac-toe boards, pac man stations, and a massive inflatable skee ball booth. But the main attraction of the evening was a Build-A-Bike ® team building event. The spirited group huddled around the bicycle parts, ready to build the eight bicycles. But first they had to face the memory challenge, cheer contest, and the group puzzles. The teams brought three judges their puzzle answers but they didn't always get a bicycle part. If not, they ran back to their team to huddle and find a new answer. One team had gotten many pieces but they were not the pieces they needed. What to do? The facilitator, Laura, reminded them, "don't use your cell phones, you'll find all the answers you need in the room." Teams scoured the room, looking for answers. Soon enough they found them.
Build-A-Bike ® Team Building Activity in Oak Brook, IL
After doing a safety check of each bike, a special guest, Savina, of the Boys and Girls Club of Naperville came to accept the bicycles. She described the children receiving bikes. Each would go to an eager child.
Lisa Currie, organizer of the event said, "You did a great job. Everyone have so much fun. Thanks again."
This Build-A-Bike ® was facilitated by Laura Lewis-Barr on June 12, 2017 at The Hyatt Lodge, 2815 Jorie Blvd, Oak Brook, IL 60523
For more details about Build-A-Bike ®, click here. For details about other team building activities in Chicago, Illinois, click here.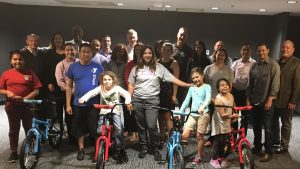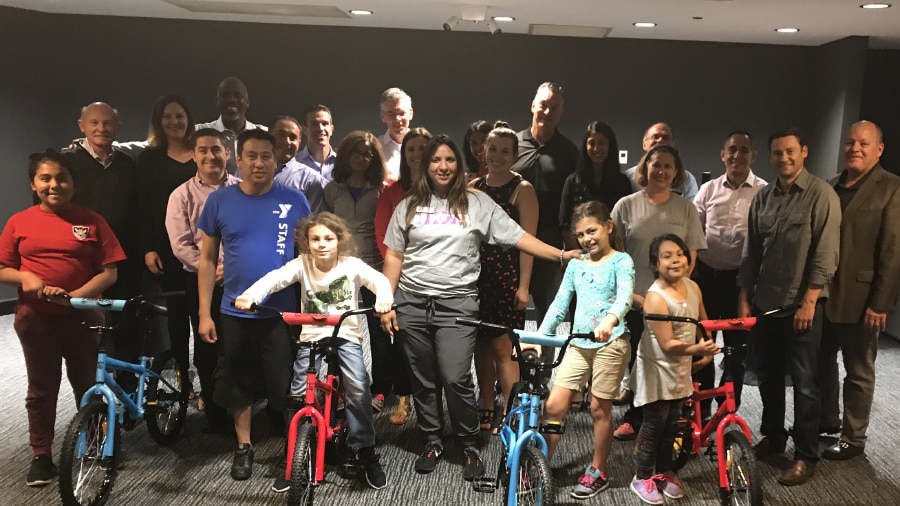 Vyaire Medical hosted several days of leadership workshops in Chicago, Illinois. They decided that a Build-A-Bike ® activity was the perfect way to get their group out of chairs and into some fun team building activities. They were a hardworking group of 22 supply chain professionals gathered from around the world. Like many successful groups, they were highly competitive and teased each other as some groups assembled bike parts faster than other groups. In the end, teams switched from competition to cooperation as they shared bike parts and expertise. They were especially delighted when their surprise guests, four eager children from the local Rauner YMCA, ran into the room to claim their newly constructed bicycles. The teams quickly adjusted seats and put air in tires so the kids were ready to go.
Feedback from Vyaire Medical Build-A-Bike ®
Nisa Ramirez later wrote to Vyaire, "Thanks again for the generous donation! Our children are ecstatic and ready to ride their new bikes. The four children we took today did not have bikes and are very thankful for your kindness."
Samantha. Getzinger, Executive Assistant to the CEO was equally thrilled. "Thank you- everyone loved it!"
The group is now looking to bring The Leaders Institute ® back to lead more Build A Bikes for other locations.
The Vyaire Medical Build-A-Bike ® was conducted at the W Hotel, 644 North Lake Shore Dr., Chicago, IL 60611 by Laura Lewis-Barr on June 28, 2017
For more details about Build-A-Bike ®, click here. For details about other team building activities in Chicago, Illinois, click here.
I recently had the pleasure to facilitate some bike team building in Chicago, Illinois for smart group of people from Castrol, a part of BP. This group wanted the focus of their holiday event to be about giving to others. Castrol found The Leaders Institute ® Build-A-Bike ® event and thought it was a perfect fit. Their group loved the idea of giving bicycles to children at Christmas. The group of fifty first enjoyed an amazing lunch created for them by their resident chef. (Nice!)
Castrol Bike Team Building in Chicago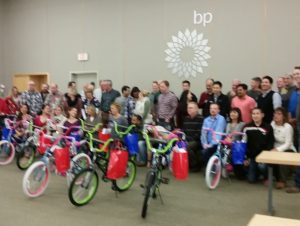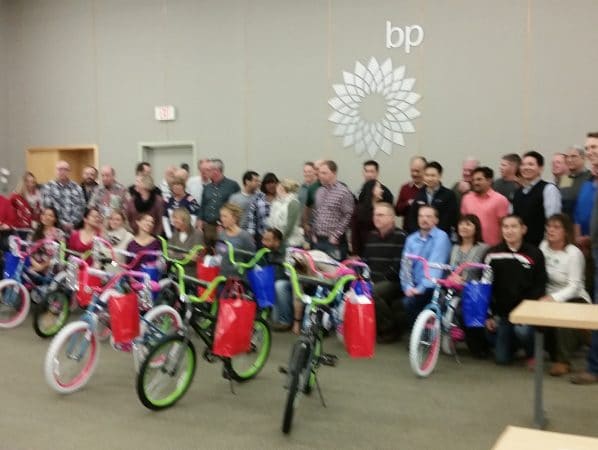 Then we started the Build-A-Bike ®. The group was smart. The saleswomen, chemists, and managers aced the memory game, the cheer contest, and the puzzles. The teams then competed and cooperated to share bike parts. After building their bikes, they took photos with their teams. In addition, others used the bicycle pump to make sure all tires were ready for the children. The groups hugged and joked. Then we took pictures as a larger group. But the main event had not really started for the Castrol teams. The children who would get the bikes were just getting out of school. Soon they would be on their way to the event. The entire group wanted to wait for them. While they waited, some teams went for coffee while others took a mannequin challenge. One of the resident videographers took a long film of the thirty participants frozen in space. Fun!
Fun Donation to a Local Chicago Children's Charity
The children and parents arrived in a caravan that first had to go through some security checks. Finally it was time. The boys and girls ran into the room and each claimed a bike. Sherid Smith from the local Boys and Girls club shared stories of some recent hardships these children had faced. The Castrol bikes were going to make this a much happier Christmas for them.
Afterwards the event organizer brought out homemade cookies for the children. It was cold outside but there was great warmth in this room. John, a chemist in the group said that the event had been "great" and he "loved the memory game."
This Build-A-Bike ® was facilitated by Laura Lewis-Barr on December 9th at Castrol Industrial, 150 West Warrenville Rd., Naperville, IL 60563. For details about bike team building in Chicago of your own, visit our Team Building in Chicago page!
---

Laura Lewis-Barr is president of Traning4Breakthroughs, and she is an expert presentation skills coach based in Chicago, Illinois. She teaches team building events in Chicago, Minneapolis, Indianapolis, St Louis, and other cities in the Midwest, and works with clients all over the world.

---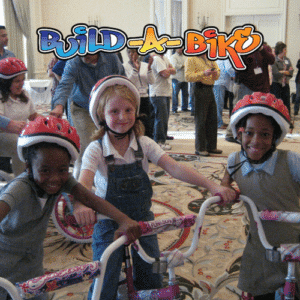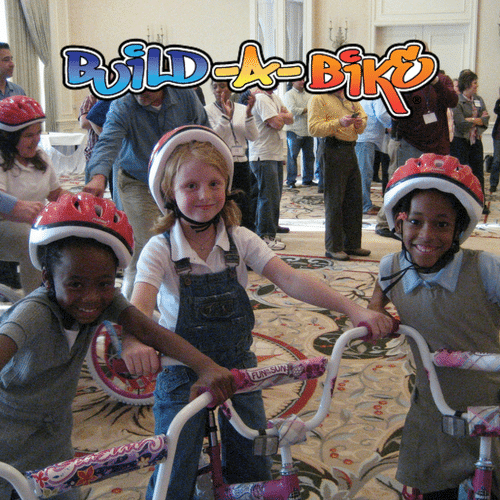 Since we created the Build-A-Bike ® team building activity in 2005, we have received thousands of requests to post the instructions for Build-A-Bike ® team building activity online. We've always been a little hesitant to post the instructions, because we have spent over a decade creating a brand that the public recognizes as a quality product. However, the event is so popular, that we really want to make sure that if you are doing one of these programs on your own, that you have every opportunity to make the activity successful.
A Few Cautionary Suggestions Before Organizing a Self-Facilitated Build-A-Bike ®
The absolute, most important thing to keep in mind about team building activities is, the larger the event and the longer the time frame, the more you will want a professional team building instructor or facilitator. If your group size is 20 people or smaller, and you just want a quick 30-minute fun activity, then the self-facilitated version might be excellent for you! However, if you want an event to last an hour or two, or if you have a group of 100 or more people, we strongly suggest that you higher a professional instructor. (We have a list of certified instructors located all over the US, Canada, and Europe. Just call us at 800-872-7830 for a list of instructors in your area.
When we deliver a Build-A-Bike ® activity, our goal is to keep every participant active and having fun throughout the entire event. If this is your goal as well, make sure and hire an instructor. The instructors on our list have each conducted HUNDREDS of events. They have seen everything. They can handle any challenge that presents itself. The biggest challenge that we see in self-facilitated events is that there is often a few people participating and a bunch of people standing around watching.
Finally, if timing is important, we suggest a professional instructor. It typically takes a single person about 15 to 20 minutes to assemble a bike. If you have groups of four to eight people working together to build the bike, it typically just takes a few minutes. So, the activities that accompany the event are way more important than the bike assembly.
Instructions for Build-A-Bike ® Team Building
We offer a turn-key Build-A-Bike ® Kit that includes a bike, helmet, team building activities, and access to an online instruction manual for a small fee. You can order these kits online at Build-A-Bike ® Kit. At the time I'm writing this post, we are charging $200 per kit. We suggest at least one of these kits for every eight people in your group. Keep in mind that if you are donating the bikes to a charity, the larger the donation, the more impressive the ending of the event. So, if you only order a single kit, you'll just have one bike at the end to donate. We also suggest that you donate at least four bikes — even if you have a small group of participants.
If you want to create a custom activity for your group, for a small fee, our instructors can design one for you. You can also rent tools from us. So, we can ship you a team building event in a box fairly easily.
A Few Easy Team Building Activities
Even if you don't want to purchase our kits, we have posted detailed instructions about a number of our favorite team building activities. Links to these activities are below.
Add an Activity where Participants Earn their Bicycle Parts. We suggest either the Helium Stick or Tennis Ball Exercise.
Build the Bikes
Invite a Charity to Receive the Bikes
Since we do thousands of these activities all over the world, we have an extensive list of charities who know about Build-A-Bike ® and will enthusiastically accept the donation.
Options for Self-Facilitated Events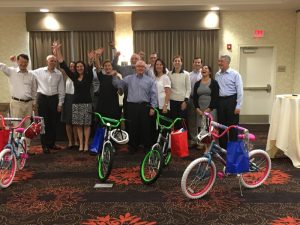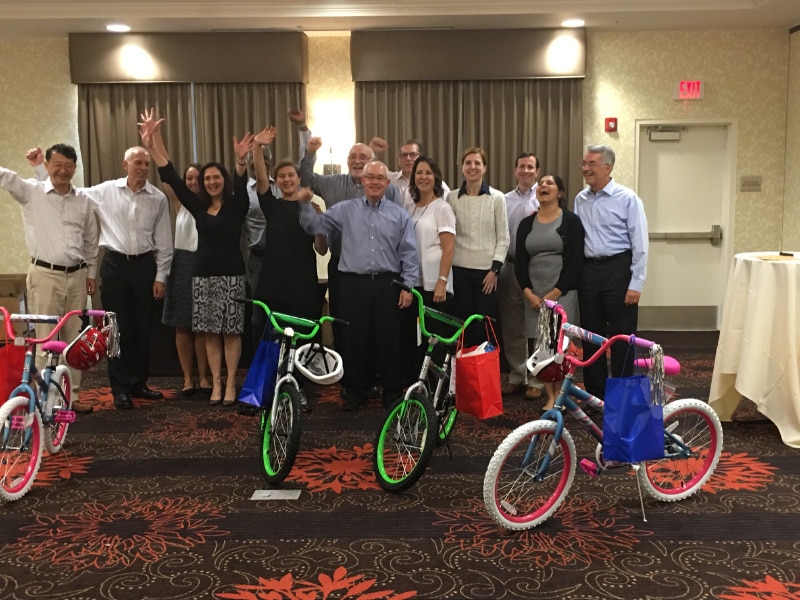 Ogilvy CommonHealth Build-A-Bike ® team building activity in Philadelphia, PA for their client, Pfizer. Back in October, Ogilvy CommonHealth arranged for a bike team building event for their client, Pfizer. This event took place at the Hilton Garden Inn at Valley Forge/Oaks in Philadelphia, Pennsylvania. Ogilvy CommonHealth Worldwide provides marketing services, analytics, and wellness promotion. Clients use Ogilvy for marketing services including behavioral insights, content strategy, and interactive media services. However, they also specialize in public relations services and social media services. As this event began, their client, Pfizer, entered the event room, ready to go!
Ogilvy CommonHealth Build-A-Bike ® in Philadelphia, PA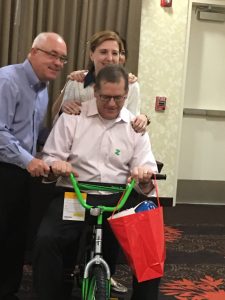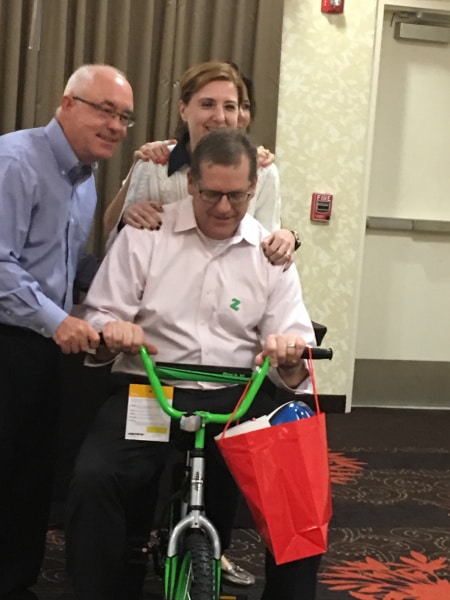 The group was neither a quiet or shy! First, the volume in the room erupted as they participated in an icebreaker and showed off their "cheer-leading skills". Next, Michelle Riklan, the instructor, selected two "helpers" to determine winners of the first competition. (This competition was fierce and close.) The Instructor and Judges then assumed their position behind the tables of bicycle parts. Finally, the teams began their ultimate challenge. During this challenge, they learned a few lessons about teamwork by trail and error. Eventually, though, they collected all of the needed bicycle parts. In addition,
Julie Szernyi from the Phoenixville YMCA
arrived at the end of the event to thank the group for their efforts. She received the bikes on behalf of the YMCA After-school program.
The picture to the left shows a photo of one of the teams with their completed bikes. While they were building the bicycles, you could here fantastic laughter. They had a wonderful time!
For details about a Build-A-Bike ® event for your group, please contact one of our instructors at (800) 872-7830. You can also view a list of all of our fun team building activities. You can also access the Philadelphia team building office by going to that page on our site located at Phildelphia, PA Team Building Activities.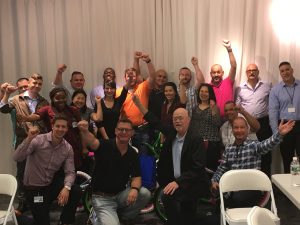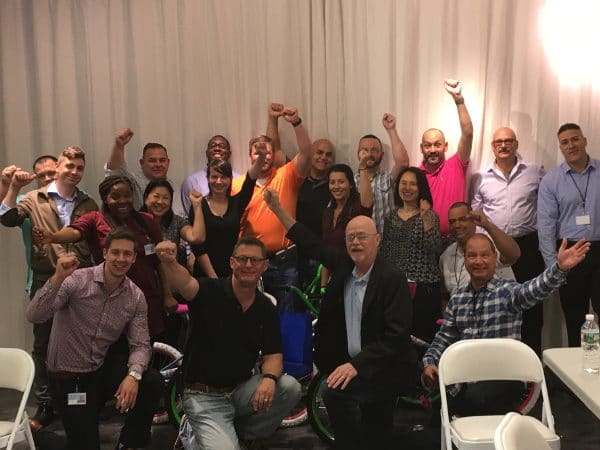 Recently, The Leader's Institute® arrived at the headquarters of The Children's Place in Secaucus, NJ for a Build-A-Bike® event. The Children's Place is the largest pure-play children's specialty apparel retailer in North America. This company designs, manufactures and licenses to sell fashionable merchandise at value prices. The Director of Loss Prevention at The Children's Place was looking for some fun team activities and challenges that would encourage camaraderie and teamwork. He also wanted the program to serve as an opportunity to give back to the community. The Leader's Institute® had it covered.
A Variety of Team Activities and Challenges
Instructor, Michelle Riklan got the group warmed up with a variety of team activities and challenges. The participants worked together with partners and then teams. The room was loud with laughter and cheers as the teams encouraged each other to complete their initial tasks.
We then moved on to even more challenging activities that required teamwork and investigation. Since we had several investigators in the group, we assumed these problem-solving tasks would be easy. Not. There was some frustration, a lot of contemplation, and obvious fun.
At the end of the day, the overall objective was met and four children's bicycles were built. Cynthia Banks, Vice President of Operations at the Newark NJ Boys and Girls Club arrived at the end to tell the group about her organization. She also told of the wonderful work they do with children ages 6 to 19. The bicycles will be auctioned off to children at the Boys and Girls Club's Halloween party.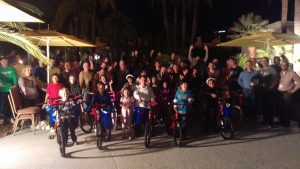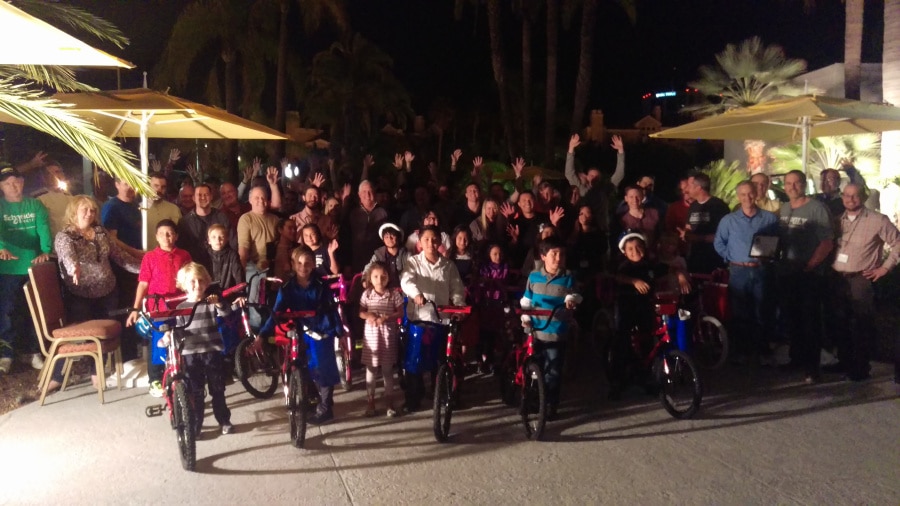 Schneider Electric was looking for a fun way to bring their group together and give back to community, so they chose to do Build-A-Bike ® with The Leader's Institute ®. This group had a busy day of break out sessions, followed by dinner, and then Build-A-Bike ® was their last activity of the evening. Although a lot of them came into the event tired from a long day, they were inspired by the idea of giving bikes to kids who could really use them.
Great Feedback when You Give Back to Community
"Thanks so much for the great event last week! Just a few of the many comments we have received:"
"First off I would like to say the team building event with the bikes, amazing! We should be doing more things like that to help our community. Not only does it promote Schneider Electric as a company who cares about the community, but as an employee it gives you a reality check. The gravity of seeing the kids there after building the bikes, unreal."

"The team-building out reach community activity was a great way to contribute to disadvantaged children, It was very gratifying to see the kids on their new bikes."

"I thought the team building exercise was also a lovely surprise and very worthwhile and rewarding."

"Outside the meeting, my favorite part was the team building exercise. It was an amazing experience to see the children's faces when receiving their bikes!"

"I have had requests for your contact info from 2 other companies interested in hosting a Build-a Bike ® event! Thanks so much for over delivering for our team!" -Michele Hix, Schneider Electric
This event was held on February 24, 2016 at the following location:
Hilton Irvine Orange County Airport
18800 MacArthur Blvd.
Irvine, CA 92612
Want great feedback like this when your team gives back to your community? Call us toll-free at (800) 872-7830 for details!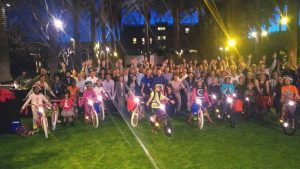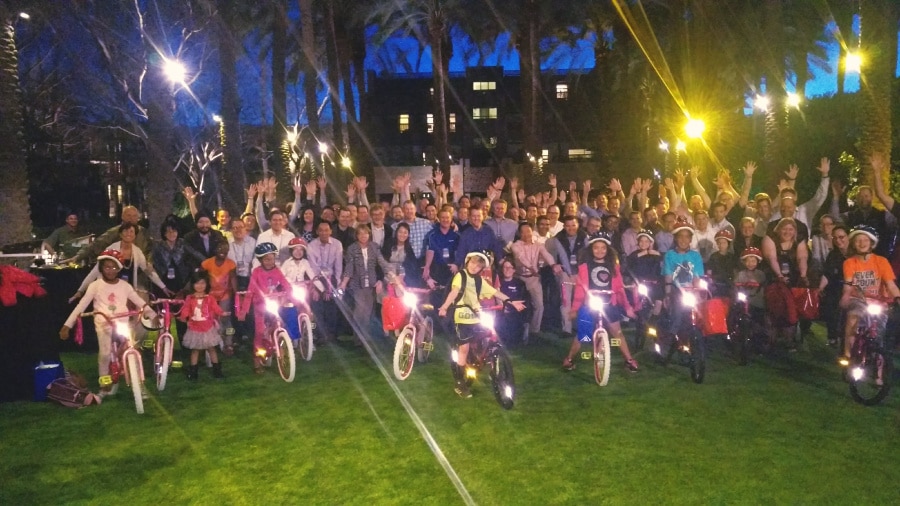 Belden, Inc. uses a Build-A-Bike ® team building event to kick off annual conference in Phoenix, Arizona! Belden Inc. is a company that manufactures connectivity and cable products. They wanted to start their annual meeting in Phoenix, AZ on a positive note, so they concluded their first day with Build-A-Bike®. After a busy day of meetings, the group was happy to be outside at a remarkable location in Scottsdale. They were a little quiet at first, but once they realized the objectives of the exercise were to build bikes and have fun, they were very enthusiastic participants.
Use Team Building to Kick Off Annual Conference
After a warm-up activity that gets the energy level up and provides a tool for improving your memory, the group broke off into their teams of about 5 people each. Each group had to work together to solve clues. Once they got a correct answer to a clue, they were given a bike part. They soon realized that they would have to exchange bike parts with the other groups in order to build their bikes. Since the team building principles are built into the exercise, they experience first hand that they have to work together to accomplish their goal, as opposed to being told they will have to work together. The group was thrilled to see the kids come in at the end of the event to receive the bikes. Los Angeles based instructor Chris McNeany coordinated the event with Belden and worked with the YMCA to receive the bikes.
"Great meeting, and that was an amazing event!" –Tina Hennessy, Belden
This event was held on February 17, 2016 at the following location:
Hyatt Regency Scottsdale Resort and Spa at Gainey Ranch
7500 E Doubletree Ranch Rd.
Scottsdale, AZ 85258
Want us to kick off an annual conference for your group? Call us toll-free at (800) 872-7830 for details!

We recently helped Owens Corning with a fun team event in Tucson, Arizona! When Owens Corning had a national sales meeting in Tucson, Arizona, they wanted something to break up the monotony of their conference. They asked The Leader's Institute ® for a fun, energizing activity, and Build-A-Bike ® was what they chose. This was a very energetic group that came ready to have some fun! To bond with members of their team, each group comes up with a short cheer using art supplies provided by The Leader's Institute. The groups had a blast coming up with creative, and often times, hilarious cheers. In order to build the bikes, the groups have to work together to complete tasks. Once they complete these tasks, they earn the parts to the bikes and have to assemble them. Los Angeles based instructor Chris McNeany made sure to do a safety check on the bikes before presenting them to the charity. The kids were very excited to get the bikes, as for most of them, this marked the first time they had their own bike.
Looking for a Team Event in Tucson?
If you have a team event in Tucson (or anywhere else in Arizona), call our consultants at (800) 872-7830 for details about a program for your team!

This event took place on February 9, 2016 at the following location:

Westin La Paloma
3800 East Sunrise Drive
Tucson, AZ 85718