I'll give you a couple of examples.
When I was in high school, I worked for a fast-food franchise, and one of my coworkers was the boss' son. One Friday evening, the crew decided to meet on the weekend to go see a movie together. We all met at the theater the next day, and the boss showed up with his son and paid for all of the tickets for the entire crew. That happened decades ago, but I still remember the gesture, because it was my boss showing a genuine appreciation for all of the hard work that we had done. He was a great boss who respected his crew, and we respected each other. So going to a movie together really built additional team culture.
A couple of years later, I worked in a hospital, and each employee in my department had a role dependent upon another coworker. So we had to work really well together, or we'd all fail. I joined the department volleyball team, and although we were terrible at volleyball, we had a lot of fun and really worked incredibly well together.
After college, I worked for a big oil company, and the culture was very competitive. When an opening came up, anyone in line for a promotion fought like dogs to make themselves look good and their coworkers look bad. The first year that I was there, we had a huge company picnic ending with the annual softball game. On one at-bat, a coworker from the opposing team hit a high pop-up to center-field. Our extra center-fielder (we had two so that everyone got to play) missed the catch, and knowing that the mistake would likely cost the team a run, decided to try to throw the ball all the way to home plate to fix the mistake. The throw was way off and a second run ended up scoring. I remember the 2nd baseman turning back to the person who made the mistake and saying, "Next time, just throw the ball to me," as he glared at the person. Basically, something that should have been fun and helpful became more of a disappointment for everyone.
One final example. One of the local Chambers of Commerce had a year long leadership development program that I signed up for when I was first starting my own company. About mid-way through the year, our group traveled to a Ropes Course for some "team building". I have to say that I really enjoyed the activity, and I really felt good after I finished. Because I have a big fear of heights, many of the things that we did that day were a big challenge for me. For most groups, a Ropes Course would have also had a benefit to teamwork, but alas, the group that I was a part of had a big problem… We weren't a team. We were a group of independent entrepreneurs. Sure, some of us worked together on projects, but most of us only saw each other for a few hours once a month at the meetings. So a shared-experience style of team building was a waste for us. Many companies have a similar result when they do an event for salespeople. Because salespeople tend to work alone, getting a group of salespeople together to bond or to improve teamwork is usually a wasted activity.
Build Your Culture First, Then Add Some Fun to the Agenda
So, do good team building activities work? Absolutely. However, to build a good team culture, just organizing a fun outing with your employees won't help a lot. The first step is to create an atmosphere within your office that people want to be a part of. Below are a few tips that may help.
Give Positive as Well Negative: When times are tough, we tend to focus exclusively on the negative. To be a good leader, though, look for the positives in your employees and compliment them more.
Share Success Stories: One of the most often complaints that workers have about their employers is that they don't see how their job/role adds to the success of the company. Just by sharing a few success stories around the office, you can improve morale dramatically.
Encourage Teamwork when Roles are Interdependent: Set goals for completed activities and reward the group for working well together.
Avoid Lumping Independent Roles into a Shared Goal: Many leaders have a "teamwork is everything" attitude, even when job functions have no interaction or dependency on each other. Don't try to force teamwork.
Have Fun: Even if your job is hard, have some fun. Start a meeting with a funny video or a funny bumper sticker. Lighten up and enjoy yourself a little.
After you have successfully created a fun culture around the workplace, then any team activity you invest in will have fantastic results! (By the way, if you are looking for a shortcut, try Creating a Team Culture.)
First, the bad news. Most team building activities just don't work. Most games and events that managers and executives organize to build more teamwork only intensify whatever culture is already present. So, for instance, if a group has a real team culture already, and they go bowling or play laser tag or build a house for a needy family, then at the end of the activity, they will likely improve their culture. If a group is competitive, and they do the same activities, they will likely become even more competitive. In fact, some participants may leave the activity thinking, "I'm going to get that show off next time!." If the participants have mistrust or have a culture of miscommunication, then after the activity, they will likely resent being forced to interact with people that they really just don't like.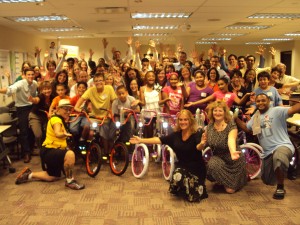 Walgreen's brought together over 80 of their consumer loyalty people in a Chicago, Illinois suburb, for a
Build-A-Bike Team Building Event
. The fun, learning experience culminated with 12 new bicycles being built and given to the Union League Boys and Girls Clubs. The event was entertaining and informative, but when the children were introduced at the end of the event there was nothing but smiles on the children's faces as they received new bikes and pride on the participants faces as they awarded the bikes to the children. The event provided learning value, entertainment value, and philanthropic value; a great combination and a great experience for any afternoon- and a very special one for these Walgreen's VIPs.
When the group was divided into smaller groups and given tasks to compete there was a certain air of competitiveness that began to grow. It was reiterated several times that nothing in the afternoon was a competition, but the goal of every activity was for every group to complete it to the best of their ability. Having concentrated on that fact, nothing was a competition, you would think that the competitive dealings would have stopped, or slowed- but they didn't. Whenever a large group is broken down into smaller ones competition will happen. Even if it is stressed that it shouldn't, it is the nature of teams to be competitive.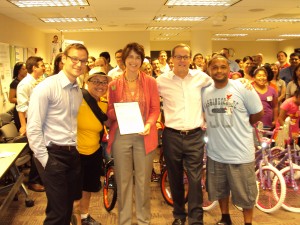 Likewise when a company operates different locations, different departments, different divisions, etc… competition will result. Not all competition is destructive. It can be very positive it is brings out the best in every team and the overall efforts of the larger group don't suffer. Too often the competitive nature becomes destructive because for one group so succeed it means another must not. In other words- if we are the winners there must be losers. But if one segment of a company wins or has successes at the cost of another, then the whole team has really suffered. We often times find ourselves in unwitting competition because of budget restrictions, human resource allocations, time differentials, and what ever else can cause differing segments to compete with each other. Too often information is withheld; solutions aren't shared; ideas aren't communicated because if we do we have lost that competitive edge. One group within the organization may win, but the team as a whole has suffered.
Congratulations to Walgreen's for sponsoring the Build-A-Bike Team Building Event and making a positive difference in the live of 12 children, their families in Chicago while having fun and learning some important team building lessons.
For details about a team building event in Chicago, Illinois, click here!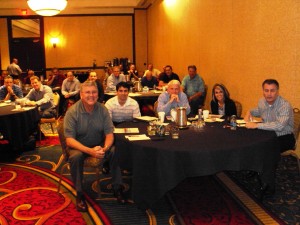 40 team leaders from Swedish Match North America, a world leader in the tobacco industry, came together in Cleveland, Ohio, for a
"Creating a Team Culture" team building workshop
. The event is a fast-paced workshop with ideas shared and activities integrated into the program that facilitate learning and understanding. The event is designed to share practical skills in team building and and team leadership; then give actual experiences of putting the principles into practice. It is a very informative time of instructions that also combines fun and entertainment.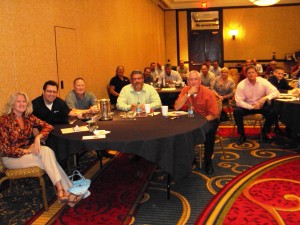 The SMNA participants were a great group and worked well together completing the tasks that were given.
The people attending this special meeting gained practical experience in improving communication skills, improving listening , giving instructions so they'll be received more readily, telling stories, and in showing appreciation. Each of the skills were demonstrated and then practiced to demonstrate the importance of each one, and how each applies to team building and team leadership. Once the skills are mastered then attitudes improve and not only do individuals benefit but as each individual grows and benefits so does the team and the company. SMNA was a great group and and the participants contributed greatly to the success of the program.
Thanks to Swedish Match North America for a great "Creating a Team Culture" workshop and for making this investment the lives of their employees.
For details about a Team Building Event in St Louis, click here.
The Human Resources department of Informatica gathered from all points across the globe to grow as a team and give back to the community by hosting a Build-A-Bike ® team building event at the historic Claremont Hotel in Berkeley California. Informatica is a software development company that specializes in data processing software. The Human Resources team had members coming from Europe, India, Asia and several other countries including the United States. They wanted to solidify the Human Resource department as not just a team but a community environment. It was clear to see the employees took pride in their company and were eager to give back to the community. This made for a great workshop to train teamwork and leadership skills.
While some members of the HR staff had met previously, for younger employees it was the first time meeting some of their coworkers. While they might speak over the phone or video conference, meeting face to face gave the employees more of a sense of community. The event definitely helps to foster a team or community frame of mind. The employees must use
teamwork
to efficiently solve the challenges of the event and get their bikes built. The HR team from Informatica already had a great working relationship with each other which enabled them to quickly build eight bicycles. The bicycles were presented to the Boys and Girls Club of Alameda.
The goal for the teamwork and leadership skills workshop was for the HR department to have fun while growing as a team and giving back to the community. The Build-A-Bike ® team building event gave them an opportunity to see firsthand the effectiveness of teamwork and the rewards of being able to give back to their community. The team at Informatica has a lot to be proud of and will surely remember the fun and sense of accomplishment from the event for a long while.  A big thank you to the Human Resources department of Informatica for hosting a fantastic Build-A-Bike ® team building event!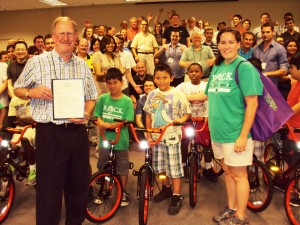 Independent Project Analysis, which helps companies in the  more effective use of capital in their businesses, held a Build-A-Bike Team Building Event at the National Conference Center in Lansdowne, Virginia, (suburb of Washington, DC near Washington Dulles Airport) which culminated with the group donating 36 bikes to children in need from the surrounding community. Approximately 230 people participated in the event. The large group was divided into 32 smaller groups and then given tasks to complete that would eventually lead to the building of the bikes. It was a great event with lots of energy and the participants enjoyed the activities as well as a time to get to know one another a little better and see each other in a different than usual setting. It was a great event, with opportunities for fun and learning, and a great "feel good" ending.
The group from IPA was international and came to participate in company meetings. The Build-A-Bike Event ® was just one ingredient of several days of successful meetings. The group participated well and worked with each other showing that IPA is a great company with great people.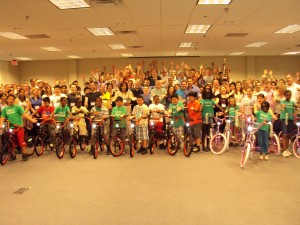 During the Build-A-Bike there were many opportunities to learn great leadership skills and put them into practice. It is stressed from the start of the program that it is not a competition. The idea is to support and work with one another. It is a hard concept, especially when you're divided into groups. By dividing into groups competition is almost automatic, even if it is discouraged. The problems that needed to be solved to get the bike parts were most easily solved when working with other teams. The most effective and efficient way to solve many problems is to ask others for help, but it is a hard thing to do, especially if you view it as a competition. But divisions, different locations, any thing that segments one company into many parts, can create unhealthy competition that keeps them from sharing vital information with other groups. Ultimately, the 230 participants from IPA realized that they were one team, not 32 teams, but one team- made up of 32 groups, with one goal- to build bikes for kids. They did a fantastic job and not only did the 36 children that received the bikes benefit but so did the communities they live in.
Park Hill, a business unit within the Blackstone asset management company hosted a Build-A-Bike ® team building event at the historic Fairmont Sonoma Mission Inn in Sonoma, California. Seventy employees from across the United States and London gathered at the beautiful inn outside of San Francisco. Park Hill wanted to host an event that would enhance their teamwork and leadership skills while also having fun and giving back to the community. The employees were skeptical and tough to win over at first but once the events began they quickly focused on the task at hand and started to have a lot of fun.
One of the companies core beliefs is "Work Global/Act Local" and Park Hill was able to act locally by donating the ten bikes they built during the event to the Boys and Girls Club of Sonoma. The employees were energetic and full of personality and included more than a few hecklers but all their sharp edges melted away when they got to present the bikes to the children. It was great to see the teams who were so ambitious and competitive also show how warm hearted they could be as well. While the events in the Build-A-Bike ® team building event are not designed to be competitive, when a group is split into smaller groups and given challenges competitive instincts can kick in. The event helped to teach Park Hill employees how best to use those instincts while still working as part of the team.
The employees at Park Hill definitely made this Build-A-Bike ® team building event something unique. They came hoping to improve teamwork and communications skills and give back to their local community while having fun doing it. Everyone certainly had fun working through the challenges of the event and ten children from the Boys and Girls Club of Sonoma have new bikes to show for it. Thanks to the employees at Park Hill for participating in an exciting and memorable Build-A-Bike ® team building event.
Interested in a Team Building Event of Your Own?
Below are a Few Additional California Team Building Events
| | |
| --- | --- |
| | Connie Timpson is Vice President of Instruction for the Southeast Region. She is based in Jacksonville, Florida, but she also facilitates team building events in Orlando, Tampa, Miami, Ft Lauderdale, Atlanta, and other Southeastern cities. |
Florida's Department of Children and Families, went on a Camaraderie Quest team scavenger hunt near  Fort Walton Beach, Florida to discover hidden treasures within themselves, and learn how to better collaborate and communicate.  These folks have some of the most emotionally demanding jobs on the planet.They make monumental decisions, based on in-home studies, precedence and protection of children.  Their decisions are never easy, always stressful, and filled with hope and caring, that what they do will help put a family, or a child, on more sure footing in today's world.
They take their work so seriously, that some wanted to stay behind and keep working.  Knowing that you can only gain perspective and learn new things away from the office they were nudged into the sunshine, plied with high-tech clues, and sent into the woods – away from every day life. They were sent on a mission, a quest, to bring back treasure, find some answers, and explore their creative sides.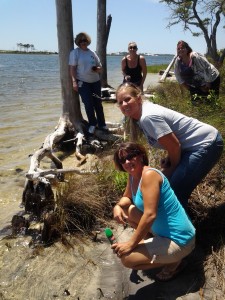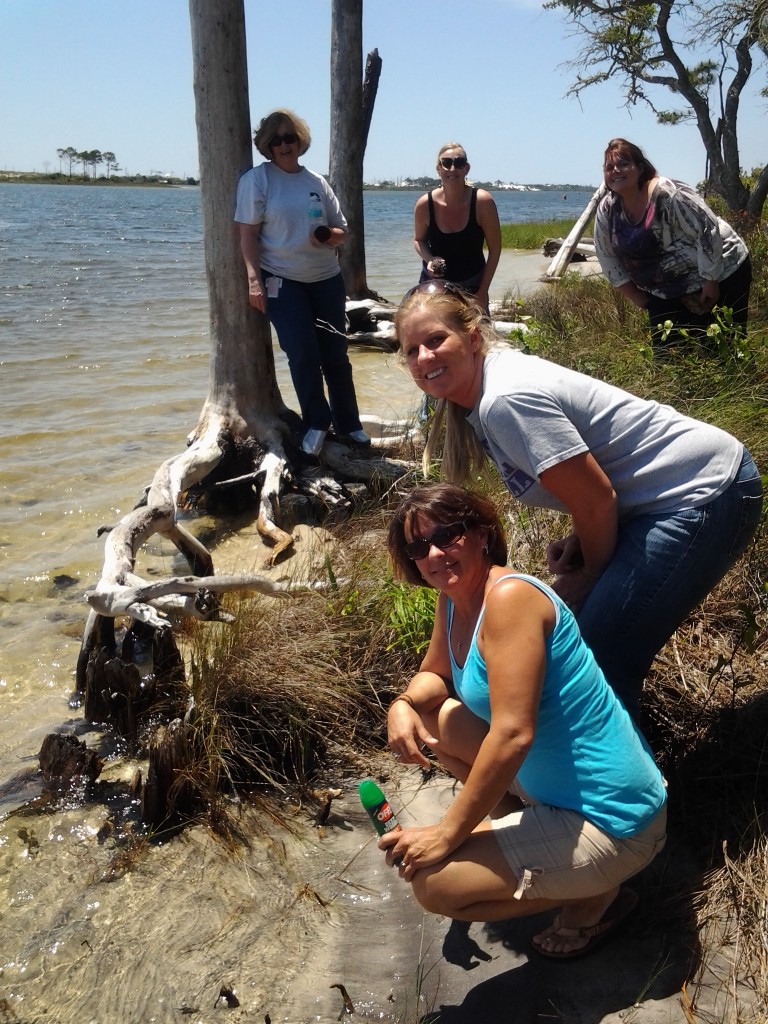 They let loose, and exchanged ideas, put creativity before logic, and became a stronger team.  They learned the value of collaboration, communication, and getting to know each other.  Individuals were no longer an email, or a title to each other.They became breathing, caring, funny people to each other, opening lines of better communication. They worked together, solved problems, and laughed a lot.  Something they do very little of in their jobs.  Being pushed to step away from their responsibilities for just a couple of hours, brought out the "whole" person, not just the case worker, who face such demand and solve some of today's most difficult social situations.  They came together as a team, strengthened their ability to communicate, collaborate, solve problems, and exchange ideas.  Director, Patricia Franklin said, the Quest delivered on its promise to bring the team together, and have a really good time, adding they have not laughed like this in a long time.
Interested in a Team Building Event of Your Own?
Below are a Few Additional Florida Team Building Events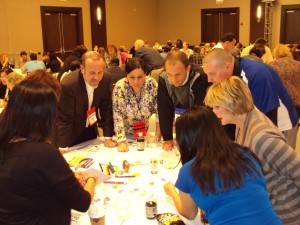 Over 330 members of Alliant Credit Union came together at the Intercontinental Hotel in Rosemont, Illinois, just outside Chicago, for a day of meetings in which the highlight was a Rescue Bear Team Building Event. The day long activities included many special presentation, but the afternoon was sparked by a keynote address by Ellen Patnaude followed by team building activities that culminated in 165 brand new stuffed animals being crafted and given to the McCormick YMCA. The key note and activities were a splendid way to have a fun and profitable afternoon as each of the 330 participants were involved in laughter and learning. This fun and energetic group responded well to Ellen's keynote and then actively engaged in some team building activities that added to the vitality and educational experience.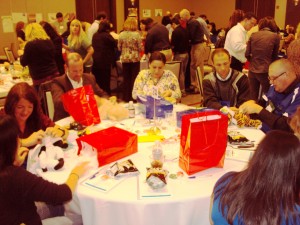 The Rescue Bear Team Building Event focuses on the differences we all have as individuals but how we make decisions on how to react in any given situation. The keynote focused on that point of decision when we each make a choice on how to respond to the circumstances and situations we find ourselves in. We can't rely on our personality to guide us, but rather we make the choices and have to take responsibility. Often times we excuse our behavior and blame bad choices or behavior saying that we are just made that way. We claim our personality or temperament as being controlling factors in our lives when, in reality,  they only lead us in tendencies, but we have to take responsibility for our decisions. We all have that moment of choice of how to respond, especially in difficult situations. We may have an immediate response but we must control ourselves and decide on the best win-win action we can take. The Rescue Bear Team Building Event makes a fun and entertaining experience to explore behavior and learn to capitalize on our strengths while minimizing weaknesses.
Thanks to Alliant Credit Union for a wonderful experience and for giving back to the community with this excellent program and donating 165 new stuffed animals to the YMCA.
Over 60 employees of Aviva USA, one of the largest worldwide life insurance and annuity companies, came together for an Ace Race Golf Team Building Event in Kansas City, Missouri. The Ace Race is a a fun and fast paced team building program in which the participants design miniature golf holes out of non-perishable food items. The goal of the event is for each team to make a hole-in-one at each of the holes. At the end of the event the food is donated to a local food pantry. In this case over 500 pounds of food was given to Harvesters Community Food Pantry. It is a fun event with a little bit of team building skills built in. The participants enjoyed the experience and where proud to give back to the community.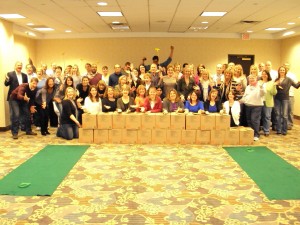 One of the real benefits of the experience was the team members working together to solve problems, work together, and share the span of control. One of the real lessons is that everyone has their own areas of expertise and a great way to build a team is to recognize the talents and abilities of each of the team members so that each can function and do what they do best. Team building and especially team leadership is not about having control, but rather in learning that control is something that the best team members know how to give to others when it is in the best interest of the team. The Ace Race Team Building Event helps team members know how to appreciate and build one another up.
Thanks to Aviva for a great event and to Harvesters in Kansas City, Missouri for being the recipients of Aviva's generosity.
Mustang Engineering of Houston, met in Austin, Texas, to enhance their team work with a Build-A-Bike ® team building event.  The folks at Mustang take teamwork, family, and giving back to the Houston community, very seriously.  As part of the Founder's Legacy, the company adopted Watkin's middle school, in the Houston, Texas area, because Mustang recognized that those years are pivotal in a child's life, that the choices the kids make, can affect their whole life.
Mustang Engineering wants to help guide them.  They also want to challenge the kids to do well, to push their intellectual limits and achieve.  So while the Mustangers had a fun time building their team, learning how to negotiate, experience the value of collaboration, and laughing a lot, they built 26 bikes for the winners of an essay contest.  "My Hero Is."  That hero essay overall-winner turned out to be written about one of the kid's Mom.  She went door to door to raise enough money for a neighbor with cancer to receive  treatment.   It became known, and survives as the Guadalupe Fund.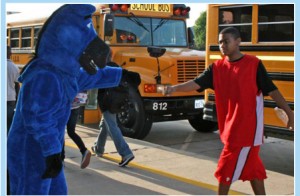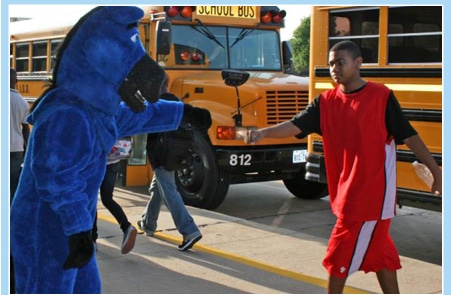 Oh, don't be surprised by the big blue Mustang if you visit Watkins Middle School.  He is often there to welcome the kids back, give em a high five, make them smile, or offer a little help.  The folks from Mustang Engineering have been known to show up with treats for the teachers.  They even cleaned up the grounds, planted flowers and trees to give the kids a more beautiful place to learn about the wonders of the world.  Building 26 bikes for kids who have none, is all part of their corporate mission.   Giving back is just a part of "who they are" and "what they believe.  By Connie Timpson/Sr. Instructor & Performance Coach/The Leader's Institute