Posts Tagged 'Springfield'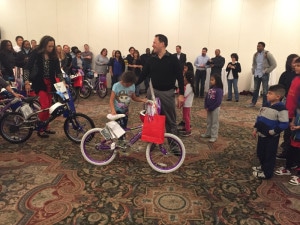 The Vice President & Chief Revenue Officer at WGL Holdings, Inc. was excited to offer his team a fun-filled bike team building event that would promote transparency, help individuals to come together in a collaborative environment, and offer a way for individuals to both meet and learn more about each other. The organizer at WGL Holdings took charge and arranged for The Leader's Institute® to facilitate an on-point, memorable bike team building event at The Waterford Event Center in Springfield, Virginia on Tuesday, November 17th. With almost 100 participants the room was filled with incredible energy as new relationships were formed, and teams collaborated to accomplish multiple tasks. Individuals shared information about themselves, and the teams overcame some challenges in their final activity where they collectively built 16 children's bicycles.

The Vice President concluded the event by sharing his own personal story of overcoming obstacles, working hard to get ahead, and how as a kid, his own bicycle contributed to some major, life-changing events. John Sanchez from the local Big Brothers Big Sisters (BBBS) organization was standing by having already introduced himself and his organization. To wrap up an incredible event, led by Leader's Institute® Instructor, Michelle Riklan, 16 children from the BBBS entered the room to receive brand new bikes. The kids were all wide-eyed while some employees were teary. Great job WGL Holdings, Inc.! In just 2 hours, they made progress in team relations and had a significant impact on the lives of 16 families—and right before the holiday season. If you are looking for a fun bike team building event, make sure and call us at 800-872-7830 to schedule a program!

What happens when over 50 team members of Regal Beloit get together for team building and fun? 8 children from the Springfield area Big Brothers and Big Sisters program get brand new bikes! Regal Beloit held a Build-A-Bike® Team Building Event in Springfield, Missouri, that ended with the bikes they built during the activities being given to area children. The event was a lot of fun and this competitive group enjoyed the activities that had them participating in several activities that culminated in 8 bikes being assembled and given away. The Regal Beloit people we're very active and their competitive sides came out as they saw each activity as a real competition and worked hard to win. The fun and laughter were infectious, and they even learned a few lessons along the way. It was a wonderful experience and the Regal Beloit participants were a great group to work with. 

One of the real lessons was to observe the groups as they learned that competition can be very valuable if it brings out the best in everyone. But often we allow our competitive side to come out when there really isn't any competition- and that can result in dreadful outcomes. We often work in different departments, different locations, and different divisions; there are many situations that segment a company. (This group had local participants from Springfield as well as from St. Louis and Kansas City.) So we are often competing with limited personnel, limited HR resources, limited funding, and other resources. When we see our sector as being in competition with others within one company that competition can actually hurt the overall company. In fact, we need to be reminded that it is one company and that hurting one part is hurting the whole. The whole company cannot prosper if one part's competition hurts another.

In the Build-A-Bike event the goal was to build the bikes, all eight of them. It wasn't to see which team could get done first, or which team had the fewest defects, but to get all the bikes completed and safety checked. The folks from Regal Beloit got it done, to the benefit of the children from Big Brothers Big Sisters. It was a great event, with great results. From our local St. Louis based instructors, thanks Regal Beloit!