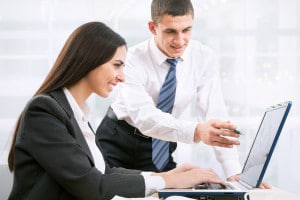 Company leaders always want to celebrate those big wins, but you'll actually create more big wins by celebrating your team's small wins. About 65% of employees don't feel valued by their boss, according to a study by CareerBuilder, and this attitude is often created because employers often overlook the normal, day-to-day successes of their employees. You might think it's time consuming or expensive to celebrate an the accomplishment if the activity is just a small progress in an ongoing project, or an otherwise unnoticeable upward movement in a long term goal. It's not like your team was just awarded a huge 100 grand deal, right? Well, those quick "attaboys" mean a lot to your team, and they are a great way to build camaraderie.
Celebrate the Small Wins to Build Teamwork
However small or insignificant a "win" is, it's still worth celebrating. When the going gets tough, it's the recognition and celebration that comes from small wins that pushes your team to keep going. Even if everything is going wrong, withholding praise or recognition on a legit accomplishment or progress sends the wrong message. Say that sales are down, but one of your team members closes a small contract that moves the sales team closer to their goal. Most managers will wait until the goal is completed before instilling praise on the group, but a quick praise of the salesperson who accomplished the small win will make encourage the other salespeople to follow suit.
Progress Principle: Progress toward a Goal is Hugely Influenced by Attitude
Prior to becoming Nobel Laureates for building the DNA Structure, James Watson and Francis Crick observed that the amount of progress they made towards their work was hugely influenced by their attitude. This effect was later called the 'progress principle,' which states that meaningful progress (small wins) increases people's motivation more than any external or internal factor.
3 Tips for Encouraging Your Team using the Progress Principle
Cheer them, Cheer Yourselves, Cheer Everyone: One account manager finally convinced a hesitant client to push through with a campaign? Celebrate that with the team. That account manager isn't the only one supposed to be celebrating. When you celebrate one team member's success as a team, everyone gets to bask in that person's limelight, and in turn feel they're a part of the effort and win. Cheering or celebrating as a group solidifies your bond as a team.
Celebrate Itty-Bitty Milestones: When most leaders think about progress, they imagine a long to-do list finally completed. To most managers, a win is a major dent in a long-term project spanning months, not something that only took days to finish. While such big wins are amazing, they take much longer to come to fruition. Do you expect your team to slave off continuously at their 100% best without any boost from you? No. Only robots can do that. That's why big projects have to be broken down into manageable to-dos. Small milestones provide a quick boost of morale to everyone at a more frequent pace. Ask individual team members to set their own goals in line with their current responsibility. For instance, a team member assigned to meet prospects and close deals can set a small milestone win after every five prospect meetings. Having team members track their efforts will also help them remember their progress, especially on bad days.
Keep it Positive: Sometimes, even the most well-meant praise can sound sarcastic. For instance, phrases like, "About time you hit that quota!" or "I'm glad you finally finished that report," will have a negative effect versus a positive one. While you might be really appreciative or glad of a subordinate's progress, such statements can be construed as a complaint, or sarcastic praise. Keep constructive feedback to formal coaching sessions. For now, let your employees bask in the glory of their accomplishment.
Mementos and Trophies
On a final note, don't be hesitant to give tangible rewards when it's well deserved — even for a small win. Some managers don't know how to do this, or they just don't know what to give their employees. In this case, remember that you're giving a symbol of their accomplishment, not necessarily a monetary reward.
Remember how much you liked trophies, medals and awards as a kid? It's the same for your employees. Even adults like to receive awards.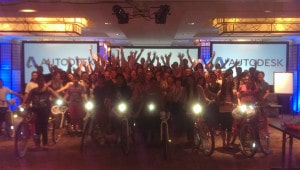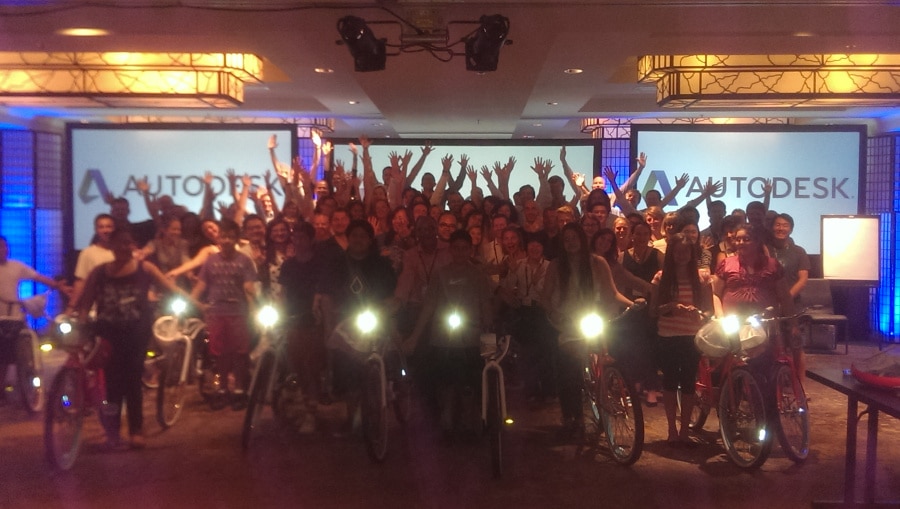 Autodesk decided to end their 3-day summit with team building events in a great location: The Lodge at Sonoma Renaissance Resort and Spa: 1325 Broadway, Sonoma, CA 95476. Autodesk produces software for a number of industries: including architecture, engineering, construction, manufacturing, media, and entertainment. This summit brought together folks from all over the world, from as far as Singapore and the United Kingdom, along with many from their headquarters in San Rafael, CA. The company is going through several changes and wanted to emphasize the importance of teamwork, so they devoted a day to team building activities starting with the Creating a Team Culture activity. In the morning session, participants were able to discuss their strengths and weaknesses with building trust and rapport, and were given tips to be able to improve in these areas. They also learned an easy-to-use technique to gain consensus and be persuasive, whether it be to an individual, or a small or large group. The structure of these activities was very much centered around small group work, as opposed to a lecture. Participants were relieved as they had just been through two days of content heavy material, and were coming into the morning session off of a costume party with karaoke at the hotel the night before! In the afternoon, they participated in Build-A-Bike®, which further emphasized the importance of team building in a fun way. Los Angeles based instructor Chris McNeany enjoyed working with such an enthusiastic. The Boys and Girls Clubs of Sonoma Valley were thrilled to receive the bikes, and Wine Country Cyclery was a huge help in making sure the bikes were all safety check approved and ready to ride!
"Chris, thanks so much for your amazing facilitation on Day Three – Creating a Team Culture really worked out to be the perfect team development activities for the last day of the Summit. I heard many positive comments about you and the day!" – Autodesk
| | |
| --- | --- |
| | Chris McNeany is a Vice President and Instructor for the The Leader's Institute®. He is based in Los Angeles, California, but he teaches classes in San Diego, San Francisco, Las Vegas, and Seattle as well. |
For details about Team Building in Sonoma, California, click here.
I'll give you a couple of examples.
When I was in high school, I worked for a fast-food franchise, and one of my coworkers was the boss' son. One Friday evening, the crew decided to meet on the weekend to go see a movie together. We all met at the theater the next day, and the boss showed up with his son and paid for all of the tickets for the entire crew. That happened decades ago, but I still remember the gesture, because it was my boss showing a genuine appreciation for all of the hard work that we had done. He was a great boss who respected his crew, and we respected each other. So going to a movie together really built additional team culture.
A couple of years later, I worked in a hospital, and each employee in my department had a role dependent upon another coworker. So we had to work really well together, or we'd all fail. I joined the department volleyball team, and although we were terrible at volleyball, we had a lot of fun and really worked incredibly well together.
After college, I worked for a big oil company, and the culture was very competitive. When an opening came up, anyone in line for a promotion fought like dogs to make themselves look good and their coworkers look bad. The first year that I was there, we had a huge company picnic ending with the annual softball game. On one at-bat, a coworker from the opposing team hit a high pop-up to center-field. Our extra center-fielder (we had two so that everyone got to play) missed the catch, and knowing that the mistake would likely cost the team a run, decided to try to throw the ball all the way to home plate to fix the mistake. The throw was way off and a second run ended up scoring. I remember the 2nd baseman turning back to the person who made the mistake and saying, "Next time, just throw the ball to me," as he glared at the person. Basically, something that should have been fun and helpful became more of a disappointment for everyone.
One final example. One of the local Chambers of Commerce had a year long leadership development program that I signed up for when I was first starting my own company. About mid-way through the year, our group traveled to a Ropes Course for some "team building". I have to say that I really enjoyed the activity, and I really felt good after I finished. Because I have a big fear of heights, many of the things that we did that day were a big challenge for me. For most groups, a Ropes Course would have also had a benefit to teamwork, but alas, the group that I was a part of had a big problem… We weren't a team. We were a group of independent entrepreneurs. Sure, some of us worked together on projects, but most of us only saw each other for a few hours once a month at the meetings. So a shared-experience style of team building was a waste for us. Many companies have a similar result when they do an event for salespeople. Because salespeople tend to work alone, getting a group of salespeople together to bond or to improve teamwork is usually a wasted activity.
Build Your Culture First, Then Add Some Fun to the Agenda
So, do good team building activities work? Absolutely. However, to build a good team culture, just organizing a fun outing with your employees won't help a lot. The first step is to create an atmosphere within your office that people want to be a part of. Below are a few tips that may help.
Give Positive as Well Negative: When times are tough, we tend to focus exclusively on the negative. To be a good leader, though, look for the positives in your employees and compliment them more.
Share Success Stories: One of the most often complaints that workers have about their employers is that they don't see how their job/role adds to the success of the company. Just by sharing a few success stories around the office, you can improve morale dramatically.
Encourage Teamwork when Roles are Interdependent: Set goals for completed activities and reward the group for working well together.
Avoid Lumping Independent Roles into a Shared Goal: Many leaders have a "teamwork is everything" attitude, even when job functions have no interaction or dependency on each other. Don't try to force teamwork.
Have Fun: Even if your job is hard, have some fun. Start a meeting with a funny video or a funny bumper sticker. Lighten up and enjoy yourself a little.
After you have successfully created a fun culture around the workplace, then any team activity you invest in will have fantastic results! (By the way, if you are looking for a shortcut, try Creating a Team Culture.)
First, the bad news. Most team building activities just don't work. Most games and events that managers and executives organize to build more teamwork only intensify whatever culture is already present. So, for instance, if a group has a real team culture already, and they go bowling or play laser tag or build a house for a needy family, then at the end of the activity, they will likely improve their culture. If a group is competitive, and they do the same activities, they will likely become even more competitive. In fact, some participants may leave the activity thinking, "I'm going to get that show off next time!." If the participants have mistrust or have a culture of miscommunication, then after the activity, they will likely resent being forced to interact with people that they really just don't like.
Informatica of Austin Texas hosted the Build-A-Bike program for twenty of their sales team. Marlo Banks the Human Resources Director organized this event for the team so they could have fun while learning about working together more efficiently as a team. Informatica provides data integration software and services that enable organizations to gain a competitive advantage in today's global information economy by empowering them with timely, relevant and trustworthy data for their top business imperatives. The Build-A-Bike event teaches teamwork skills through a series of challenges which the teams are to complete. This team building event encourage the teams to think outside the box to come up with solutions.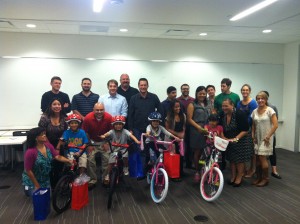 Paul Mudlaff the sales Manager along with the sales department was an amazing group of individuals, they came prepared for fun. The charity arranged to pick up the bikes was the Boys & Girls Club of the greater Austin area. Brian, the Director of operations brought four kids with him but didn't tell them why they were coming and they were so excited when they saw their new bikes. The sales group was so moved to hear that they had just built the first bikes these kids had ever had. One of the team members suggested giving the kids their first lesson around the room. The group all snacked on cookies, exchanged names, took photos and listened to the kids talk about school, home and their new bikes. "This is wonderful", "what a great thing we just did", "I loved this event" were some of the comments made by the sales team of Informatica of Austin.
Seventy Microsoft employees gathered together for a pre-holiday celebration at their headquarters outside of Seattle, Washington to participate in a Build-A-Bike ® Team Building Event.  The group is responsible for designing the support for Microsoft Products to their Enterprise Customers.  They are all passionate about helping their customers have a good experience with their products and they are internally driven to work long hours in order to succeed.  There were many reasons to come together but to have a fun, relaxing event was high on the top of the list as well as to connect with one another on a personal level.  Their hopes were through building these bikes and giving them to kids who are without, they would both get to know each other more personally and also feel good about the time spent doing it.
Bonding as a group within any company is a challenge with today's demanding hours and the variety of tasks each employee must tend to in any given day.  In addition, the group from Microsoft is a culturally diverse one with many distinct personalities and many different communication styles.  As they worked through the challenges offered by the Build A Bike, they learned how to rely upon each other to get the work done, break down any walls that hindered communication and find the most efficient ways to complete the challenges.  Bringing their employees together for a challenging and exciting event helped them to bond as a company and develop their teamwork and leadership skills.  They learned that coming together as a team has everyone winning in the end.
Their goals were accomplished by building 6 beautiful bikes that were donated to the local Boys and Girls Club of Crossroads.  Just like the challenges in the Build A Bike, the charitable aspect showed employees how helping out their community benefits the company as well. Microsoft was able to strengthen their company bonds while having fun and making a difference.  Thank you Microsoft for another great event!
Auburn University hosted the Build-A-Bike event at the new Athletic Complex on campus. Auburn University (AU or Auburn) is a public university located in Auburn, Alabama, United States. With more than 25,000 students and 1,200 faculty members, it is one of the largest universities in the state. Auburn has traditionally been rated highly by academic ranking services, and has been listed as one of the top 50 public universities for 20 consecutive years.[28] The 2011 edition of U.S. News and World Reports ranks Auburn as the 82nd university in the nation among public and private schools and 37th among public universities. Dr. Peggy Howland, the consulting Psychologist for the athletic department said "this is exactly what this team needs, we have had a dramatic year". "This was inspiring" said Kim Evans the soccer coach for Auburn University.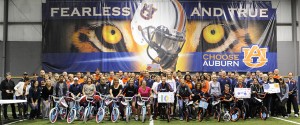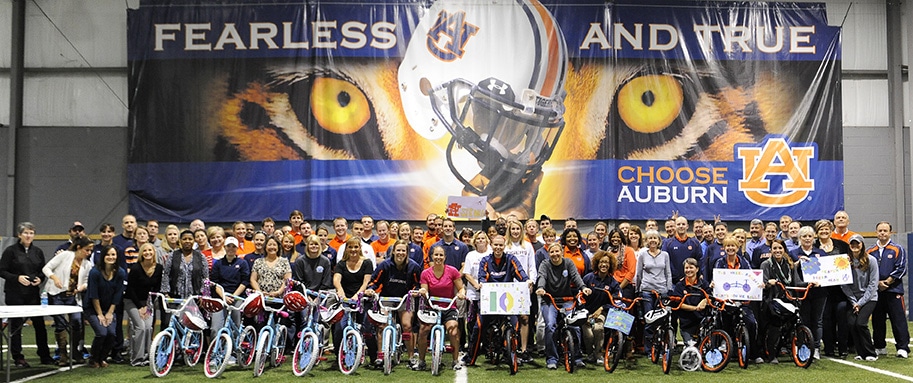 Joe-Joe Petrone, the director of sports medicine arranged the teams so different departments got to work with each other, so there was some rivalry going on. The Build-A-Bike event teaches teamwork skills through a series of challenges which the teams are to complete. The tasks encourage the teams to think outside the box to come up with solutions. The Auburn Athletics department was an amazing group of individuals, they came prepared for fun. Everyone showed up in track suits so the activities were very competitive, fast paced and very high energy. The charity to receive the bikes was set up by the University, Project Uplift of Lee County Youth Development Center, the representative arrived at the luncheon following the event.
Interested in a Team Building Event of Your Own?
Have you ever noticed how your perceptions and those of others often don't match?
It is said that we all hold "a piece of the pie." This is why collaboration is necessary and usually advantageous at work: to gain access to unfamiliar territory and the new resources that live in other people. Indeed, to get things done, learn, and improve, your colleagues, yes, even your boss, it could come in handy from time to time.
Collaboration is more than just working together cooperatively ("teamwork"), more than going along (accommodating) or getting along … it is that remarkable and unpredictable chaos, complexity and creative stuff that makes life interesting. Admittedly, sometimes too interesting..
Look Within, or Look Out!
Reflect for a moment on your own workplace. When was the last time you had a conversation that didn't go well? Do you normally come back to those less-than-delightful moments to gain a sense of resolution?  How, usually? Do you resolve it inside your own head or do you get in their face? Where there's been some interpersonal friction, people naturally tend toward one extreme or the other to cover up the fact that we feel either threatened or embarrassed.
Even if you attempt resolution inside your own head ("Oh, he's just a jerk!"), or through a third party ("Can you believe what a jerk he is?!"), or with the person directly ("I'm sorry, but I don't feel complete about X; perhaps there's been a misunderstanding ."), you aren't necessarily collaborating.
When does it make sense to collaborate?  There are at least four situations where a collaborative approach is essential:
When you need to increase cooperation – collaboration helps deal with differences before they lead to resistance or begin to prevent understanding.
When you want stewardship (not micro-delegation or micro-management) – whether kicking off an important project or change initiative, stewards "go slow to go fast" with the right input from all the right players up front.
When you need a more complete perspective – collaboration allows for useful feedback, so rather than hallucinating (filling in blind spots from your own perceptions), you can push back on limited assumptions and gain new awareness.
When there has been a breakdown or problem with another person– collaboration provides the most tactful way of building accountability, trust and safety, while bringing about lasting change.
With collaborative approaches – in contrast with one-way, autocratic or dictatorial – leaders at all levels use an inclusive style that balances assertiveness (focus on goal or task achievement) with gaining cooperation and commitment (flexibility and consideration in relating to others).

There are several sharp advantages to this approach and (the best part) there are no significant downsides, except perhaps an upfront investment of time that is perpetually scarce.  This is one of the few areas of business where there are no real tradeoffs or conflicts of interest:  if you include people and treat them with respect, you won't pay a price (it doesn't cost you or the company any more); in fact, inclusion and participation makes for a better, more enjoyable and productive workplace.

Sure, you can still force "cooperation," especially if you have positional power, but why needlessly risk backlash, resentment or substandard results.  Since no one person can have all the answers, the chain-of-command approach often "orders" mediocre quality.

Understanding other people and using your "soft skills" doesn't make you a "soft" leader.  Quite to the contrary, in fact; with practice, collaborative approaches can be more powerful, enabling you to lead more strongly and quickly toward the desired results.  The more rapport you have, for example, the more room there is for intensity and passion in leading toward your goals, even and especially if there's disagreement about methods or priorities.  This is simply because there's more of a genuine win-win when the other person feels included, consulted, respected.

Interpersonally, you can be more directive once you demonstrate that their views have been acknowledged.  It's the core psychology of negotiation: we listen better once we've been heard.

A team of lawyers from PayPal/Ebay hosted a Build-A-Bike & reg; team building event in San Jose California to come together as a group and build teamwork skills. The team of thirty lawyers and paralegals gathered in the PayPal headquarters just outside of San Francisco. The team members come from Maryland, Omaha and San Jose. Half of the members of the legal team joined the company within the last year so encouraging a sense of team spirit was a high priority. The team spent three days in meetings to help get to know each other and open up lines of communication.

The Build-A-Bike event teaches teamwork skills through a series of challenges which the teams are to complete. The tasks encourage the teams to think outside the box to come up with solutions. While they are learning to work efficiently as a team the PayPal employees were also having fun and learning about their co-workers. Aside from just having a good time this helps employees to open up with each other so they can work better as a team. The overall lesson is that when everyone works together towards a common goal they can achieve it much faster than individuals competing to reach the same goal. In addition, it is not possible to start building your bike until everyone has their parts. This little twist forces the group to go beyond their teams to get the job done.

While the Build-A-Bike team building event helps employees to come together, it also lets them give back to their community. The PayPal employees built six brand new bicycles which were donated to the Boys and Girls Club of San Jose. Presenting the bikes to the children is always a fun part of the event. The employees were surprised to see how much of an impact they had on the kids. While six new bikes might not seem that significant to a team of lawyers, it goes to show how each person's effort makes a difference and is appreciated. The PayPal team made some big strides in improving their teamwork and communication during the event and will have plenty of good memories to build solid relationships upon. Thank you to the legal team at PayPal/Ebay for hosting a spectacular Build-A-Bike ® team building event.

At their mid-year sales meeting in Salt Lake City, Utah, UPS Capital Corp employees showed overwhelming enthusiasm that made up for their smaller size during their Build-A-Bike ® team building event. The sales meeting was held at the spectacular Stein Erickson Lodge in Park City near Salt Lake City, Utah. The participants in the Build-A-Bike event were part of the Women's Leadership Development group within UPS Capital Corp. The twenty five employees were from various locations within the United States. Some knew each other and others had never met before. While their group was small, their enthusiasm more than made up for their numbers.

The Build-A-Bike event fit in perfectly with the Women's Leadership Development group's goal of promoting leadership skills. It was also a great opportunity for employees to bond and grow more comfortable with each other as a team. Because of the smaller than normal size of the group, employees of UPS Capital Corp were tasked with creatively using their resources to efficiently solve the challenges of the event. The Build-A-Bike event is filled with practical lessons that employees can draw from and overcoming the challenges of having a smaller group was just one of those lessons. The events tasks help to build teamwork and leadership skills and encourages employees to think outside the box to find new solutions to familiar problems.

Not only did the employees of UPS Capital Corp learn valuable lessons about working as a team but they also learned the value and pride of giving back to the community. The teams built four new bicycles which were donated to the Boys and Girls Club of South Valley. All the employees were delighted to see the children as they were presented with their new bikes. Between the beautiful view from the deck, the fun and excitement of the Build-A-Bike event and the joy of the kids and their new bikes; the employees of UPS Capital Corp hosted an amazing event. A big thank you to the employees of UPS Capital Corp for participating, learning and giving back.

Medtronic, the global leader in medical technology, hosted a Build-A-Bike ® team building event at the Hyatt at Fisherman's Wharf in San Francisco California. The twelve participants were from the marketing department within Medtronic. Most of the employees live in the northern California area but due to their role within the company they tend to travel quite a bit. Medtronic wanted to take some time to rebuild and refocus their teamwork and communication skills. The participants were a good mixture of older employees and newer. Two of the employees had just joined the company within the last month. Medtronic wanted to make sure that they had a solid team atmosphere in place and have a bit of fun while doing it.

Being in the marketing department, most of the participants were very extroverted which made for a lively and entertaining event. But of course it isn't just about fun and games. The tasks in the Build-A-Bike event are designed to challenge the participants communication skills and ability to work as a team. The teams must work together and use every person's unique skills in order to be successful. Their manager was able to see exactly where any communication breakdowns occurred and take steps to prevent them in the future. The group had a lot of fun with the event and were able to strengthen their teamwork and problem solving skills.

The Medtronic marketing department was able to complete four brand new bicycles which were donated to the Big Brothers/Big Sisters of San Francisco. Presenting the new bikes to the kids is always a special part of the event. Participants get to directly see the huge impact their teamwork can have. At the presentation the kids showed up with their 'Bigs' which was a unique surprise to get to see them interacting together. Medtronic is passionate and dedicated to their goal of helping people, whether it is through new medical technologies or donating bikes to kids in need. We would like to thank all the participants of the Medtronics marketing department for hosting a wonderful and certainly memorable Build-A-Bike team building event.