In this success video, The Leader's Institute CEO, Doug Staneart, talks about how the most successful people in the world are those who find something that they love to do and then make that their career.
Transcript: Hi, this is Doug Staneart with another leadership tip from The Leader's Institute®. The old saying is that, "If you find something that you really love to do, you'll never have to work a day in your life," and that is one of the things that I figured out very early in my career. If you find something that you are really enthusiastic about and then find some way to make that thing your profession, then you are going to succeed no matter profession — no matter what your interest is.
One of the things that I have seen as I've taught dozens and dozens, if not hundreds, of public speaking and leadership classes and team building events is that the people who are the most happy are the ones who have found something that really drives them, that they are passionate about. And what is most interesting is that the ones who do that are the ones who become very successful. So find something that you love to do — Something that you are enthusiastic about and make that your career. If you do, you can't help but become successful. This is Doug Staneart with another leadership tip!
When you write a presentation or design a PowerPoint slideshow, make sure and think of your audience first. This public speaking video gives tips on how to write a speech better by considering the wants and needs of your audience first. When your audience changes, your presentation should also change. When your audience changes, your PowerPoint slideshow also needs to change. Consider your audience, and you are much more likely to have a success delivering your presentation.
This presentation skills video is one part of a three-part video series that helps presenters design presentations more quickly and easily. Subscribe to our feed or LIKE us on Facebook to receive additional tips in this series.
In this public speaking tips video, Doug Staneart, instructor for the Fearless Presentations® Public Speaking Class, shows how when you add stories to your presentations, you make your speeches much more memorable. Audience members will remember statistics and data much easier in your PowerPoint slideshows if you relay the stories behind the numbers. Give your audience the examples that explain the data, and they will remember a lot more of your presentation. Adding stories to your presentation is one of the most important public speaking tip that you'll ever come across.
This public speaking skills video helps presenters make their presentations more understandable and easier to follow by adding stories and examples into the structure of their PowerPoint presentation or slideshow. In addition to reducing public speaking fear, stories allow the audience to better picture in their minds exactly what the presenter is trying to communicate. So if you want to improve your public speaking, add stories and examples into your presentations.
Public Speaking Tips Video: Stories Reduce Public Speaking Fear
One of the easiest ways to reduce the fear of public speaking is by inserting stories or examples to reinforce or back-up facts or statistics in your presentation. Stories are easy to deliver, and you don't have to memorize them, so they reduce public speaking fear.
To Register for a Fearless Presentations Public Speaking Class, click here.
Presentation tip to arrive early to reduce public speaking fear and stage fright. Visit our website for more free presentation training videos.
Fearless Presentations Public Speaking Tips.   Doug Staneart is a keynote speaker from Dallas and CEO of The Leader's Institute.  In this video, he gives public speaking tips from his Fearless Presentations class that helps viewers become more prepared for their presentations by arriving to the presentation early.
Here is the replay of our free webinar called PowerPoint Tips: The Ten (10) Biggest PowerPoint Mistakes and How to Avoid Them. We ended up with hundreds of people registering to attend, so if you happened to try to login and all of the seats were gone, we apologize. Enjoy the free PowerPoint Tips Webinar.
If you have trouble viewing the movie above, you can watch it at the source at: https://www.blip.tv/file/4024846/
Other Resources: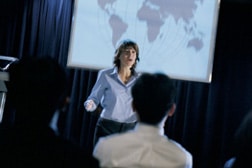 This Thursday Evening, our CEO, Doug Staneart, will be leading a Free Webinar called PowerPoint Tips: The 10 Biggest PowerPoint Mistakes and How to Avoid Them. One of the things that we've found conducting over 1000 Fearless Presentations Seminars is that one of the biggest causes of Public Speaking Fear is the way that a person designs his/her PowerPoint Presentation. Design it wrong, and your nervousness increases exponentially. Design it right, and you'll be poised and confident.
Register for the seminar by clicking this link: https://www.leadersinstitute.com/powerpoint-tips-10-biggest-powerpoint-mistakes-webinar-replay/ 
In the free webinar, we'll cover the following:
The 10 Biggest PowerPoint Mistakes and How to Avoid them.
The simple mistake that, if you do it, will cause your presentation to fall flat every single time (and what to do instead).
How what we do to reduce our nervousness actually causes us to be more nervous (and boring!)
A strategy that will increase the clarity of each slide ten-fold.
How, often, the things we do to make our slides look prettier actually cause the audience to be confused.
Everything your boss and coworkers have ever told you about charts and graphs is absolutely wrong — and once you know this secret, you will tower over them.
How just physically moving two feet in the room can give you more confidence and authority on your topice (seriously — two feet, and it's not what you think).
And how if you let someone else design your slide deck, you'll increase your nervousness exponentially.
And a whole lot more!
The webinar will take place Thursday, Aug 19th (that's this Thursday) at 8:00 PM Central Time (9:00 PM Eastern/6:00 PM Pacific) and it's free to our friends and clients.  Seating is limited, though, so you do need to register in order to reserve a seat (login early because we expect to run out of speaces.)
If you'd like to attend but can't make it, register anyway, and we'll send you a link to the replay so you can watch it at your leisure.

See you at the webinar! (The links in the article now forward to the replay of this webinar. Just click any to watch it.)

Presentation Skills, Using Analogies — Analogies are a great way to take complex data in a presentation and make it easier to understand. I was in Rome a few weeks ago, and I was staying in a hotel that overlooked the city. It reminded me of an analogy the Freud created to explain the complexities of the conscious and sub-conscious mind. This video shows how he took this complex data and made it more understandable. Fearless Presentations is a presentation training course offered in major cities all over the world, and here is a video from Doug Staneart, CEO of The Leader's Institute, who gives a few ways that a little training can eliminate stage fright.

Persuasive Public Speaking.  One of the most effective ways to persuade your audience is to relay a personal story or an example that shows the benefits of your recommendation to your audience.  Religious leaders have used this technique for over 2000 years with great success.  This video explains how the persuasive public speaking technique works.  Fearless Presentations is a presentation training course offered in major cities all over the world, and here is a video from Doug Staneart, CEO of The Leader's Institute, who gives a explains this technique in the courtyard of the Vatican.