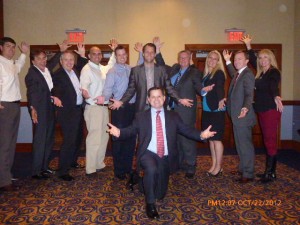 The group who attended the Fearless Presentations Workshop® in Atlanta learned the importance of the proper use of audience participation.  Many people try to get their audiences involved in their presentations, but end up struggling to get people to participate.  .The first mistake people make is that they ask rhetorical questions and then wait for an answer.  Questions like, "Who wouldn't want an extra $500.00 on their next paycheck?"  Now this is a silly question because no one in their right mind would turn down the extra money.  It comes across as very manipulating when we ask a question that only has one true answer, especially if you wait for a response.  I remember once going to one of the home and garden shows in my city and had one of the cookware sales people asking very silly and manipulating questions, like "Who here wants to save money on their grocery bills? And who wouldn't want to eat healthier."  He literally waited till most of the audience nodded their heads YES before continuing on about how buying this cookware would help them save money and eat healthier.  He lost all his credibility with his audience and after the second or third time of doing this, many people just got up and left his demonstration.  He lost potential sales because of the silly and rhetorical questions he asked. So the next time you ask your audience a question make sure that there is more than one answer so that you don't frustrate and potentially manipulate your audience. For more help in becoming a better speaker and a Fearless Presenter, attend one of the Fearless Presentation ® Workshops in a city near you.  You can find a list of the upcoming classes by going to www.fearlesspresentations.com

For a Complete List of Upcoming Classes, Visit the upcoming presentation skills classes post. You can can click here for details about the Fearless Presentations ® class.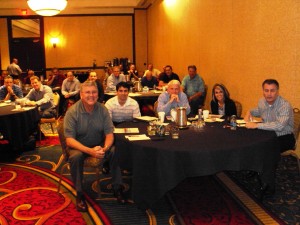 40 team leaders from Swedish Match North America, a world leader in the tobacco industry, came together in Cleveland, Ohio, for a
"Creating a Team Culture" team building workshop
. The event is a fast-paced workshop with ideas shared and activities integrated into the program that facilitate learning and understanding. The event is designed to share practical skills in team building and and team leadership; then give actual experiences of putting the principles into practice. It is a very informative time of instructions that also combines fun and entertainment.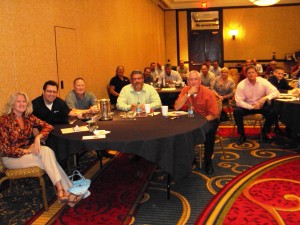 The SMNA participants were a great group and worked well together completing the tasks that were given.
The people attending this special meeting gained practical experience in improving communication skills, improving listening , giving instructions so they'll be received more readily, telling stories, and in showing appreciation. Each of the skills were demonstrated and then practiced to demonstrate the importance of each one, and how each applies to team building and team leadership. Once the skills are mastered then attitudes improve and not only do individuals benefit but as each individual grows and benefits so does the team and the company. SMNA was a great group and and the participants contributed greatly to the success of the program.
Thanks to Swedish Match North America for a great "Creating a Team Culture" workshop and for making this investment the lives of their employees.
For details about a Team Building Event in St Louis, click here.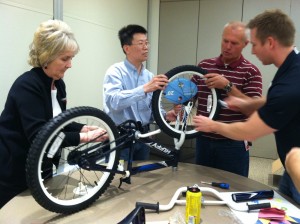 Grainger hosted a Build-A-Bike workshop as part of a day-long retreat to encourage team building and philanthropy at its offices near Chicago, Illinois. Grainger was founded as a wholesale electric motor sales and distribution business in Chicago in 1927. Over the last 80 years, Grainger's product line has expanded to more than 900,000 products and repair parts. The Grainger branch network has grown steadily over the years, and today there are more than 600 Grainger branches in the U.S., Canada, Mexico, India, China, and Panama. There were about 32 members of their global software development team that participated in this event.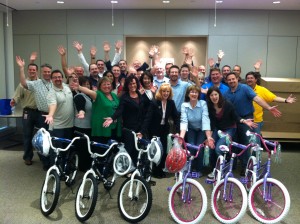 Build-A-Bike uses a series of challenges and exercises to encourage team building. Meant to be something of a caricature of behavior we can see in the workplace, the participants have a good time poking fun at themselves and each other as they move through the exercises together. Even though this group has been through a lot of change over the past year and some of them didn't know each other very well, they jumped right in and rose to the challenge!
The group built six bikes and donated them to a local YMCA club. Challenges with timing and the end of the school day prevented the kids who would receive the bikes from attending, but the group learned about them from the director of the club.
"The group really had a great time. This was exactly what we needed to help the group gel together. Thank you!" — Donna Carlson, Grainger
Groups within an organization that need to work more closely together can benefit greatly from the team building lessons of Build-A-Bike. And everyone loves to see the looks on the kids' faces when they get a brand new bike! If you want to encourage team building while giving back to your local community, consider including Build-A-Bike in your next conference.
| | |
| --- | --- |
| | Ellen Patnaude is Vice President of Instruction for the Northeast region. She is based in Detroit, Michigan, but she also facilitates team building events in Chicago, Cincinnati, Columbus, Toronto, Baltimore and other Northeast cities. |
For details about a team building event in Chicago, Illinois, click here!
The participates of the Fearless Presentations ® class in New York learned that when we begin to speak, 
the impression that we make in the first 7 seconds is often the way that our audience may  continue to view us as we deliver our presentation.  That's why it very important to make a great first impression when we first start our speech.  We have all heard that it's important to stand straight, smile, and make good eye contact, but it equally important to show energy and enthusiasm for your topic when you speak.  If you don't show an audience that you are excited to be presenting your topic to them in the first few sentences, they may lose interest and not pay attention to what you have to say.  If you can't be excited about your topic, then why should your audience be even the slightest bit interested in what you have to say?  So the next time that you speak, remember to also focus on your excitement and enthusiasm.  That will make a great first impression that will carry forward throughout your presentation.  To learn more about how to become an effective speaker sign up for one off the Fearless Presentations ® Class in New York or a city close to you.

For a Complete List of Upcoming Classes, Visit the upcoming presentation skills classes post. You can can click here for details about the Fearless Presentations ® class.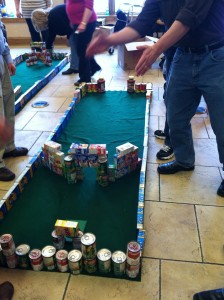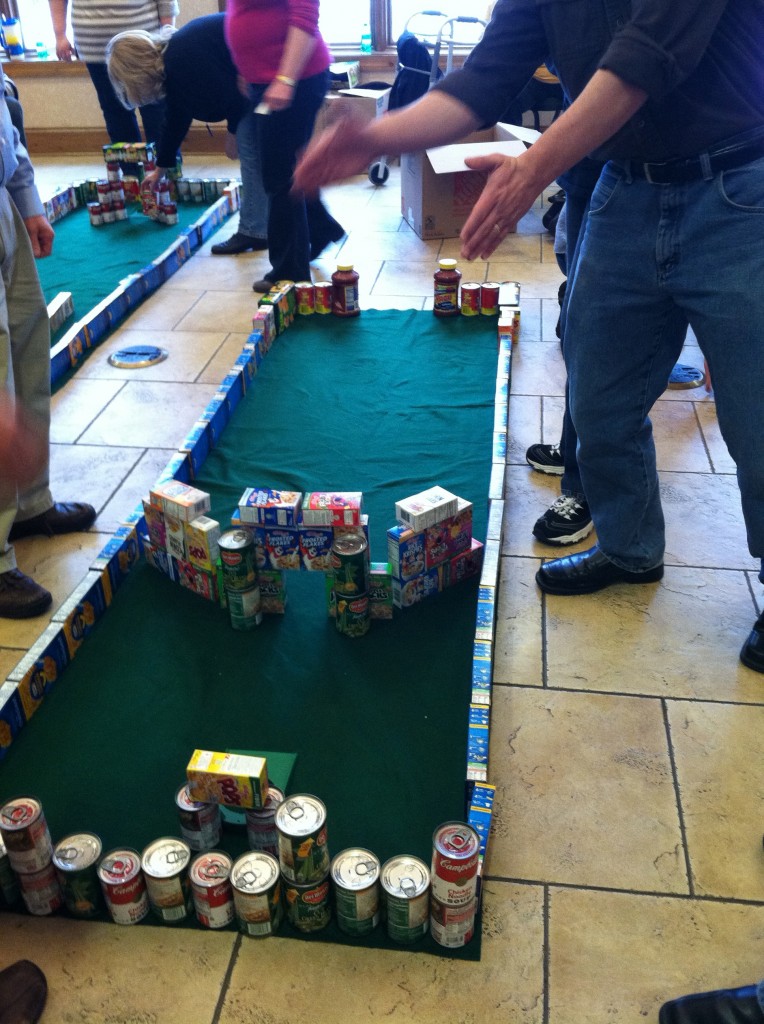 Johnsonville Sausage recently included an
Ace Race golf team building workshop
in an off-site team meeting in Sheboygan Falls, WI, not far from
Milwaukee
,
Wisconsin
. Johnsonville Sausage has been around as a company since 1978 and is known for their quality meat products. They have around 1,300 employees, and now export their products to 30 countries around the world.
The workshop involved about 40 members of their MIS team. The goal was to give them a fun experience that got them up and moving from their normally more desk oriented jobs! The Ace Race Golf Team Event began with a couple of quick warm-up activities that get at some of the fundamentals of good team communication. The group shared some laughs and the competitive spirit was high! Moving into the golf event itself, each team created a mini putting green for themselves using non-perishable goods. Each green had a unique design and some included very tricky obstacles! All of the teams then had a race to see which team could get around the entire course first, making a hole-in-one on each green.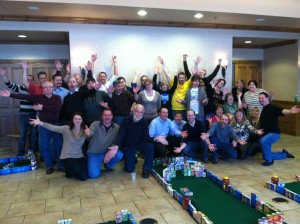 This group started out a little low-key, but very competitive! There was a lot of laughter and cheering as they created and then played their course. At the end of the event, they invited The Salvation Army to accept their donation of half a ton of food. While a representative was unable to attend the event due to a last-minute conflict, the organization was very grateful for the generous donation and will use it in the eight food pantries it helps supply around the greater Sheboygan area.
Team building workshops that are composed of activities that have a point, coupled with a lot of fun and the opportunity to give back to the community are a great way to get people having fun together. Consider including an Ace Race Team Activity in your next conference and give your team a memorable experience!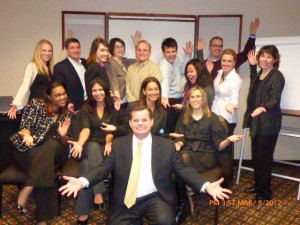 The Leaders Institute conducted another very successful Fearless Presentations® Workshop in Chicago, Illinois.  The Participants learned how to overcome their fear of speaking in public and build self-confidence in their skills they learned in class.  Some were surprised to find out that they were not alone in their anxiety.  Public Speaking is the number one fear for most adults and is one of the main factors holding people back from achieving the success they desire in their field of employment.  Most people have a fight or flight feeling going on inside when they are asked to give a presentation in front of a group.  If at all possible, many people will avoid the opportunity to speak in public, just like running away.   But, on those occasions that they are unable to reject the request, they are anxiety ridden and they feel forced to fight their greatest fear.  This is where the Fearless Presentations ® Workshop can offer the help they need to overcome that debilitating situation.  The participants are given powerful insights and skills that they can learn to overcome that fear.  So, If you are ready to do something about overcoming the anxiety with speaking in pubic or giving presentations, go to the FearlessPresentations.com and locate a class that will be coming to your area and sign up for a class.

For a Complete List of Upcoming Classes, Visit the upcoming presentation skills classes post. You can can click here for details about the Fearless Presentations ® class.
Superior Essex hosted a Build-A-Bike® team building workshop for its highest level management team to encourage team building and philanthropy as part of its recent conference in Fort Wayne, Indiana. Superior Essex is a global leader in the design, manufacture and supply of wire and cable products. Their parent companies have been in business since 1930, and have evolved over time with technology. Superior Essex works all over the world. About 65 members of management gathered for the event.
Build-A-Bike® uses a series of challenges and activities to encourage team building. Meant to be something of a caricature of behavior we can see in the workplace, the participants have a good time poking fun at themselves and each other as they move through the exercises together. As high-level leaders in the company, these folks figured out pretty quickly that they would be much more effective working together!
They wanted to keep the impact of this event local, so they selected an organization in Fort Wayne to receive the 10 bikes that they built. The bikes will be Christmas presents to children who would not have had much to look forward to on Christmas morning otherwise.
"This event exceeded all of our expectations! Everyone had a really great time with the activities, and knowing that they will be making Christmas brighter for local kids was a definite high point. We will definitely look forward to working with Ellen and The Leader's Institute again next year!" — Amanda O'Brien, Superior Essex
Even groups that have been working together for a long time need events where they can just have fun together while reinforcing the importance of good working relationships. If you want to encourage team building while giving back to your local community, consider including the Build-A-Bike® team-building event in your next conference!
Rocket Fuel held their annual sales meeting for over 70 of their employees in Las Vegas, Nevada recently and included a Build-A-Bike® charity team building that resulted in 14 children receiving bikes. Rocket Fuel is a digital media company driving campaign results from awareness to sales.
Like their name suggests, they seemed to be powered by rocket fuel and the sheer power to win! Competition is a normal part of a business culture as departments set goals for their teams to increase sales and grow. But when it starts to supersede everything else it can undermine communication and working as a team. It can be detrimental to the culture if it is not kept in balance. The exercises in the Build-A-Bike Team Building Program are a fun and effective way to show what it is like when this occurs. Fortunately, the energetic Rocket Fuel participants abandoned their competitive spirits and worked together to achieve the goals to have fun, build some bikes and learn a little about team building.
The activities culminated with the building of 14 bikes that were given to children at the Community Services of Nevada. In the heart of the Las Vegas strip, 14 happy boys and girls were the very grateful recipients. Even all the lights and the flash of the Vegas Strip couldn't compare to the joy on the children's faces when they received their bikes. It brought the meaning of giving and how much we can make a difference to someone else.
Microsoft held a corporate conference for 100 of its employees in Chicago, Illinois recently and included a Build-A-Bike charity team building workshop as a way to give the participants a high-energy experience with a philanthropic surprise at the end. Founded in 1975, Microsoft is a worldwide leader in software and employs over 90,000 people across the globe. We have partnered with Microsoft to deliver quality team building programs to many of their corporate conferences across the country.
Throughout the event, there was a lot of energy and an air of competition! The initial activities presented opportunities for the teams to get to know each other better, and to step outside of their comfort zones. The level of enthusiasm in the room was impressive! Everyone had a great time cheering for each other and showing off their creative sides.
The main portion of the program required the participants to abandon their competitiveness and work together to gain knowledge and resources in order to be successful. Skeptical and a little reluctant to share what they each had at first, eventually everyone adopted a spirit of cooperation and together they were able to build 16 bikes for kids.
The High Ridge YMCA club in Rogers Park brought 16 boys and girls to the event to be the excited recipients of the bikes at the end of the program. All the tension and struggles of learning to work more cooperatively melted away as the participants looked at the kids' faces.
"This event was so much fun for everyone! Ellen did a great job, and the kids from the YMCA were just precious!" — Julia Kim, Microsoft
Everyone likes to have fun, and everyone likes to make a difference to children in their communities. Build-A-Bike is a great way to combine the two and add a new dimension to any corporate gathering.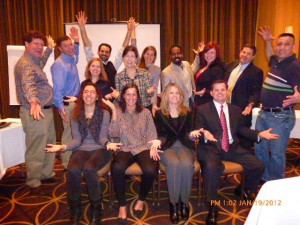 The Fearless Presentations ® Workshop in Washington DC was another total success.  The class was full of determined individuals wanting to improve their presentations and public speaking skills.  The quality of the instruction was equaled to the efforts of the attendees.  The overwhelming consensus of the people was that they felt like the class greatly reduced their anxiety for speaking in front of groups.  Also the instruction of how to design a presentation with the audience in mind was very helpful in preparing very effect presentations.    Washington DC is known for their incredible orators…you can add another 13 to the list.  The improvement was very evident from the group from the beginning to the end.


For a Complete List of Upcoming Classes, Visit the upcoming presentation skills classes post. You can can click here for details about the Fearless Presentations ® class.