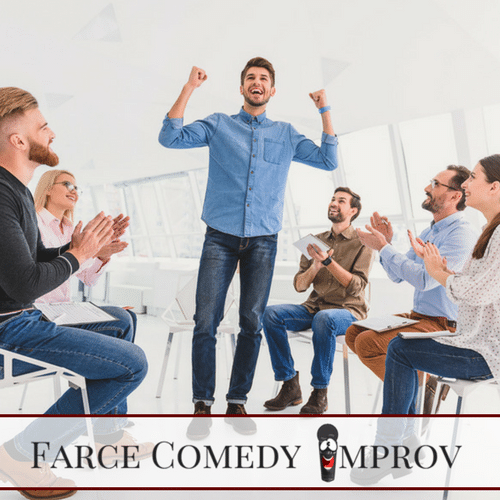 Farce is a fun and incredibly funny Comedy Improv Team Building Training event that will have your group laughing at themselves and peculiar situations created by professional actors and comedians. That's right! This team building activity teaches your team to be funny. All instructors for these programs come from the world-famous Groundlings Theater in Los Angeles, and when your group hires us to come out to your location or convention, there's a good chance you'll catch a rising star or someone who may show up soon on Saturday Night Live. In fact, the theater has become a virtual breeding ground for SNL and other sketch comedy performers.
Team Building Event Description
(Download the Farce Improv Brochure)
"The training was excellent! It was easy to see that our associates really came out of their shell and got involved in the Comedy Improv. I'd not only like you to come do more training for us, but I've already referred you to other companies as well. Over the past few weeks I've really noticed that the lessons learned from the training are still being used in the workplace." Mike Cassio, E2M
The facilitators are led by actor Larry Dorf and comedian Steve Mallory.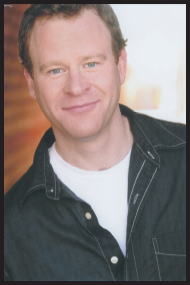 Larry Dorf is best know in Hollywood for being a very popular commercial actor. (Yup, he's the guy with the puppet in the Lending Tree commercials.) He guest starred on King of Queens, The X-Files, 3rd Rock From the Sun, Ugly Betty, Malcolm in the Middle, Desperate Housewives and lots more. He has also co-starred in the films, Fun With Dick and Jane opposite Jim Carrey, and All About Steve" with Bradley Cooper and Sandra Bullock. He teaches comedy Improv to actors and comedians at The Groundlings. Currently, Larry is one of the Improv cast-members of Melissa McCarthy's TV show, The Nobodies.

Steve Mallory has guest starred on Comedy Central's Reno 911 and I'm with Busey. Steve has starred in Spike TV's The Joe Schmo Show II, playing Ernie Gallo, heir to a wine fortune and also starred in VH1's BSTV, a modern update on Candid Camera. Steve was most recently appeared in the Jason Bateman movie, Identy Theft. Although Steve loves acting, he spends most of his time running InterAct Training and teaching coperate executives how to connect with their teams better.
"You have developed the best type of training I've ever attended, and the feedback I am getting is overwhelmingly positive. Your professionalism and attention to detail assured that everyone really opened up their creative thinking, and came together as a team. We couldn't have asked for a more valuable training experience" Brett Colson-Dir. of Communications, City of Anaheim
Every FARCE!, Comedy Improv Team Building Activity in Unique to Your Group
Programs are conducted by professional comedians and are a custom experiences tailored to your group. Instructors use improvisational techniques to give your group a genuinely unique experience. Depending on your needs, the training can focus on any or all of the following:
Brainstorming. Participants learn:
A common set of rules, which will unleash the creative power of the entire group
To push through their inhibitions when participating in brainstorming sessions
To focus on the overall group objective as opposed to individual agendas
How to implement the "yes-and" principle to solve problems and fully explore an idea
Teamwork. Participants learn:
Build a sense of trust within the group
Assess their role in the group and understand how that contributes to the overall group objective
Break down barriers and be able to rely on their coworkers
Communication and Listening. Participants learn:
Engage in active listening skills
Break bad habits impeding successful communication
Thinking Better on your Feet. Participants learn:
Quickly assess the needs of your coworkers or clients in order to improve responsiveness
Feel comfortable responding to unexpected situations
Answer questions with authority
"You guys knocked it out of the park for us! It was just great. Thanks for all you did to craft the agenda and make it such a hit."
Jay Dogburt, Hilton Hotels

Shorter versions can be tailored for annual meetings and conventions. Full day versions with a combination of Farce Comedy Improv and Creating a Team Culture are also available for a discounted additional fee.
For More Information or to Request a Quote…
Helpful Links: All Team Building Activities or Other Team Training Seminars