Like this Post? Share it with Your Friends:

Robin Hood Archery Tag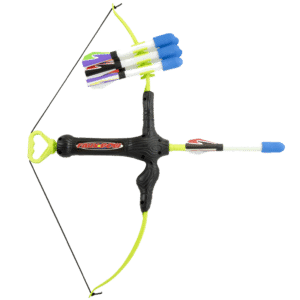 One of the mainstays of our "Just for Fun" category is Robin Hood Tag (Archery Tag). This activity is great for a team outing, a corporate picnic, or if you just want to reduce a little stress. The activity is like laser tag or paintball, but it is entirely safe (and clean). The activity is also entirely portable. All you need is a little open space, and we take care of the rest. Each participant gets a "Faux Bow 3" soft-tipped arrow launcher. These bows will launch safety tipped arrows over 100 feet with fairly precise accuracy. You can also deliver the event indoors (in a banquet hall) or outside (in a park). The archery tag begins with a little target practice and safety training. We then divide the group into teams for a little team bonding and friendly competition. Finally, the conclusion is a survival of the fittest where a grand champion is crowned. Your team will laugh and get a little exercise while delivering "nerf" darts at their coworkers. (What else could you want in a team building activity?)
For More Information or to Request a Quote…
Helpful Links: All Team Building Activities, Other Outdoor Activities, or Other Just for Fun Activities.
Like this Post? Share it with Your Friends: