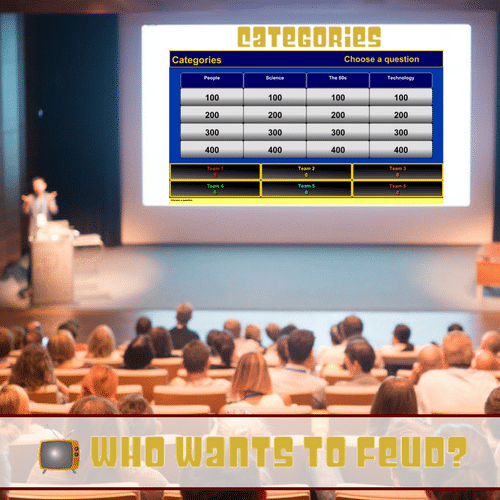 TV Game shows are a fun way to reinforce content from meetings. If done well, a custom TV game show can also build camaraderie and teamwork. These games can be used in a variety of different ways. You can use a game show as a stand-alone team building activity. You can also use them as icebreakers before a meeting or as a wrap-up activity after the meeting.
Team Building Event Description

Custom TV Game Shows Created Just for You!
TV Game Shows have been a popular form of entertainment for over half a century. In addition, speakers and trainers have often used quizzes based on these shows as a way to reinforce or test content knowledge after a meeting. However, in these homemade versions, it is very difficult to recreate the culture or ambiance of the real show… until now.
Our game show hosts have the digital software, lockout buzzers, and quiz-building expertise to create a custom game show for your group. You can send us content from your meeting, and we will create a custom TV game show just for your audience.
Custom TV Game Show Options
Coworker Feud
"Survey Says!?" Organize your group into teams and have them compete in this fun survey-style game where they match wits with each other. This game is best used for smaller groups (under 20 people) or as a show where participants are chosen to go up on stage to compete. Because the questions are based on survey results, the Coworker Feud is typically used more for entertainment than to test knowledge. However, we have used this type of event in situations like safety training or employee on-boarding for a fun way to reinforce content.
Categories
This is… Categories. It is fun way to reinforce content from your meeting and also check for retention. Contestants choose a category and a point value. Once the question is read, participants must buzz in before their competitors in order to answer. We like to organize the groups into teams where anyone on a team can answer if called on, but if the person answers wrong, the team is locked out of answering again until a new question is read. Categories can also be used as a charity team building activity where the winning team can donate their "winnings" to charity.
Other Options
We also have other programs such as "Who wants this great gift card?" (Unless you have a million dollars lying around that you want to give away.) In addition, we often create quiz games from scratch. We are really limited only by our (and your) creativity.
These Custom TV Game Shows can be Used as…
Team Building Event Features
Group SIze

10-100

People

Space Requirements

25

ft2/person

Time Needed

1-2

Hours