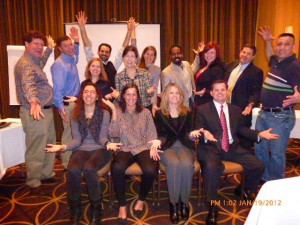 The Fearless Presentations ® Workshop in Washington DC was another total success.  The class was full of determined individuals wanting to improve their presentations and public speaking skills.  The quality of the instruction was equaled to the efforts of the attendees.  The overwhelming consensus of the people was that they felt like the class greatly reduced their anxiety for speaking in front of groups.  Also the instruction of how to design a presentation with the audience in mind was very helpful in preparing very effect presentations.    Washington DC is known for their incredible orators…you can add another 13 to the list.  The improvement was very evident from the group from the beginning to the end.

For a Complete List of Upcoming Classes, Visit the upcoming presentation skills classes post. You can can click here for details about the Fearless Presentations ® class.
---
Author: Rob Jackson, Date Published: January 28, 2012
Rob Jackson was a paid contributor to this blog from 2011-2013. For more details, you can find him on LinkedIn.
More Articles Like This... Past Fearless Presentations ® Classes Tagged with: fearless presentations • presentations • public speaking skills • washington dc • workshop

---