The Leader's Institute® conducted a presentation skills class in Chicago, IL, where participants not only improved their public speaking skills, but also delivered outstanding presentations by the end of the second day!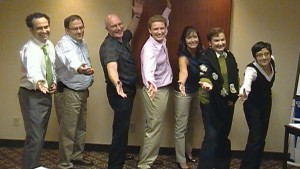 The class is designed to reduce the nervousness that often comes with public speaking, and teach students how to design a world class presentation in 15 minutes or less.  We had a very enthusiastic group of people who came from both the Chicago area and from across Illinois and the United States to take the class.  They especially enjoyed learning tools to improve impromptu speaking, and had a lot of fun in the process.  Good job everyone!

For a Complete List of Upcoming Classes, Visit the upcoming presentation skills classes post. You can can click here for details about the Fearless Presentations ® class.
---
Author: Chris McNeany, Date Published: September 27, 2011
Chris McNeany is an instructor for The Leader's Institute ®, and he is based in the Los Angeles, California Region. He is a specialist in custom team building activities and presentation skills classes.
More Articles Like This... Past Fearless Presentations ® Classes Tagged with: chicago • illinois • nervousness • presentation skills • public speaking

---