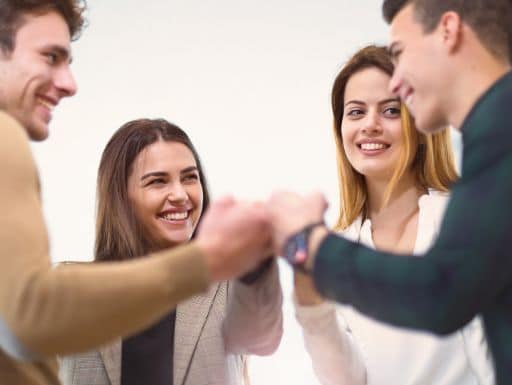 Why Do We Need Team Building? Is team development a good investment for companies? Well, the answer is yes and yes.
Company leaders often want to create a culture of "One big team." Then, this same thinks small when they organize team activities. You don't need to departmentalize your team-building. On the contrary, big team-building events lead to big team advantages as well. Team-building benefits multiple aspects of your company and creates major boosts for your staff.
Let's explore a few of these huge benefits of team building.
1) The Main Purpose of Team Building Events Is to Boost Team Spirit and Boost Morale.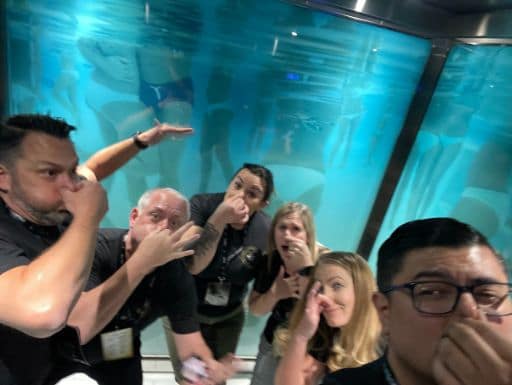 "Go team," isn't only relative to cheerleading or a sports team. A company's employees all have hidden talents and characteristics that shine during team-building.
Many people are very competitive. But outside of specific industries, you'd never know it. Any job has measurable energy seen through its workers. That energy can be visible through hard work or downtrodden company culture. However, we sometimes see this type of energy as negative energy.
Team-building helps shift that energy toward a more positive and profitable direction. When teams play a game or solve a puzzle together you will often see high-fives in the room. You will also see lots of smiles and hear laughter. This comes from channeling that negative energy into a more positive outcome.
When Teams Work Toward a Common Goal Morale Improves.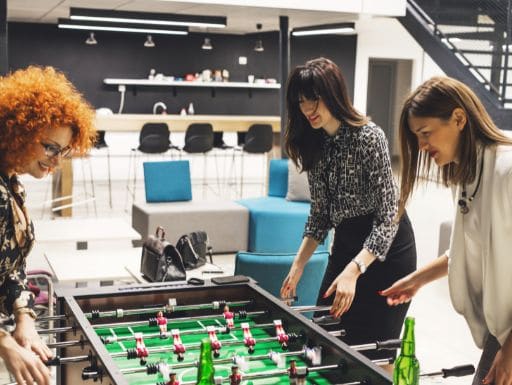 "Individual commitment to a group effort – that's what makes a team work, company work, civilization work," – Vince Lambardi
Somewhere in history, people figured out that working together benefits all parties. Whereas working alone isn't productive at all. In fact, it isolates people. A common goal provided to different departments gives groups a more concise focus. This new focus allows members to put forth more effort. Team members who are committed to an overall goal will work harder. They also build more momentum.
Without this morale, the entire company suffers. Michael Blankenship of Roberts Weslayan College wrote an article on the negative effects of low morale. He said, "Employees with low morale will display signs that include: increased absenteeism, conflicts with co-workers, insubordination, decreased productivity… [and more.]"
Now, I don't need to tell you how detrimental each of these issues presents to your company. But, when staff isn't happy the ship doesn't run well.
However, when team members have fun, others in the group sense it. Your teammates then project that same energy and productivity into what they do.
This is why people often have success when they turn their hobbies into their jobs. It's also why video game streaming has become so popular. Game services create milestones for players. As the player accomplishes a goal, the player feels a sense of accomplishment. You can also insert these same types of mini-goals into your team activities. As the team accomplishes more and more of these mini-goals during the activity, morale increases.
2) Team Activities Are One of the Best Ways to Improve Communication Skills.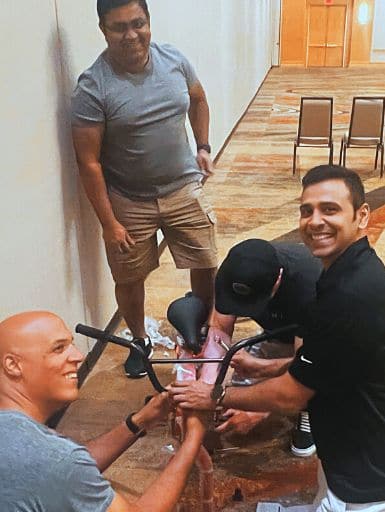 We often participate in team-building activities with people who we are comfortable. However, this doesn't always mean that our communication is effective. So a great team-building activity can help improve this communication, though.
Years ago I did a scavenger hunt with my colleagues. We came in last place. ;-( This happened, though because each one of us was working alone rather than together. We felt frustrated because we couldn't decipher the clues. That anger caused us to argue with each other. A more cohesive team could've won. A strong team uses open communication without judgment or criticism. Words spoken without meaning give way to smaller achievements. While clear and concise messages drive members of a group further.
My point is that all team activities don't necessarily have a positive outcome. (That's why choosing the most appropriate activity for your group is important. You may also want to)
Team-Building Events can Tune-Up Your Communication Skills.
Team building activities are like a tune-up for your car. Your car works fine as is. But with some minor improvements, your car works even more efficiently. Team building activities have a similar effect. Your staff learns to communicate in a more efficient way with each other. This leads to a stronger bond. Which, in turn, leads to a stronger team.
Coronavirus introduced a new way of working with remote teams. This introduction had an unwritten prerequisite for an entire team. (That they need to communicate well.)
When a company's employees don't communicate well, problems occur. As a result, conflicts arise as well. (Both of these are bad.)
Alternatively, when teams communicate better, team performance increases. Their messages are better understood. In general, communication flows better.
A good team building activity can improve this communication. For instance, during The Leaders Institute® events, coworkers develop deeper connections. If you recall earlier, I mentioned that big team activities help develop the "one big team" theme. This part of the activity has the opposite effect, though. We divide the big group into smaller teams. This provides team members an opportunity to get to know other staff in a more relaxed setting.
However, all of the smaller teams are still working toward the common goal of the entire group. So, you receive both benefits!
3) A Good Team Building Activity Can Help Your Team Develop Problem Solving Skills.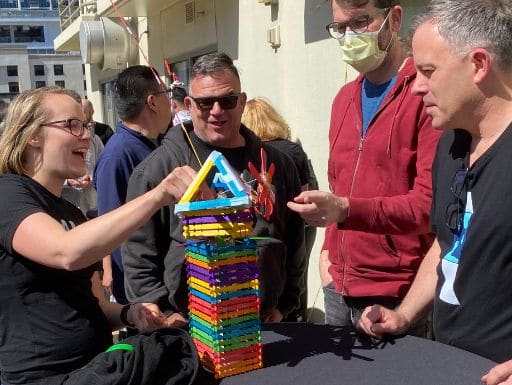 Your company's productivity determines your company's bottom line. When staff members are efficient, your workforce is more productive. Most often, though, as problems arise, we focus more on the problem than the solution. This creates a habit. People are more likely to complain about the problem rather than bring solutions to the table.
However, a team-building activity that uses problem-solving drives a group's focus to find a resolution. When people concentrate on finding a solution, they are less likely to start a conflict. (They are also less likely to add drama to the office.)
Another great benefit is that increased problem-solving skills generate fresh ideas. Your team will find new ways of doing things. Hidden talents of your team will also shine through. These outcomes provide teams with a common goal they can strive for instead of needing conflict resolution.
A successful business has successful leaders. Successful leaders develop key skills like logical thinking, active listening, empathy, and flexibility. So as your team members develop these skills during team activities, you are also building future leaders.
Problem-Solving Skills Drive Good Teams to Accomplish Their Goal.
The reason people develop problem-solving skills after team events is that there is a common goal. People also have a group consensus to accomplish that goal. When multiple individuals attempt to complete a task, we've all seen how jumbled and knotted or disorganized the execution can be. Disorganization in any company or team can cause a number of issues. Products being sent out can miss getting shipped or picked up. Advertisements for an event can force a cancellation because not enough participants sign up or show up. Of course, apologies for a mess-up can only go so far.
A collaborative group, though, presents a more organized and concise driven effort towards a goal. This leads to more profit and efficiency. The team will also be performing in a more relaxed setting. This gives your team the ability to demonstrate new leadership skills. True personalities shine when people feel more comfortable and able to be themselves. A good team activity allows these new leadership skills to shine in front of their peers. Your next manager could be hiding amongst your newer employees!
4) Team Building Exercises Are a Great Way to Encourage Employee Engagement.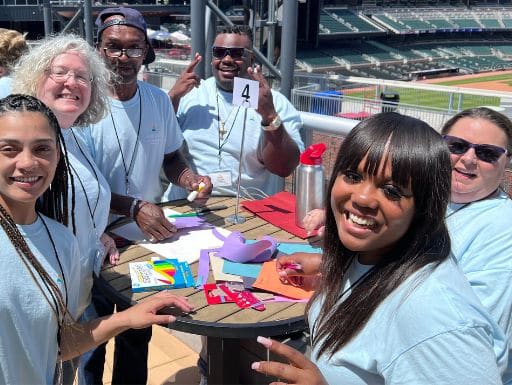 Many of us have been "voluntold" to attend some kind of training or professional development. Within minutes, we think, "I'm bored. When will this thing end?" I know I have. Often, these events have presenters who read straight off of a screen. Their energy is low. And, most importantly, their participants are disengaged. They have little chance to share their own ideas.
Personally, I like training sessions where I have a chance to collaborate and interact with other attendees. In these sessions, I'm more engaged because I can learn from the expertise of my coworkers. (Their experience is often more valuable to me than the presenter's experience, anyway.) Team-building activities allow meeting attendees to get up and move around. Participants get a chance to engage and actively participate in a given event. People learn more and learn faster when they are having fun.
Regular meetings are often necessary to improve communication. However, if your meetings are boring, they may cause team members to disengage.
"Another meeting? I have about 1000 things that I should be doing. All of them are more important than this stupid meeting!"
A fun activity, though, can come to the rescue here as well. When you insert team building activities into strategic parts of the agenda, you add fun to these meetings. Your team will want to come to future meetings!
Add Fun Activities into Otherwise Boring Meetings to Improve Engagement.
Engagement in team-building exercises is much like a good movie. A really good move creates a memorable experience. It is as though you are there participating in the story. Remember the last time you went to a theater and watched a really good movie? You are there, in the moment, the entire time. In fact, time passes very quickly because you are enjoying the film. During that two hours, you were totally engaged.
That is very different from movies or shows that you watch "in the background." I often play shows at home purely for background noise and scroll through my phone more than I watch what is going on.
My point is that the quality of the team-building event is very important to the engagement your team will feel. The larger your group is, the more likely you will want to hire professional facilitators. For instance, if your group size is under 20 people, team activities or outings are simple. Most leaders or managers can easily keep 10 to 20 people engaged for an hour or two. However, if you have a group of 100, keeping the group participating for the entire two hours is more difficult. You will get great value by hiring a professional team building company to help.
5) When You Improve Employee Satisfaction, You Increase Employee Retention.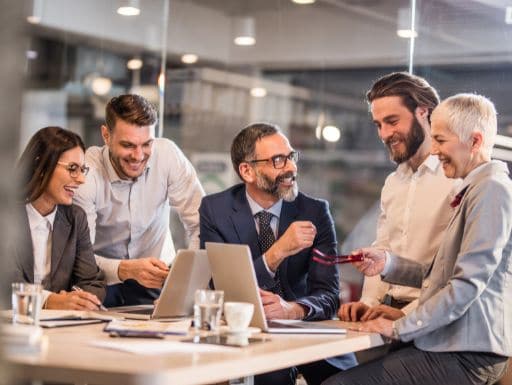 Harvard Business Review studied why employees stay with their current job. They identified two competing forces that are always at play. Force number one is employee satisfaction. The second force is an environmental force (family, economy, wages, etc.)
Both of these forces working together are powerful. Employees are happy. Pressure from negative outside forces is low. However, when outside forces are chaotic, job satisfaction must be higher to compensate. In the last two years, these outside forces have been terrible. First, the pandemic raised fear levels. Then for months, team members were forced to work from home. This force backfired when it was time to have everyone come back. Now, higher gas prices and inflation are causing more pressure.
So, Why Do We Need Team Building Right Now? Because Job Satisfaction Forces Are in a Battle with Environmental Forces.
As a result, you will want to make an effort to improve employee satisfaction. As outside pressures mount, great team members are more likely to leave. This is where a fun charity team activity can help a great deal.
For example, a couple of months ago, we led a Build-A-Bike ® team activity for a virtual bank in Austin. They had just completed a new building in early 2020. But when the pandemic hit, most of the building was empty for almost two years. (They actually had to clean out the beautiful training room for us to use. Maintenance had been using it for storage.) The leaders knew that two years of working from home would create habits that would be difficult to break. So, they scheduled the team activity for the first day back.
Many of the team were meeting in person for the first time. The event let them cut loose and have a little fun and work together in a stress-free activity. It also allowed them to help their community. The team built six bicycles for kids from the local Boys & Girls Club. The kids who were receiving the bikes came from a community that was hard hit during the pandemic. The activity help the leaders begin to rebuild job satisfaction quickly and easily.
Seek Satisfaction in the Beginning to Increase Retention
Jeff Weiner, CEO of LinkedIn, suggests, "Start the retention process when the person is still open to staying and not after they already told you they are leaving." If more companies work on plans and the how-to of keeping their employees satisfied, they would have far more retention instead of turnover. Satisfied employees stay while others are "acted upon" or driven to leave.
Think of retention like a restaurant. Patrons come in hungry or "dissatisfied" in their current state. But after eating a delicious meal those same patrons are now full (satisfied.) These satisfied customers are more likely to return. Your team members are the same. When satisfaction is high, they will want to come to work. They will want to be a part of the team.
Now That You Know Why Team Building Is Important, Are You Ready to Organize an Activity for Your Team?
Complete the Form Below to Request a Team Building Quote or a Live Demo!