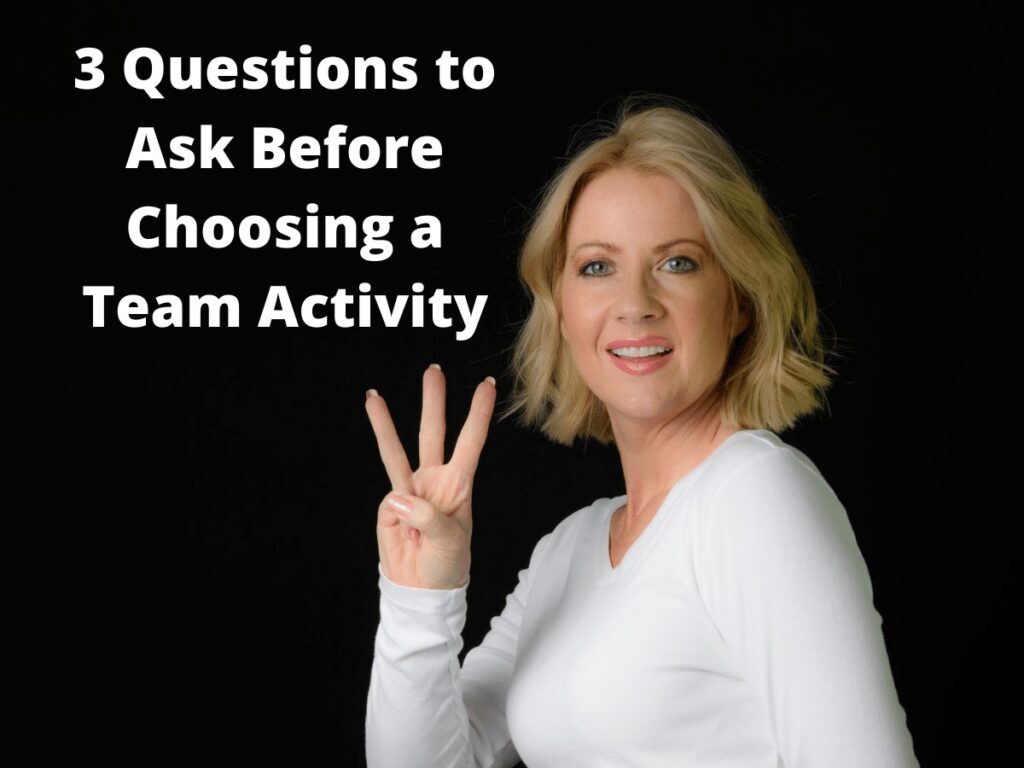 There are probably thousands of different team building activities out there on the market today. How can anyone possibly sift through them all and decide on the "best one" for their group? As soon as you put in the search term "team building" into any search engine, it's easy to become overwhelmed. You will get tens-of-thousands of options.
If you happen to be in this boat, the three questions below can make the search easier. You can use these three important questions to help you choose the right team building activity for your group. They aren't the only questions to ask, but the answers will give you a great starting point.
Three Important Questions to Ask Yourself Before Organizing a Team Building Activity.
What is my goal for this group?

The three questions are equally important in my opinion, but this one happens to be first. If you don't have a clear sense of WHY you are doing a team building activity, choosing one will send you off in a myriad of directions. You just might end up becoming so overwhelmed by the never-ending choices that you just give up.

What do I hope the group will do differently after this event?

This question is often overlooked by the planners of a team building event. It is easy to lose focus on where you are going if you didn't have a clear sense of the path before you started. Asking yourself what you hope that your group will do differently or better after the event can help you narrow down the type of event that is best suited to help you reach that goal.

How will this benefit our business?

Finally, this question is also often overlooked but equally important. Team building events that are done well can have clear benefits for your business in that they can help your team be more productive, communicate more effectively, or increase your team's collaborative spirit. Thinking about how that can benefit your business may make it easier to select an appropriate activity. It can also help with justifying the expense of a good team building program.
Start With the Answers to These Questions to Narrow Down Your Team Building Choices.
Selecting the right team building program doesn't have to be overwhelming or scary. Gaining clarity yourself before beginning your search can help you stay focused on the goals you have for your team, and how a good program can move you towards reaching them. Happy hunting!