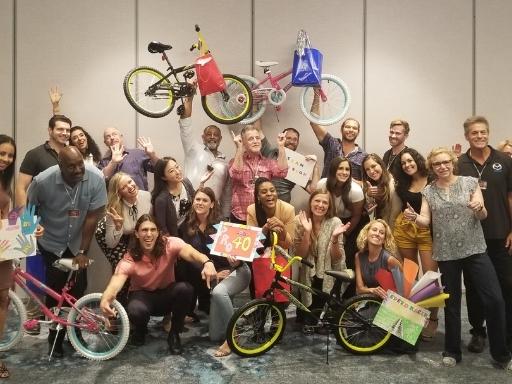 Click the Following Links to Navigate this Team Building Activities Page
The Best Team Building Activities Create Experiences (Memories.)
The absolute best team building activities aren't actually games or exercises. They are team building experiences that build teamwork and morale. By the way any activity can do this. However, there are a few team activities that are time-tested and audience approved and that also generate a fantastic emotional response from the group.
You won't find any cheesy trust falls or visits to dude ranches in this list. This list of team building exercises was hand-picked by our team of professional speakers and facilitators. Your team will love them! (Uuhh, the events, I mean, but you'll probably love our facilitators too. ;-))
How to Choose the Best Team Building Event for the Needs of Your Group.
With over 20 years of team building experience, we know that choosing the perfect team building activity can be a challenge. So, we create a series of questions that can help point you in the right direction.
Will your team be meeting in-person or virtually? Many of your choices will be determined by how your team chooses to meet.
How big is your group? How many people are you expecting? Large group activities are very different from small group activities.
What Is the main purpose of team activity? Are you wanting to reward your team or have fun? Or is your team experiencing challenges? Different events create different outcomes.
Do you want to include charitable activities to the event? Charity team building activities require more investment, but the emotional impact is worth every penny.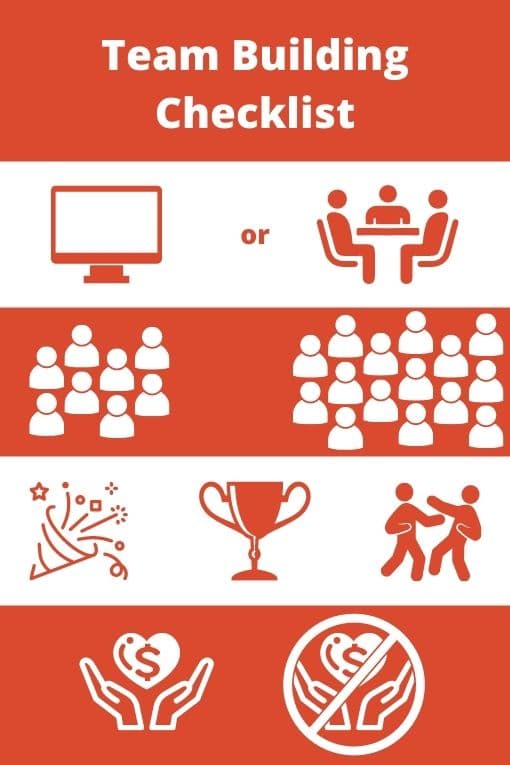 Great Options for Virtual Meetings
This is a new question, but pretty important post-pandemic. Will your team be meeting in person or virtually? If you are conducting your team meeting online, here are a few tips.
First, in the virtual meeting world, shorter is better. We recommend an hour-long session. Set a time limit of an hour-and-a-half max.
Make virtual team-building events stand-alone activities. (Don't add them into an already crowded meeting agenda.)
In the meeting invitation, ask participants to come to the meeting with their cameras and microphones on.
Virtual escape rooms and online games can be an excellent choice for virtual teams. We recommend using Zoom to access your meeting. Zoom has the ability to divide the group into breakout rooms. This will make your online team activity more interactive for your remote employees.
By the way, if you are looking for a few free virtual team building games to play with your team, click this link for a few of our favorites.
The Best Options for Small Groups (Under 30 People.)
One important thing to know about team building activities is that some activities work best for smaller teams. Other exercises work best for larger groups of people. For example, a gameshow style of activity can be really fun for a smaller group. The whole team can participate, and it will be a fun event for everyone. However, the larger the group gets, the more people will be viewing the activity and not playing the activity.
Charity team-building activities are another example of how the group size affects the satisfaction of the group. If you have 100 people participating in a philanthropic donation, the activity will be fairly cost-effective and the donation will be memorable. Do that same activity for smaller groups, though, and it will often be less cost-effective.
Here are a few of our best ways to build stronger teams if your group's size is below 30 people or so.
By the way, if you are looking for fun icebreaker activities or free games to play with your group, visit this link.
Museum Quest
Similar to Camaraderie Quest but indoors (so you don't have to worry about weather.) Fun way to compete with coworkers.
Comedy Improv Training
Learn the secrets famous comedians use to get the crowd laughing while improving communication skills.
If Your Team Is Having Challenges, or You Want to Build a Team Culture.
Sometimes, a team building activity isn't appropriate for the situation. Team events and activities usually just intensify the culture already within a group. So, if you have a great team culture and want to reward your team, any fun team game may work. However, if morale is down or tensions are high, a team workshop might be a better choice.
Team workshops are classroom training sessions designed to create a behavior change. If you want to improve communication, build trust, or teach your team how to resolve conflicts, this sessions may be a good fit.
Workshops can be delivered in one-hour breakout sessions, half-day workshops, or 2-day seminars. You can also pair a workshop with one of our other team building activities to get both the behavior change from the classroom session and the fun activity to benefit a charity.
Not sure where to start? Try a team assessment to determine the strengths and weaknesses of your group as a team. Team Assessment that Creats a S.W.O.T. Analysis of your team.
Classroom Training Sessions to Build Teamwork.
Creating a Team Culture
Customizable (and fun) classroom sessions with 40+ one-hour modules to choose from. (1/2 day workshop is common.)
Comedy Improv Training
Learn the secrets famous comedians use to get the crowd laughing while improving communication skills.
High Impact Leaders
Build your next generation of leaders from within with this custom leadership course. (2-day workshop is common.)
Assessment Workshop
A team development workshop with an in-depth-analysis of the strengths, weakness, and opportunities for your team.
For Additional Infromation or a Price Quote for Your Group, Complete the Form Below.