The illusive new customer is sexy, cagey, manipulative, and downright costly.  Repeat business does not need to be wined and dined, convinced and promised, he already likes you.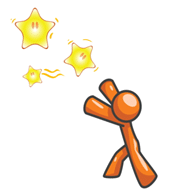 The customer to whom you have previously given a star performance knows you are a company of rock stars.  He can trust you to deliver, again and again.  A loyal customer will seek you out, so you are not pressed to stalk the "new possibility."  They are the built-in cha-ching in business.
In fact, Dr. Tim Mazzarol, executive director of Curtin University's Small Business Unit, says it is three to five times more expensive to get a new customer to buy than an existing customer.  Mining your database, and treating existing customers like gold will keep more money in the till.
Yes, of course, you have to look for new possibilities, but retaining loyal customers is like a savings account.  It continues to accrue interest.  Plus it is far less costly to keep than find the new client.   If the person delivering the program is not the salesperson, working hand-in-hand delivers great results.
This is the kind of phone call any salesperson likes:  "I just got a call from XXXXX, They want to do another program and said people have been talking about how great you and the workshop was ever since.  LOVE those kinds of phone calls!"  For the presenter of the program – the email equaled the sweetest music in the world.
According to Malcolm Bristow, chairman of Bristow & Prentice Advertising, "creating customer loyalty doesn't always require large corporate dollars.  It can, in fact, be fostered from a single phone call or some other form of communication.  Your goal should be to keep in touch with existing customers so they want to purchase from you again."   A quick follow-up email, in the spirit of "thanks for trusting us to present another top performance for you" can go a long way towards another contract, another successful event, and recommendations.
Three simple principles to put more money into your bottom line:
Recognize the value of loyal customers – and continue to treat them like gold.
Be the company that always delivers – nothing says commitment like a well crafted, and enthusiastically delivered program.
Look for the new client – but keep costs in perspective.  What is your return on investment?  What are your ad dollars doing for you?  Where can you spend the least and get the most eyeballs?
The new client is, well, the first date.  How many of those can go wrong?  The established, the relationship may not be as intriguing as the "new girl in town" but you can count on her, trust her, and keep her.
Ad dollars are worth their weight in gold "if" they bring in new customers, to add to your success roster.  But when does the investment outweigh the return?  How much should be spent on existing relationships?  Take a close look at your rate of return on investment.
A good client is five to seven times more valuable than acquiring "the new girl" who may dump you after one date.  Instead, court the one who is most likely to call you the next time they need a date for your service.
If you like this Team Building Tip, Check Out More Below:
How You Can Tell If Your Team Thinks that You Are a Great Leader

How can you tell if your team thinks that you are a great leader? Leadership comes in all different shapes and styles. There is no one prescribed method. When it comes to leading a team, it largely comes down to supporting and bringing the best out of the team members. That involves creating the ...

Women in the Workplace-How we present ourselves in the workplace

Walk the Talk: How we present ourselves in the workplace Women in leadership are still something of a rarity today. There have been a couple of articles recently in the Wall Street Journal looking at women in the workforce and analyzing our collective progress. While there are no concrete conclusions about why it's happening, the data ...

How Do You Know it's Time to Have a Teambuilding Event for Your Staff?

Teambuilding has gotten a bad rap in recent years for being ineffective, coddling, and plainly a waste of time. But with the rise of the Millennial generation in the workforce, along with increased widespread employee turnover and a renewed focus on employee engagement, many companies have been turning toward teambuilding activities to help establish and nurture ...