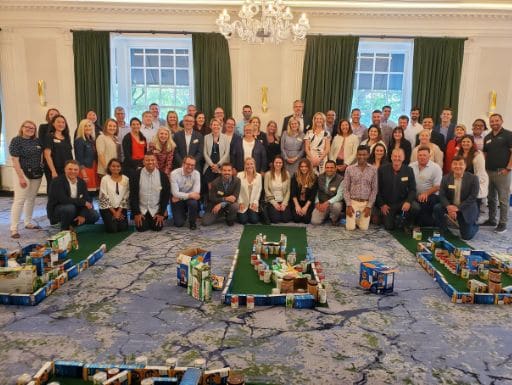 We recently took a trip to Boston, MA to join Gainsight in The Ace Race® team event. Granted, summer golfing in New England is great. But this version might be a little different than you expected. If you are looking for a fun team event in Boston, a mini-golf for charity like this is a great choice.
Gainsight is a popular customer service technology platform. They strive to keep and deepen customer relations while maintaining and adapting to technological times. Their software orchestrates dashboards and playbooks to allow smoother data and customer relations.
Gainsight Golfs for Charity During the Boston, Massachusetts Team Event.
The Ace Race® is one of our more active team events where participants combine creativity and a little bit of athleticism. (A very little bit.) Each team uses canned goods and other nonperishable food items to build a golf hole. After a little practice, they putt through their creation. This is a great way to both connect your staff and bring out their competitive side.
Gainsight chose the Greater Boston Food Bank as their donation recipient. GBFB works to provide Eastern Massachusetts residents with healthy food and resources needed to thrive. Through donations and volunteers, the Greater Boston Food Bank gives hungry people more dignity. Something special about their entrance is the "X" marked as a tribute to their founder.