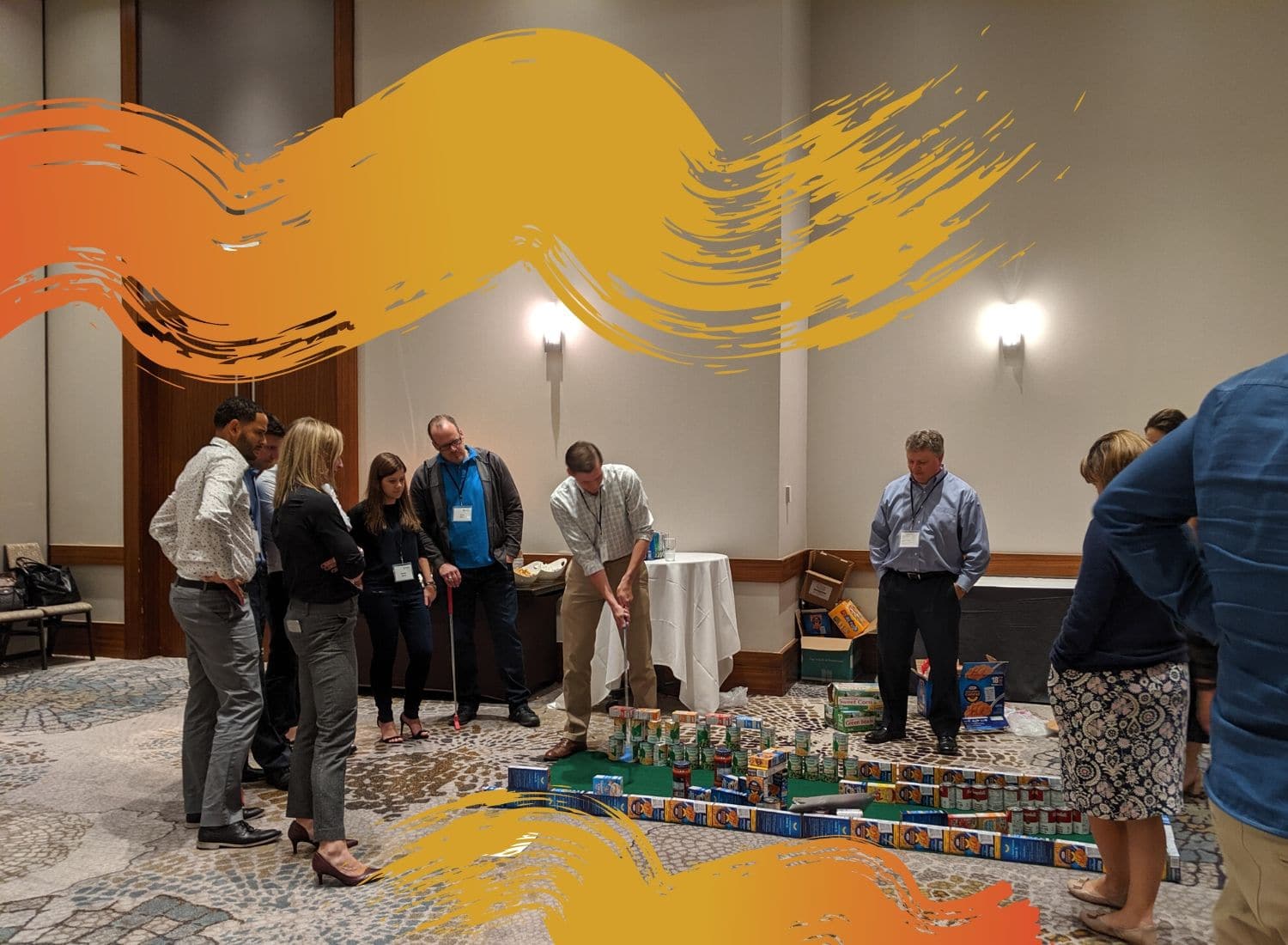 About Our Team Building Golf Games
The Ace Race ® is our premier mini golf team building activity. It is an energy-packed and competitive team event filled with fun competition. The program has three parts. First, we divide your group into teams of six to eight-person teams. Next, each group works together to earn non-perishable food items from The Ace Race ® "store." Once they acquire all of the items on their shopping list, they each build at least one mini-golf hole out of the food items. Finally, the Ace Race ® mini-golf team building activities begin! Each team races from hole to hole trying to get a hole-in-one on each. At the conclusion, the food items are donated to a local food bank or homeless shelter.
All Food Items are Donated to Charity
At the conclusion of the "competition," all of the food-stuffs are collected by each group. Then they box the items up. At the end, the food items are donated to a local food bank. Needy families in your neighborhood will be enjoying your donation within days. Your company will have the satisfaction of being able to help a needy family while having a lot of fun in the process. This fun corporate team building event is a real crowd-pleaser. It also helps companies conduct a philanthropic or charity event while exercising problem-solving skills. The Ace Race ® Golf Team Event is a nice balance between a fun shared experience, employee development, and a charity
The Ace Race ®
Average rating:
16 reviews
Dec 9, 2019
Our instructor was the best! The group really enjoyed helping out the Yolo County Food Bank!
Dec 9, 2019
Our instructor was outstanding and the event was perfect!
Team Building Event Description
This top golf team activity is composed of three modules that can be customized to fit the specific needs of your group. Each of the three modules is designed to build the energy in the room and get the participants to function as a team more effectively. The modules range in length from 10 minutes to 35 minutes, so the program can be tailored to fit a specific time frame. For a more in-depth activity, we also offer half-day, full-day, and an Ace Race ® 2-Day Retreat as well. During each event, you'll engage both your minds and your bodies in solving the puzzles of teamwork and build great camaraderie.
Your Next Team-Building Adventure
Want to have an absolute BLAST on your next team building adventure? Have a bunch of golfers who always skip out on parts of your convention to catch 18 holes? Then the Ace Race ® Mini-Golf for Charity is for you. In the Ace Race ® Golf Team Event for charity participants build a mini-golf course out of non-perishable food items later donated to a local food bank. This philanthropic team building event organizes your participants into small groups of four to six people. Each group acquires "materials" to build a single hole of a custom golf course right in the banquet hall or meeting room. The "materials" that they acquire are non-perishable food items such as Macaroni and Cheese boxes, canned goods, spaghetti sauce jars, and the like. Participants use to these items to build their hole of the course.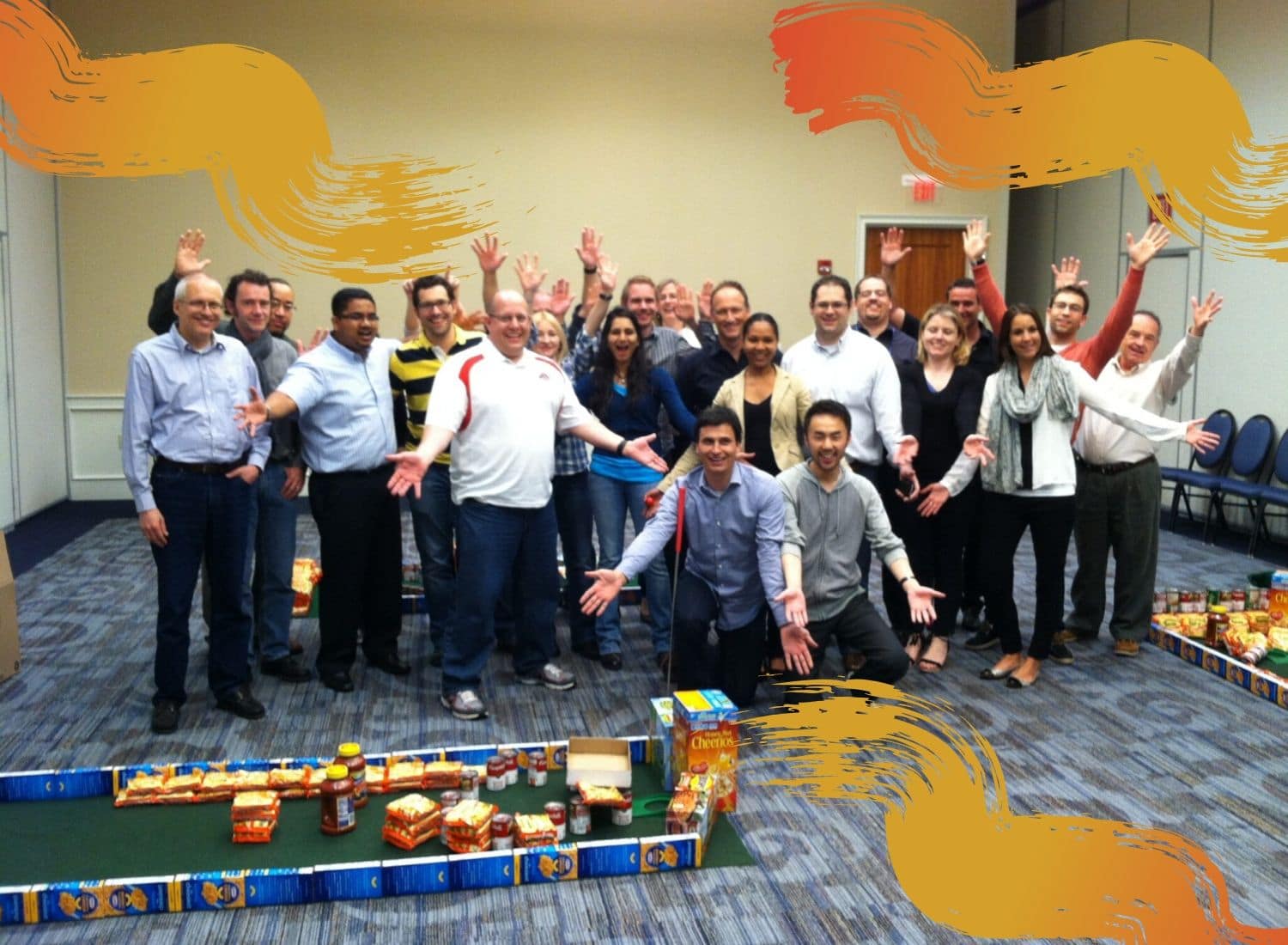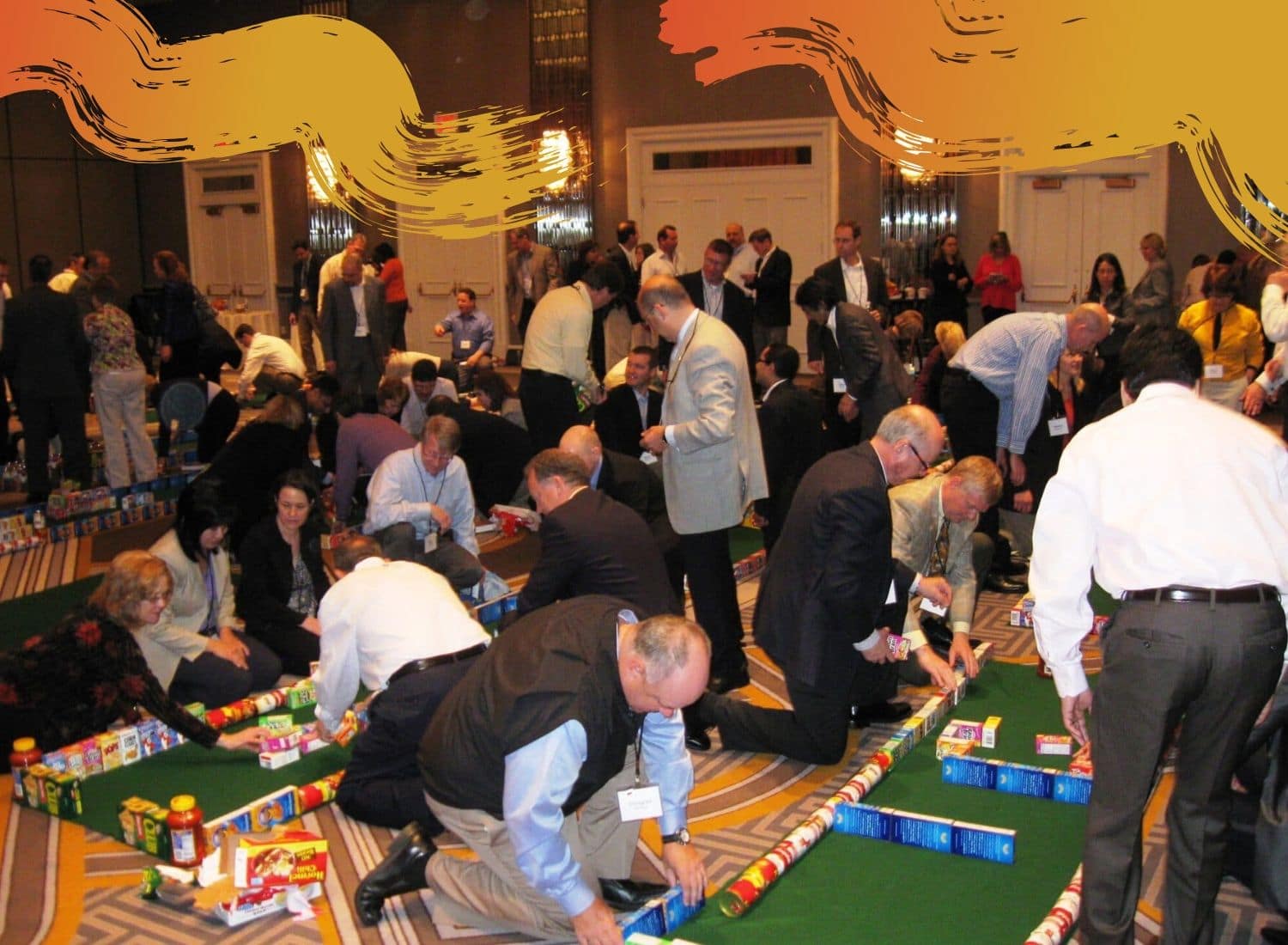 Golf Team Event for Charity
Once the custom golf course is built, the groups compete against each other to determine the golf champion of your organization. There is a twist however… Most groups will create unbelievably difficult holes that are practically impossible to conquer, so The Ace Race ® doesn't just have them compete to build the course… They next have to play the course until one of their members gets an "Ace" (hole in one). This difficulty moves the challenge from being a competition to a team building exercise pretty quickly. (It also adds a LOT of laughter in the process.) As groups move from hole to hole, they must problem solve the best way to Ace each hole. Getting lucky might work on one or two holes, but teamwork will work much better. The energy in the room erupts as each group conquers each of the holes.
Team Building Event Features
Number of People

30-3000

People

Space Needed

25

ft2/person

Time Needed

1-2

Hours
Request more information by filling out the form below!