Archive for the 'Case Studies' Category
SurgCenter Donates $10,000 to Make-A-Wish
Very fun Kid's Quest team scavenger hunt held for SurgCenter ® in Clearwater, Florida this week. We were at the Sand Pearl hotel right on the beach. As a result, we were able to explore the resort and have a lot of fun. This was a Kid's Quest version of our Camaraderie Quest team treasure hunt. SurgCenter ® decided to donate $10,000 to the Make-A-Wish foundation with the proceeds that teams earned accomplishing each task in the quest. Make-A-Wish sent a young child with cancer on a Caribbean Cruise with his family with the donation.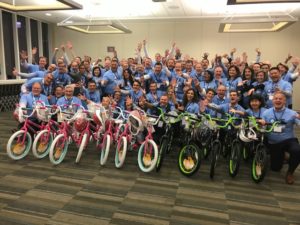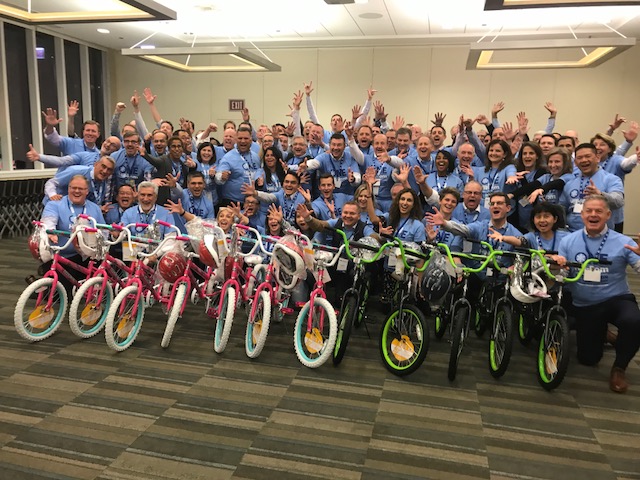 Last week, Hill Rom conducted an annual meeting for the executives in Chicago, IL. Hill-Rom is a healthcare company that is best known for 85 years of "bringing the home to hospitals". The company specializes in mobility equipment, wound care, and patient monitoring and diagnostic equipment. So, they conducted their healthcare philanthropic meeting at the Lurie Children's Hospital near the Navy Peer. The Grossman Group, a Chicago consulting firm, organized the healthcare philanthropic meeting. One of the executives at Hill Rom had worked with The Leader's Institute ® (TLI) at a previous company. He remembered that Doug Staneart, CEO of TLI, lead his meeting and wondered if Doug could do this one as well. So, Doug worked with a number of consultants at Grossman to really customize the program for Hill-Rom.
Customizing the Content of a Healthcare Philanthropic Meeting.
The Grossman team and Doug worked together to outline a specific agenda that would work well for Hill-Rom. Then The Grossman team went into action. "I enjoyed working with a detail-oriented consultant. They took a lot of weight off of our shoulders," said Doug. "The Grossman team inspired me.  They started with just a couple of ideas and put those ideas into action so quickly."
According to Doug, "To be honest, I don't get to do as much of the creative stuff, myself, anymore. We have a great team that customizes our events and activities for clients, now. But it was fun to get back to the TLI roots and create something from scratch with a professional client."
The group had a wonderful time at the event. We received a bunch of nice compliments after the program!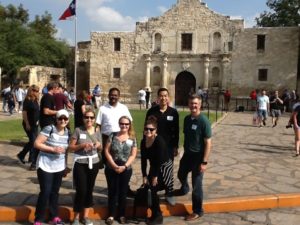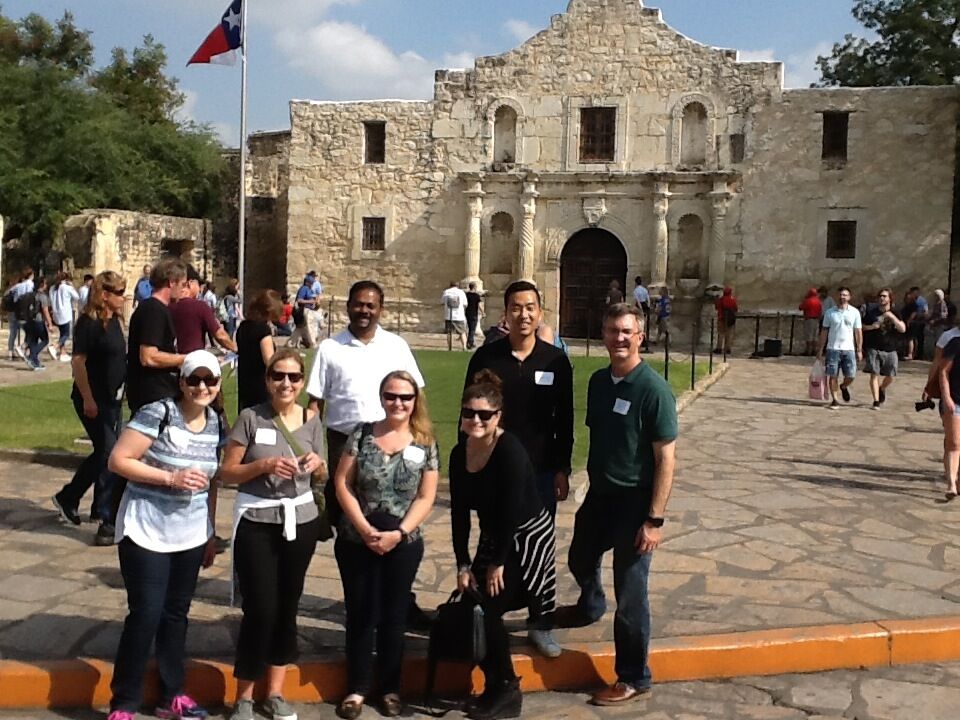 We had an absolute blast last Friday working with a group of 100 people from USAA in San Antonio, TX. The group participated in a custom Camaraderie Quest team treasure hunt on the River Walk in San Antonio. Their competitive juices were really flowing throughout the hunt. We originally were just going to do a standard treasure hunt on the River Walk. However, since the USAA offices are a few miles away from the quest location, we decided to hold the mid-point break in between the two quests at Rita's On the River. When we contacted Rita's, they offered to allow the group a private room for the break if we purchased a "nacho bar" for the group. It was a tough decision…
"Wait, you're going to give us use of the nice room and all we have to do is partake in an all-you-can-eat-nachos extravaganza? Well, if you insist!"
Great Food, Great Camaraderie, and a Fun Treasure Hunt
So, the executives at USAA decided to turn the event into a lunch as well. We started the program at around noon with nachos, quesadillas, salsa, and tacitos (something from every food group). One of the organizers from USAA had team members sign in as they arrived. She had a brilliant idea to organize the teams based on the color of pen that each person used to create his/her name tag. We quickly organized the teams. Then, we gave a short demonstration about how to use the iPads to access the series of quest items. Finally, we sent them off on the hunt. Since it was a fairly large group, we had each team start on a different treasure hunt item.
At the conclusion, the teams submitted a series of completed historical puzzles about the Alamo, hundreds of group photos proving that they had found a specific location, and a couple of very disturbing Little Mermaid musical numbers.
The team had an absolute blast. For details about a Camaraderie Quest for your group, visit this link. If you want details about different team building activities in San Antonio, Texas, click here.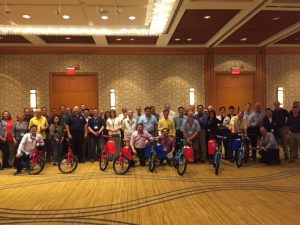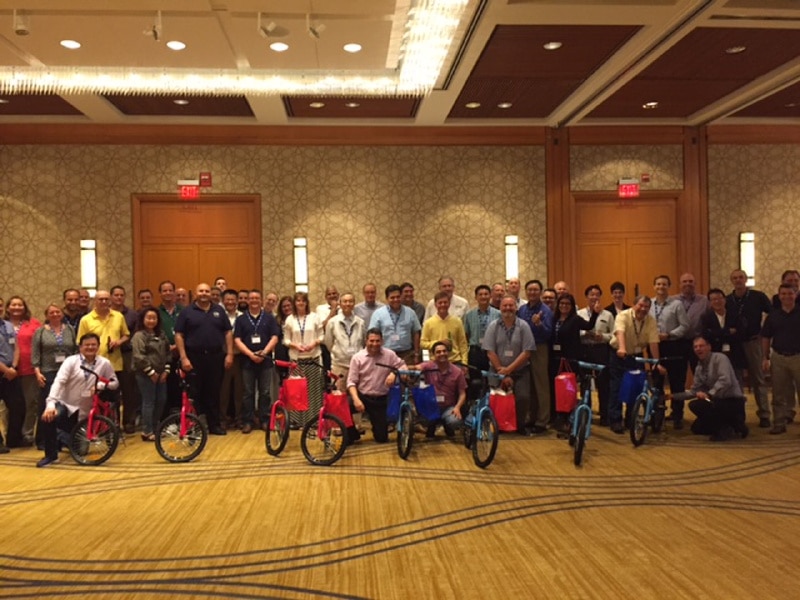 Sixty engineers from around the world came together for their yearly meeting. The ballroom was set with giant tic-tac-toe boards, pac man stations, and a massive inflatable skee ball booth. But the main attraction of the evening was a Build-A-Bike ® team building event. The spirited group huddled around the bicycle parts, ready to build the eight bicycles. But first they had to face the memory challenge, cheer contest, and the group puzzles. The teams brought three judges their puzzle answers but they didn't always get a bicycle part. If not, they ran back to their team to huddle and find a new answer. One team had gotten many pieces but they were not the pieces they needed. What to do? The facilitator, Laura, reminded them, "don't use your cell phones, you'll find all the answers you need in the room." Teams scoured the room, looking for answers. Soon enough they found them.
Build-A-Bike ® Team Building Activity in Oak Brook, IL
After doing a safety check of each bike, a special guest, Savina, of the Boys and Girls Club of Naperville came to accept the bicycles. She described the children receiving bikes. Each would go to an eager child.
Lisa Currie, organizer of the event said, "You did a great job. Everyone have so much fun. Thanks again."
This Build-A-Bike ® was facilitated by Laura Lewis-Barr on June 12, 2017 at The Hyatt Lodge, 2815 Jorie Blvd, Oak Brook, IL 60523
For more details about Build-A-Bike ®, click here. For details about other team building activities in Chicago, Illinois, click here.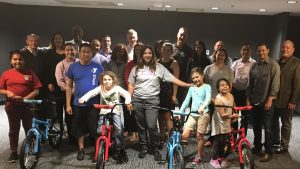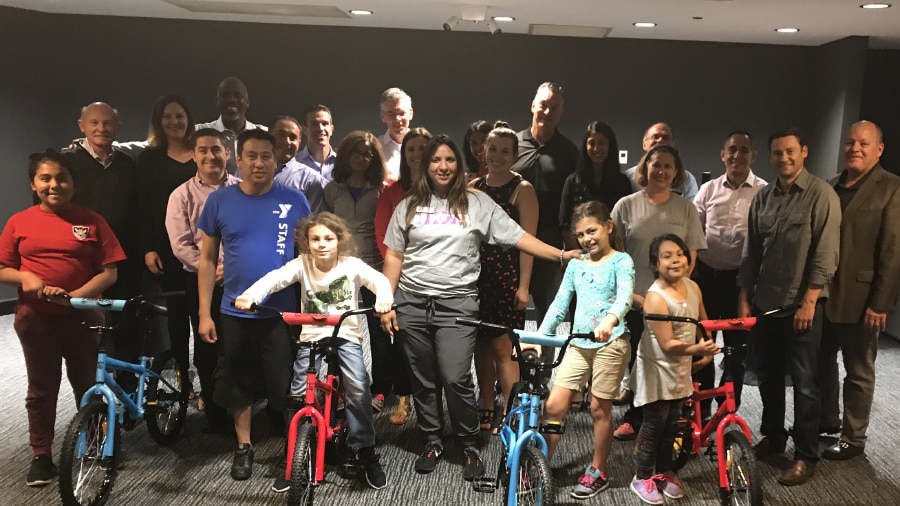 Vyaire Medical hosted several days of leadership workshops in Chicago, Illinois. They decided that a Build-A-Bike ® activity was the perfect way to get their group out of chairs and into some fun team building activities. They were a hardworking group of 22 supply chain professionals gathered from around the world. Like many successful groups, they were highly competitive and teased each other as some groups assembled bike parts faster than other groups. In the end, teams switched from competition to cooperation as they shared bike parts and expertise. They were especially delighted when their surprise guests, four eager children from the local Rauner YMCA, ran into the room to claim their newly constructed bicycles. The teams quickly adjusted seats and put air in tires so the kids were ready to go.
Feedback from Vyaire Medical Build-A-Bike ®
Nisa Ramirez later wrote to Vyaire, "Thanks again for the generous donation! Our children are ecstatic and ready to ride their new bikes. The four children we took today did not have bikes and are very thankful for your kindness."
Samantha. Getzinger, Executive Assistant to the CEO was equally thrilled. "Thank you- everyone loved it!"
The group is now looking to bring The Leaders Institute ® back to lead more Build A Bikes for other locations.
The Vyaire Medical Build-A-Bike ® was conducted at the W Hotel, 644 North Lake Shore Dr., Chicago, IL 60611 by Laura Lewis-Barr on June 28, 2017
For more details about Build-A-Bike ®, click here. For details about other team building activities in Chicago, Illinois, click here.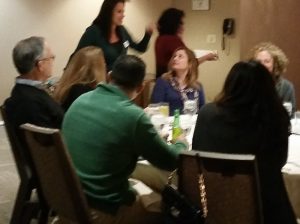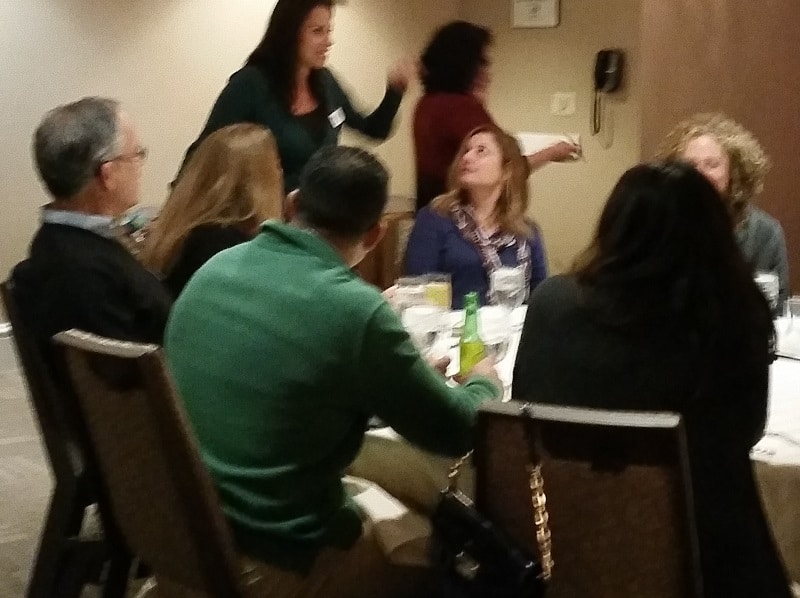 It seemed like an ordinary cocktail party but then suddenly there was a fight. A woman was breaking apart cigars but the company CEO had the last one. He rushed from the room. The room quieted again as the crowd from Everyday Health laughed and joked. They stood in line for drinks from a busy bartender. It had been a full day of meetings. They were ready to unwind. Suddenly the CEO lurched back into the room, spun around, sputtered, coughed and then dramatically fell over "dead." Laura grabbed a nearby microphone, "Nobody move, this is a crime scene." The Everyday Health Murder Mystery Team Building event in Morristown, New Jersey had begun!
Everyday Health Murder Mystery Team Building Activity in Morristown, NJ
The group moved to tables and began to question each suspect. Was it wise-cracking Mr. Brown, who had a wild excuse for why he was out of the room so often just before the murder? Was it quiet Ms. White who wouldn't answer any questions and looked nervous? Was it zany Miss Red who offered several changing conspiracy theories?
After interviewing five suspects and examining the incriminating physical evidence (check book entries, airplane tickets, letters) each team concluded their investigation and named the murderer. There was much laughter and groans when the true villain came forward. Only one team had deduced the true criminal.
"That was fun!" said Joan Arata, SVP with Everyday Health.
This Murder Mystery was facilitated by Laura Lewis-Barr on November 16, 2016 at the Westin Hotel, 2 Whippany Rd, Morristown, NJ 07960.
---

Laura Lewis-Barr is president of Traning4Breakthroughs, and she is an expert presentation skills coach based in Chicago, Illinois. She teaches team building events in Chicago, Minneapolis, Indianapolis, St Louis, and other cities in the Midwest, and works with clients all over the world.

---
I recently had the pleasure to facilitate some bike team building in Chicago, Illinois for smart group of people from Castrol, a part of BP. This group wanted the focus of their holiday event to be about giving to others. Castrol found The Leaders Institute ® Build-A-Bike ® event and thought it was a perfect fit. Their group loved the idea of giving bicycles to children at Christmas. The group of fifty first enjoyed an amazing lunch created for them by their resident chef. (Nice!)
Castrol Bike Team Building in Chicago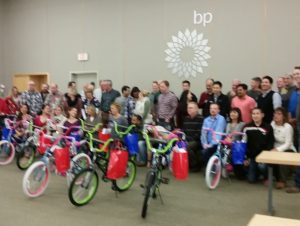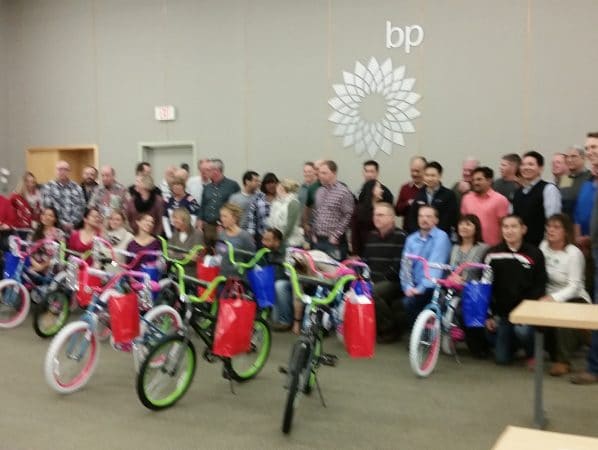 Then we started the Build-A-Bike ®. The group was smart. The saleswomen, chemists, and managers aced the memory game, the cheer contest, and the puzzles. The teams then competed and cooperated to share bike parts. After building their bikes, they took photos with their teams. In addition, others used the bicycle pump to make sure all tires were ready for the children. The groups hugged and joked. Then we took pictures as a larger group. But the main event had not really started for the Castrol teams. The children who would get the bikes were just getting out of school. Soon they would be on their way to the event. The entire group wanted to wait for them. While they waited, some teams went for coffee while others took a mannequin challenge. One of the resident videographers took a long film of the thirty participants frozen in space. Fun!
Fun Donation to a Local Chicago Children's Charity
The children and parents arrived in a caravan that first had to go through some security checks. Finally it was time. The boys and girls ran into the room and each claimed a bike. Sherid Smith from the local Boys and Girls club shared stories of some recent hardships these children had faced. The Castrol bikes were going to make this a much happier Christmas for them.
Afterwards the event organizer brought out homemade cookies for the children. It was cold outside but there was great warmth in this room. John, a chemist in the group said that the event had been "great" and he "loved the memory game."
This Build-A-Bike ® was facilitated by Laura Lewis-Barr on December 9th at Castrol Industrial, 150 West Warrenville Rd., Naperville, IL 60563. For details about bike team building in Chicago of your own, visit our Team Building in Chicago page!
---

Laura Lewis-Barr is president of Traning4Breakthroughs, and she is an expert presentation skills coach based in Chicago, Illinois. She teaches team building events in Chicago, Minneapolis, Indianapolis, St Louis, and other cities in the Midwest, and works with clients all over the world.

---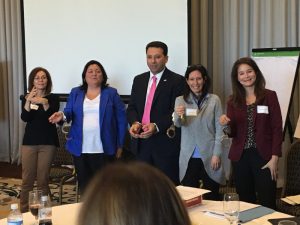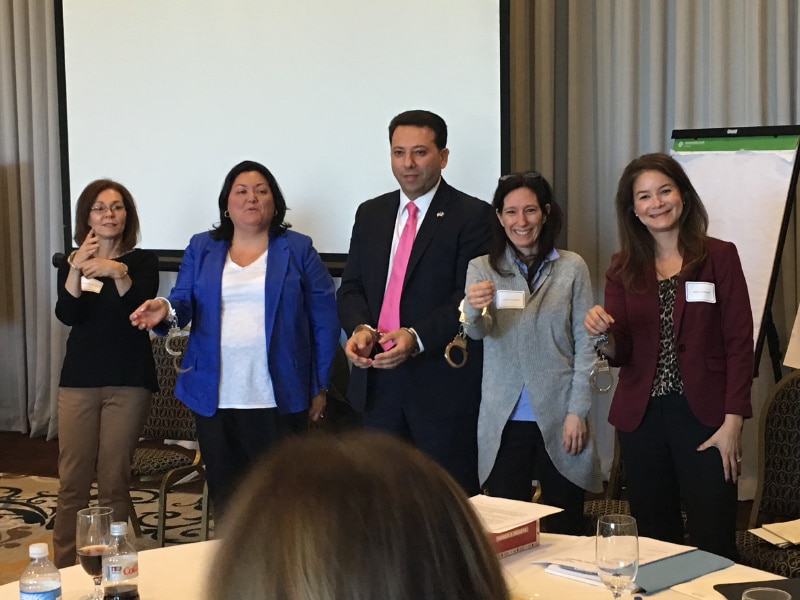 The attorneys of Allstate Insurance gathered for a team retreat in Bethlehem, Pennsylvania at the Sands Resort and Casino. The coordinating attorney was seeking a fun and different activity to the end the day and reached out to The Leader's Institute® for suggestions. We recommended a Creating a Team Culture workshop. Hmm… is this the kind of unique event filled with fun they were anticipating? Well yeah. However, we they had us add the Charade Murder Mystery option to the workshop for extra laughs.
Attorneys Trying the Solve a Crime that They All Witnessed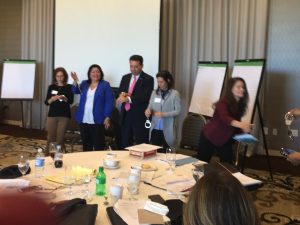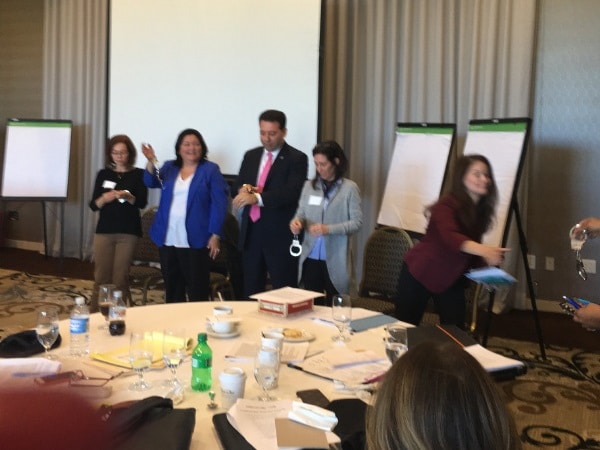 I arrived on the scene and set up my PowerPoint presentation at the front of the room. I then warmed up the group with some introductions and handed out worksheets for participants to complete. While I covered the first few items on the agenda, there were several seemingly rude interruptions from the group. People were talking aloud, coughing, getting out of their seats, leaving the room… I played my part and put on my annoyed face. One of the attorneys returned to the room creating a ruckus. She then fell to the floor and was instantly pronounced dead! The Charade Murder Mystery had begun!
After I revealed my true identity (International Crime Fighter), I had the group identify the six suspects. The group decided to handcuff the suspects for everyone's protection. The question then became, "Who Dunnit?" Details regarding a murderer, victim, conspiring individuals, illegal activities, and more started to unravel as teams examined the clues, interrogated the suspects, and began their own investigations.
Perfect Ending to Team Retreat in Bethlehem, PA
So, "Who Dunnit?" Well, if you were not there then we cannot tell. Nevertheless, one definitive fact remained; the group had that fun-filled activity they were anticipating. However, during the interrogations, they were laughing their heads off. Lots of fun! For details about a team retreat in Bethlehem or Allentown, or for a program anywhere in Pennsylvania, visit our Team Building in Philadelphia, PA page!
| | |
| --- | --- |
| | Michelle Riklan is president of Riklan Resources and an instructor for The Leader's Institute® in the Northeast region. She is based in Marlboro, NJ but she also teaches in New York, Boston, Philadelphia and other Northeast cities. |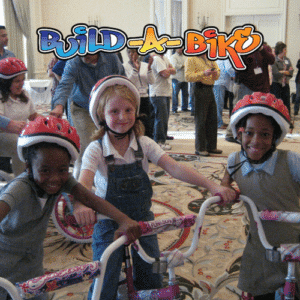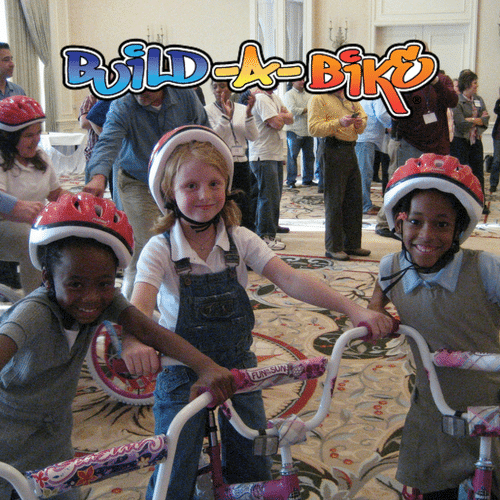 Since we created the Build-A-Bike ® team building activity in 2005, we have received thousands of requests to post the instructions for Build-A-Bike ® team building activity online. We've always been a little hesitant to post the instructions, because we have spent over a decade creating a brand that the public recognizes as a quality product. However, the event is so popular, that we really want to make sure that if you are doing one of these programs on your own, that you have every opportunity to make the activity successful.
A Few Cautionary Suggestions Before Organizing a Self-Facilitated Build-A-Bike ®
The absolute, most important thing to keep in mind about team building activities is, the larger the event and the longer the time frame, the more you will want a professional team building instructor or facilitator. If your group size is 20 people or smaller, and you just want a quick 30-minute fun activity, then the self-facilitated version might be excellent for you! However, if you want an event to last an hour or two, or if you have a group of 100 or more people, we strongly suggest that you higher a professional instructor. (We have a list of certified instructors located all over the US, Canada, and Europe. Just call us at 800-872-7830 for a list of instructors in your area.
When we deliver a Build-A-Bike ® activity, our goal is to keep every participant active and having fun throughout the entire event. If this is your goal as well, make sure and hire an instructor. The instructors on our list have each conducted HUNDREDS of events. They have seen everything. They can handle any challenge that presents itself. The biggest challenge that we see in self-facilitated events is that there is often a few people participating and a bunch of people standing around watching.
Finally, if timing is important, we suggest a professional instructor. It typically takes a single person about 15 to 20 minutes to assemble a bike. If you have groups of four to eight people working together to build the bike, it typically just takes a few minutes. So, the activities that accompany the event are way more important than the bike assembly.
Instructions for Build-A-Bike ® Team Building
We offer a turn-key Build-A-Bike ® Kit that includes a bike, helmet, team building activities, and access to an online instruction manual for a small fee. You can order these kits online at Build-A-Bike ® Kit. At the time I'm writing this post, we are charging $200 per kit. We suggest at least one of these kits for every eight people in your group. Keep in mind that if you are donating the bikes to a charity, the larger the donation, the more impressive the ending of the event. So, if you only order a single kit, you'll just have one bike at the end to donate. We also suggest that you donate at least four bikes — even if you have a small group of participants.
If you want to create a custom activity for your group, for a small fee, our instructors can design one for you. You can also rent tools from us. So, we can ship you a team building event in a box fairly easily.
A Few Easy Team Building Activities
Even if you don't want to purchase our kits, we have posted detailed instructions about a number of our favorite team building activities. Links to these activities are below.
Add an Activity where Participants Earn their Bicycle Parts. We suggest either the Helium Stick or Tennis Ball Exercise.
Build the Bikes
Invite a Charity to Receive the Bikes
Since we do thousands of these activities all over the world, we have an extensive list of charities who know about Build-A-Bike ® and will enthusiastically accept the donation.
Options for Self-Facilitated Events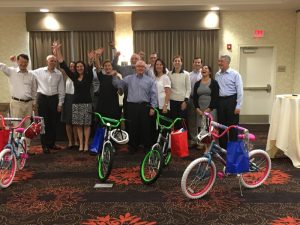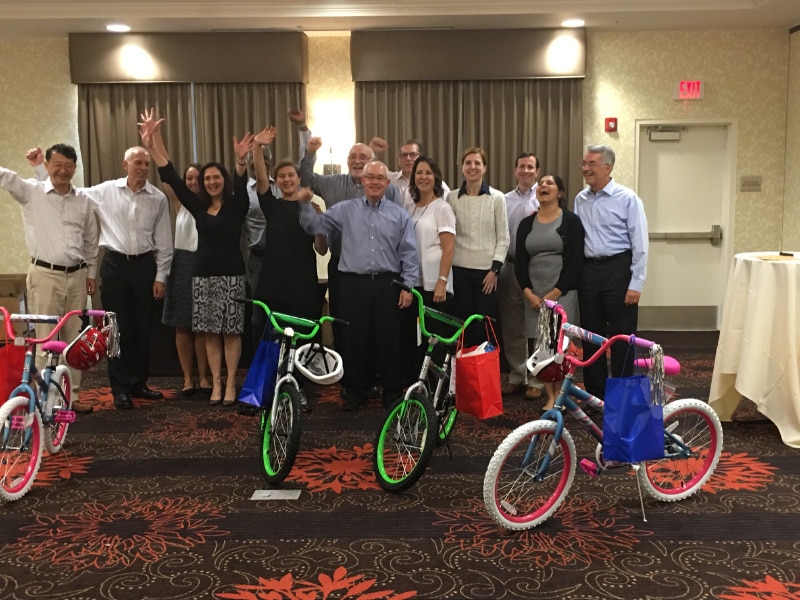 Ogilvy CommonHealth Build-A-Bike ® team building activity in Philadelphia, PA for their client, Pfizer. Back in October, Ogilvy CommonHealth arranged for a bike team building event for their client, Pfizer. This event took place at the Hilton Garden Inn at Valley Forge/Oaks in Philadelphia, Pennsylvania. Ogilvy CommonHealth Worldwide provides marketing services, analytics, and wellness promotion. Clients use Ogilvy for marketing services including behavioral insights, content strategy, and interactive media services. However, they also specialize in public relations services and social media services. As this event began, their client, Pfizer, entered the event room, ready to go!
Ogilvy CommonHealth Build-A-Bike ® in Philadelphia, PA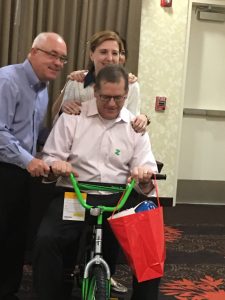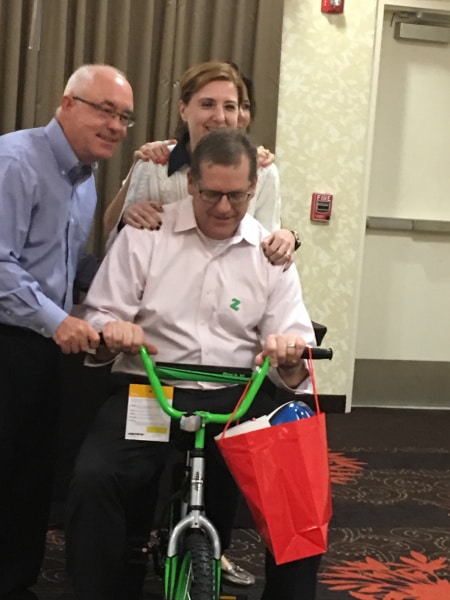 The group was neither a quiet or shy! First, the volume in the room erupted as they participated in an icebreaker and showed off their "cheer-leading skills". Next, Michelle Riklan, the instructor, selected two "helpers" to determine winners of the first competition. (This competition was fierce and close.) The Instructor and Judges then assumed their position behind the tables of bicycle parts. Finally, the teams began their ultimate challenge. During this challenge, they learned a few lessons about teamwork by trail and error. Eventually, though, they collected all of the needed bicycle parts. In addition,

Julie Szernyi from the Phoenixville YMCA

arrived at the end of the event to thank the group for their efforts. She received the bikes on behalf of the YMCA After-school program.

The picture to the left shows a photo of one of the teams with their completed bikes. While they were building the bicycles, you could here fantastic laughter. They had a wonderful time!

For details about a Build-A-Bike ® event for your group, please contact one of our instructors at (800) 872-7830. You can also view a list of all of our fun team building activities. You can also access the Philadelphia team building office by going to that page on our site located at Phildelphia, PA Team Building Activities.