Merry Christmas and Happy Holidays from all of your friends at The Leader's Institute®!
2010 was an exciting year filled with exciting new workshops and programs, thousands of children helped through our philanthropic team building events, and fantastic new and existing clients.  We have an awful lot to be thankful for, but here are some of the highlights from 2010!
Personal Notes from our Family
Sophie Olivia Gordon – In 2010, we had a number of wonderful additions to the Leader's Institute®.  By far the absolute cutest was Sophie Olivia Gordon who was born to our Dallas instructor Anne-Marie Gordon in mid-2010.  Anne-Marie was semi-retired for a lot of 2010 enjoying little Sophie, but is looking forward to jumping back in and teaching a few local classes in early 2011. (For those of you who are students from Anne-Marie's classes, make sure and friend her on Facebook so you can see more of the baby pictures!) Mom, Dad, and Sophie are still very tired but having an absolute blast.
Stuck in Europe — Remember that volcano eruption in Iceland that shut down air traffic in Europe earlier in the year? I sure do. While overseas teaching a Fearless Presentations class in Germany, I got stranded in Frankfurt for an extra week while the skies cleared. (I know, "Poor me," right?) I actually had a lot of fun exploring a number of cities in Germany and France, but it did get a little scary after a few days, though. I was scheduled to leave on Friday morning about 45 minutes after they closed down Frankfurt airport, so I was first in line for rescheduling and got a flight on Sunday. When the Sunday flight got canceled, they booked me on a Wednesday flight. When Wednesday got canceled, they booked me on the following Monday. I did finally get home, but I missed a few classes while stuck in Europe. I used to time to make a number of instructional videos about presentation skills and leadership development based on the trip. One of the videos is re-posted here.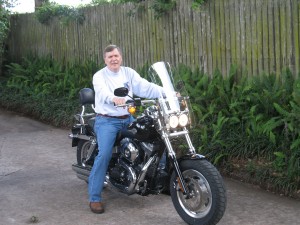 Rick Gets "Winged" — Our vice-president and senior instructor out of Orlando, Rick Highsmith, decided to pull an Evel Knievel on his Harley about six months ago and ended up breaking his collar-bone. He was in a tremendous amount of pain and had months of rehab, so he had to totally eliminate his travel and teaching for a few months. He returned to teaching full-time in late 2010 equipped with a lot of new "conversation starter" stories about his experience. In fact, I helped him out with his first couple of classes back (he was still on a lot of pain killers, lol), and every once in awhile he'd forget and try to raise his arm up over his head. Glad to have you back, Rick!
Philanthropic Team Building Events
We conducted 133 Charity Team Building Events in 2010
The Build-A-Bike® Team Building Event was responsible for 1,931 kids receiving a brand-new bike this year.
Because of the Rescue Bear® Team Building Event, 14 Fire Stations around the country received 753 Stuffed Animals decked out in Fire Fighter Uniforms for kids who have been through a traumatic event like a car accident or fire.
Hundreds of Soldiers received care packages and cash donations through the Hero Quest program.
All total, the philanthropic team building events donated over $260,000 to charity!
Classroom Programs and Seminars
We had almost 500 people attend the Fearless Presentations® this year which is still way less than the 1000 or so who attended in 2007 and again in 2008, but sharply higher than the 2009 total that occurred during the depths of the recession.  Fearless Presentations® has helped over 7500 people eliminate public speaking fear since 2003.
The Leadership Boot Camp got off to a fantastic start this year and continues to grow and grow.  We had about 100 people attend the first couple Boot Camps, and we already have 10 more events scheduled in 2011 (with more to come)!
We had another 400+ people attend our leadership and public speaking workshops in 2010!
In 2010, we began to conduct more free webinars, and we also created a number of Home Study Courses to help people who can't attend a seminar in person receive the content from our programs. 
Looking forward to a FANTASTIC 2011!