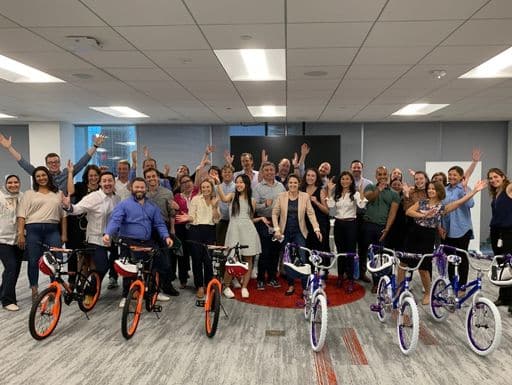 Houston's hustle and bustle is true to the heart of many. Booming from the oil and gas business, many companies continue to grow. TotalEnergies is no exception to that growth or hustle and bustle. Employees participated in our Build-A-Bike® team event this September.
TotalEnergies is a multinational integrated energy and petroleum company. Founded in 1924, their spirit of pioneering is everlasting. Notably, TotalEnergies greatest asset is its talent for combining its strengths against competitors. They have an unwavering commitment to safety and performance. Their employees share a commitment to making electricity, natural gas, and fuels more affordable and accessible to all of its consumers. Currently, their Research & Development department strives toward net-zero by 2050 by focusing efforts on finding new energies.
Houston Energy Company Builds Bikes
Total brought fun to their meeting. Their employees enjoyed camaraderie during our Build-A-Bike® event. They made teams and worked together. Each team received clues and had to figure out each answer. Judges then said whether those answers were wrong or right. Wrong answers needed reworking and right answers allowed the team to move on. By moving on, I mean each team received a bike part. Once they collected all of the necessary pieces, the teams literally built a bike.
But the event doesn't end there. No, we bring some feel-good moments too. TotalEnergies wanted to end on a high note by donating their bikes. Donations went to The Counted Child, a great organization that works to support the mental health of kids.