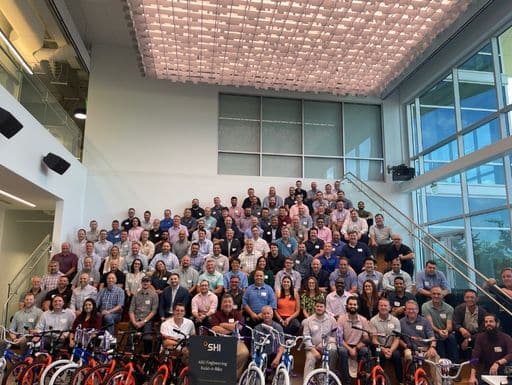 Austin isn't a stranger to the boom of real estate and changing property values. The city definitely knows how to keep it weird. SHI, on the other hand, takes its work seriously and decided to step out their comfort zone during a meeting. Staff completed a Build-A-Bike® team event recently.
SHI International helps to empower its clients through expert guidance, innovative technologies, and professionalism. Their various tools help clients find hybrid solutions to real-world challenges. They're the whole package in global technology. In addition to their literal products like monitors and laptops, SHI also offers webinars and workshops to help you build skills.
Austin Build-A-Bike® with SHI
Having participated in various team events, SHI is no stranger to the dynamics and fun of each activity. Specifically, their bike event was off the chain! (Pun intended.) Much like others, staff create teams and use individuals' strengths to figure out clues. Each clue earns a correct or wrong answer by judges. Those judges either pass on a bike part or have the team rework their clue. Parts, in the complete collection, turn into a brand new bike.
Feels good to give back! We're so glad we could help SHI gift the bikes to the Comfort Crew of Austin. They provide military kids with the support they need while a parent serves.