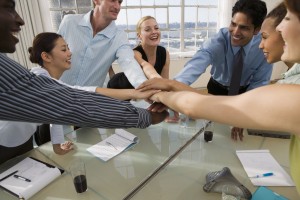 Building a team or increasing teamwork in an organization can be more challenging in a tough economy, but it is critical that good leaders spend time building a team culture or a team atmosphere when things aren't going so great. When the economy is booming, many organizations focus on team building activities because leaders want to make sure that they attract and keep the highest quality employees and associates. Often, though, when uncertainty in the economy occurs, leaders often cut back on training and team building investment. This can be a big mistake, though. When morale is down, teambuilding activities can give a team a much needed boost in energy and increase their positive expectations of the future. If you increase the morale, you decrease the fear that many associates will typically experience.
Improve Morale with Team Building Activities
When morale is down, normal communication that is important to the success of an organization decreases as well. When this occurs, mistakes increase and re-work becomes more prevalent as well. An easy way to boost morale very quickly is to invest in a fun, professional team building activity that gets your team to focus on the good that your organization accomplishes every day. Charity team building events can be a fun way to improve morale because each of these types of activities also donate proceeds to charity give a double return. Your team feels good about themselves and the company, the charity receives much-needed proceeds, and your organization might even get a nice bump in positive publicity.
Decrease Fear and Increase Efficiency
In addition, when there is a challenge in the economy, most people, good hard-working people, go into a defensive stance. They want to keep their head down and not make waves. We do this out of self-preservation, but this type of behavior takes away the enthusiasm and creativity that companies, especially young companies, rely on to create those breakthroughs that give them a competitive advantage in the marketplace. Fear in the workplace makes this creativity go away, so a good team building activity or event can help foster this creativity — at least for a short period of time. One of the important things for leaders to do during these times is to go to their people individually and let each of them know how important that they are to the success of the organization. Encourage them to share their ideas. Great leaders make this dialogue a part of both their normal day-to-day discussions with their people as well as a part of the communication to the organization as a whole at conventions or annual meetings.
Team Work Starts at the Top
The team will always be a reflection of the leaders at the top of the organization, so if the leaders are scared of the future, if the leaders are keeping their heads down, then the team members will follow suit. So any time communication comes from the leadership within an organization, whether the communication is internal documents, press releases, or just communication between executives, that communication needs to reflect optimism and a team culture. Edify your coworkers and your company, and you'll see morale and teamwork improve very quickly. When you organize conventions and annual events, make sure to focus very specifically on the perception that is created by your speeches, guest speakers, activities, and events. Recently, I was asked to help deliver a team event in Orlando where the company actually rented out the entire Omni Hotel just so that they could really customize the entire event for their team. I was pretty impressed when I was walking around the pool to get to the outdoor restaurant and noticed a huge logo for the client as the centerpiece of the pool. My first impression was, "Wow, this company is doing really well." In reality, though, that logo printing might have cost about $100 or so to create. Those small additions to your events add a lot to the perception that you are creating.
So when times are tough, make sure and use this as an opportunity to build your team culture by improving morale and decreasing fear. Make a conscious effort to present positive communication to your team, your coworkers, and the general public, and you'll build a stronger team while your competitors "keep their heads down."