Companies often hire us to help them deliver team building events to build company culture at annual meetings. But what is the best way to keep morale high among team members in between big meetings?
We are big believers in fun team outings — especially for smaller teams. The good news is that these team building activities are fairly easy to organize. They are also fairly inexpensive. In fact, you can receive a fantastic return on your investment by building team spirit and communication skills.
Surveys show that the main reason for employee dissatisfaction is the employee's personal relationship with his or her immediate manager. So, these simple, spontaneous acts of teamwork can increase job satisfaction significantly. (Team work leads to teamwork!)
Below are a few ideas that we have found work really well to build teamwork. Psst! These work best when you offer them as a bonus activity versus a requirement. "If you and your family are available, the company is going to pick up the tab for…" works much better than, "Everyone is required to attend…" Many of these outings are great for their flexibility. You'll find that employee engagement increases when a team-building event is offered or voluntary rather than required. Attendance can be the entire team (in large groups) or departmentalized (small groups).
Some of Our Favorite Corporate Team Outing Ideas.
(1) A Comedy Improv Show Is a Fun and Funny Team Outing.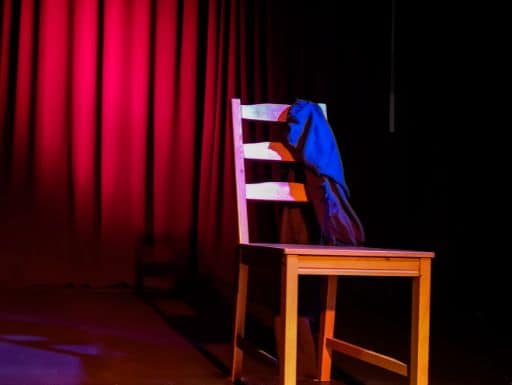 An Improvisational Comedy Show is a way to get people out of their comfort zone and have a good time. Here in Fort Worth, we have a show called Four Day Weekend, where a group of comedians creates the entire show based on suggestions that they receive from the audience. Prior to the start of the show, audience members come to the stage and write suggestions on sticky notes and note cards.
Then, as the show progresses, the comedians must use these ideas at random parts of the show. At other times, the emcee will take verbal suggestions from the audience for scenes.
It is a hilarious and fun way to interact with your employees outside of a normal business day. It is also a great way to entertain clients. You will likely have a similar theater in your city. If you want to entertain and teach a larger group, we have a Comedy Improv team who can actually teach your group how to do Improv comedy at your office. This is a group outing that is not an outing. (You get to stay in the office!)
(2) Happy Hour; The First Round is on Me.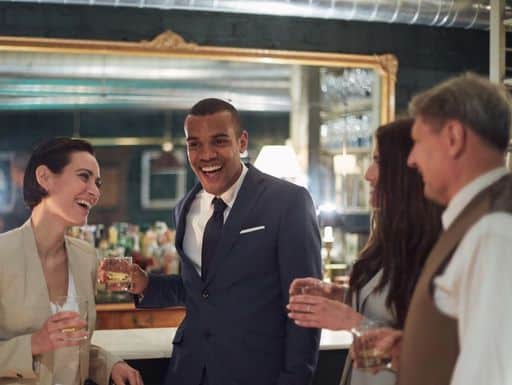 Even if you don't drink, it is still fun to leave work an hour early on Friday afternoon and meeting up at the local pub. If you want to be seen as generous and still not break the bank, just offer to buy the first round. It is amazing how much insight you can acquire about what is really going on in your office after a little alcohol enters the mix. No need to over-do-it. A single drink with your coworkers will often build great rapport. It's also one of the best and easiest ways to put staff at ease.
When Covid first hit and the future of our industry was in peril. The team was nervous. I was nervous. No one had ever experienced anything like what was currently happening. There was so much uncertainty that the group was pretty fearful. On the second Friday in March of 2020, the office was just full of anxiety. I made a decision to lock up the office mid-afternoon and invited my entire team to meet me at the local On the Border restaurant.
A few people had sodas and teas. But most of us had a beer and/or a margarita. The time away from the office let us decompress. Tension dropped. Then, we started discussing practical ways to make the best out of the situation.
So, sometimes, a change of scenery can instill creativity in your team. (And a little alcohol can sometimes loosen the tongues of the team members who have great ideas but who don't often speak up in meetings.)
(3) Movie Night with Your Team.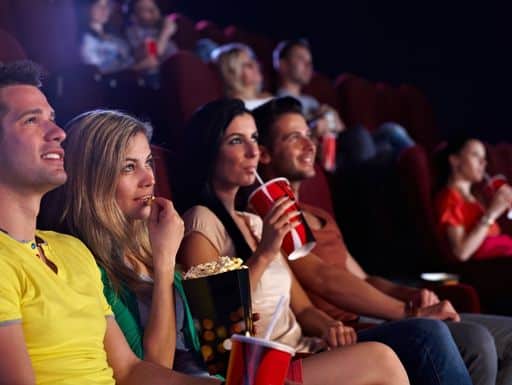 You could take your team to the movies. Most people enjoy a night out. However, movies are pretty sedate. There isn't a lot of interaction. And, although people enjoy a good show, most won't remember it as an emotional experience.
However, movie theaters can create unique and different team activity. Take a look at upcoming Fathom Events. This organization partners with local movie theaters to offer vintage movies or live events.
For instance, this month, theaters are showing It's a Wonderful Life. Later, the Metropolitan Opera will perform The Magic Flute. Each of these is a unique experience. They are memorable. Much of great team building is the shared experience of the group. So, these options fit that bill.
For a more ambitious option, you can also rent out a theater just for your group. You can hold a regular meeting using the movie screen for your slideshow. Then, finish with a viewing of a current movie. Although this option is more costly, you'll be surprised at how little a theater will charge you during the day. (They are usually mostly empty at that time.)
(4) Take Me Out to the Ball Game.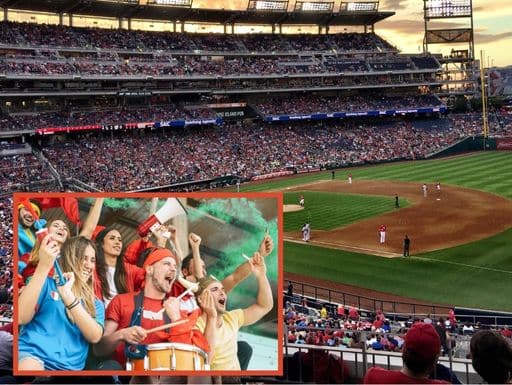 Another option that companies tend to overlook is watching a ball game. Yes, many companies buy box seats for employees and customers. But this option is actually a little different.
Our corporate office is across the street from Globe Life Park in Arlington. So, every once in a while, I will buy tickets for the entire staff and our families. The parents get to interact with each other in a fun, non-work-related way. And the kids have an absolute blast.
If you happen to be within driving distance of a minor-league ballpark, though, you have an even better option. Take the entire team to a minor-league ballgame! These organizations are so much fun because they have to work much harder to get people to show up.
As a result, they are more likely to do crazy things to entertain your group. You will never forget seeing your COO take a tumble in the infield trying to win the "dizzy bat race."
We have a semi-pro football team in Mesquite, Texas. (That is a DFW suburb.) They sometimes have people from the stands gather on the 50-yard line at halftime and drop over $1000 in $1 bills from the ceiling. People get to keep whatever they can grab from the air as it falls.
A couple of years ago, my family went to a local car racing track. It just so happened that, at the end of the racing, they also had a demolition derby. And, of course, they pulled two random people from the stands to drive two of the cars.
The point is that local sports venues offer things that are totally unexpected. Because they are unexpected, they create great memories.
(5) A Nice Dinner Can Be a Great and Fun Corporate Team Outing.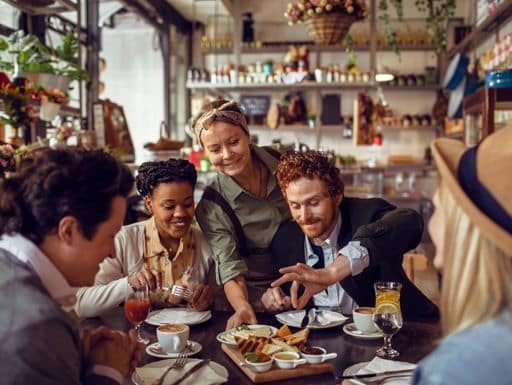 Of course, one of the best ways to build rapport with your team is to take everyone out to dinner. Many restaurants have private seating areas for big groups. These private rooms can make a team outing more intimate.
For instance, a client once hired us to do a team murder mystery for them at a local Mexican Restaurant. To be honest, it seemed like an odd location. We typically like the team to have privacy for an interactive team event like this. However, the venue worked perfectly.
The client had over 50 team members in a private events area of the restaurant. It had a closed door that separated it from the public areas. They started off with great food, chips and salsa, margaritas, and a little tequila. Then, the boss killed over at the table. The group spent the next hour trying to figure out which of their executives bumped off the boss.
By the way, you don't necessarily have to add an organized team activity. Typically, the food and drink are enough to create a great memory for everyone!
(6) Saturday Softball to Build Teamwork.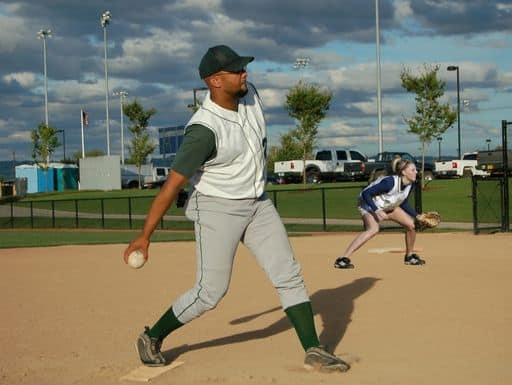 I still remember playing softball on a Saturday morning with the first company I ever worked for. That was over 30 years ago. The company got a permit from the city for a picnic pavilion and access to the ball field. They also invested in some extra gloves and bats in case someone showed up without one. The only other expense was a couple of kegs of beer.
All in all, it was a very inexpensive way to have a lot of fun! There were a ton of strike-outs, batters hit by pitches, and dropped pop flies. (Only a few people on the field had any softball skills. I was not one of them.) But every time someone dropped a ball, their team had to take a drink. It made the day an experience. (By the third inning, people were screwing up on purpose.)
Intramural sports, as a whole, are also a great way for any group size to use some hidden talents. When I was in high school and college, I worked part-time at a local hospital. My boss played volleyball competitively when she was my age. So, she organized a department volleyball team that played teams from other companies weekly at the local rec center.
We never won a single game, but we had a blast leaving work mid-shift, playing a couple of games, and racing back to the hospital to finish the shift. It was a great way to get to know my coworkers on a different level.
(7) Corporate Team Escape Rooms.
Escape room companies are popping up everywhere. The idea of a team escape room is really fun. A team of people is locked in a room. Then, they solve a series of mysteries to find the button that opens the door. Of course, to make the process more challenging, the team has a 60-minute time limit to escape. So, for an hour, your team gets to problem solve, have a few laughs, and mix with each other on a personal level.
So if you have a small group, this can be a fun team outing.
The big downside of organizing a team escape room as a corporate event is the size of the group. Typically, you'll only be able to build teamwork with six people at a time. So, if your group is larger, this option can get expensive and may not be a great option. However, if you like the idea, you can high a team-building company to come to your office to create a mobile team escape room for bigger groups. For details, see Team Escape Rooms for Large Groups.
(8) Take Your Team to a Go-Kart Track (Go-Carts.)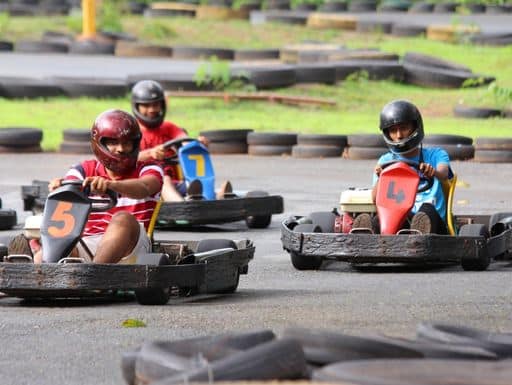 Family fun parks like Putt-Putt or K1 Speed can be a fun distraction for certain groups. If your group is somewhat competitive, this activity can be a good way to win bragging rights amongst the entire office or department.
Our first office in San Antonio was across the freeway from a K1 Speed Track. Since I lived in Ft Worth, I only got to the office once a month or so. On one occasion, I took the team out to lunch. And on the way back to the office, we stopped at the track. (I mean, it was on the way.)
We spent 20 minutes in a heated head-to-head match-up where the sales manager and I were neck-and-neck. Since I nudged him out at the end, we had to go to a rematch. Then the best two-out-of-three before a winner was crowned. The sales team had a great time wagering on which of us would wreck the car first.
It turned into a fun and memorable team outing. (And we were back in the office before anyone missed us.)
(9) Arcades Can Make a Fun Corporate Outing for Both Young and Old.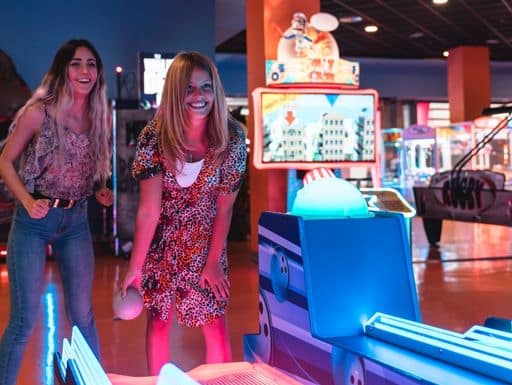 We partner quite often with Dave & Busters, because they have big locations that are designed to both feed and entertain big groups. In addition to the games, they also have things like laser tag or bowling. For instance, in laser tag, you can legally shoot your coworkers without any consequences. All joking aside, though, laser tag is a fun way to organize your team to compete against other teams. It builds light-hearted camaraderie.
If you have a number of different generations represented on your staff, you might look for an 80s arcade. We have a local place in Arlington, Texas, called Free Play. It has old-timey 1980s arcade games like Pac-Man, Centipede, Dig Dug, and Donkey Kong. It is a fun place for the 40-50-year-old teammates to have a chance at beating the 20-40-year-old teammates at something digital.
(10) Take Your Team Geo Caching to Get them Out of the Office for a Team Scavenger Hunt.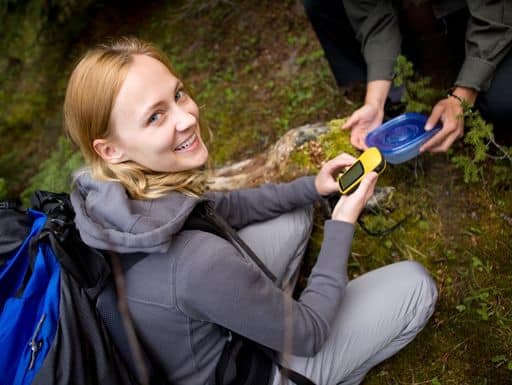 Smartphones have created a fantastic underground activity that is available just about everywhere. In a nutshell, individuals create these tiny treasure boxes and hide them in public places. Then, they publish clues to these locations using cryptic language and Geo-coordinates.
All you really need is a cellphone and one of the hundreds of free apps that are available. You can instantly create a treasure hunt for your team.
You can also create a simple team scavenger hunt using the same apps. Begin at a start line in your local park and encourage small teams to find as many gems as possible. Make sure the take a photo of each treasure that they find. Then, meet back at the office (or the park) to crown a winner.
This entire team outing costs absolutely nothing. But, if you want to organize something more customized for your team, you can hire a team-building company to create a custom team scavenger hunt just for your team.
(11) Don't Underestimate the Fun of Playing Board Games.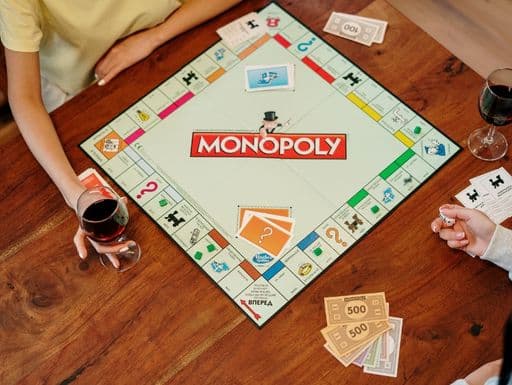 If you're one for nostalgia like me, a board game tournament can be a great time. You can also instill some friendly competition. Clue, Battleship, Monopoly, or card games are all great options. You can organize this team-building event in person or for your remote teams. The entire group would have fun problem-solving or answering trivia questions.
One of the popular team games right now is Mexican Train. This version of Dominos is easy to learn and a lot of fun with a group. Another good option is to create a poker tournament.
Each of these games allows the participants to cut loose, maybe drink a little, and have a lot of fun. Your team will laugh with each other. And you will create a simple and fun memory for the whole group.
If you prefer to make these games into team-building exercises, you can pick games that allow teams to compete with each other. For instance, if you play Trivial Pursuit, you can organize your group into groups of three or four-person teams. Each team nominates a team leader to give the answers. So, the group has fun, competes a little, and builds teamwork without a huge expense involved.
Reward the winning team with Starbucks cards or lunch!
(12) Virtual Team Outings.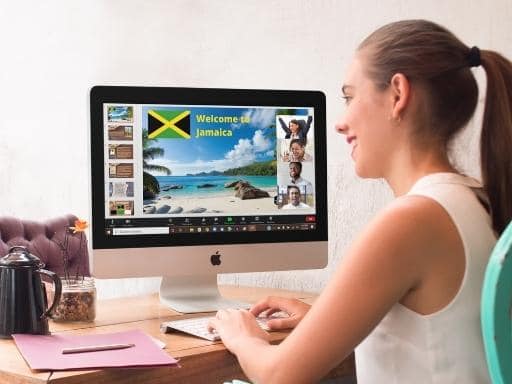 An outside-of-the-box idea for those remote employees is to organize a virtual team activity. You could do something as simple as a virtual happy hour. Or, if you want to make the activity more active, try a virtual escape room or remote murder mystery. A simple game for your remote workers may take a bit more planning, but the results are well worth the extra effort!
For instance, one of our clients is a bank in the Caribbean. They have branches spread out on islands from the Gulf of Mexico to the Atlantic Ocean. Since they have over 1000 employees, it is very difficult to have a meeting where everyone can meet at a single location. So, for the last few years, they have organized a fun virtual meeting for the entire team.
Last year, they had us create a virtual escape room based on finding Blackbeard's treasure. The virtual event highlighted a number of the islands where the company had the biggest offices. They had a blast getting to know each other better and learning more about the history of their island nations. (We had a blast creating the virtual escape room, too.)
If you are looking for virtual team-building ideas, make sure to check out our website.
For additional reading on this topic, you might take a look at "5 Ways to Add Enthusiasm and Energy to Meetings and Conventions". For details about instructor-led team-building events and activities, click here.
The Occasional Team Outing Can Boost Morale and Decrease Employee Turnover.
A shared experience that staff can enjoy is just as important as the profit within the company. Regardless of which team outings you choose, it is important to get out of the office every once in a while. Build some camaraderie. Have a little fun. When you do, you'll increase employee satisfaction. You'll also decrease your employee turnover as well!