Archive for the 'Creating a Team Culture' Category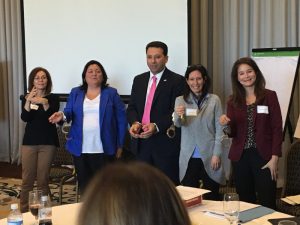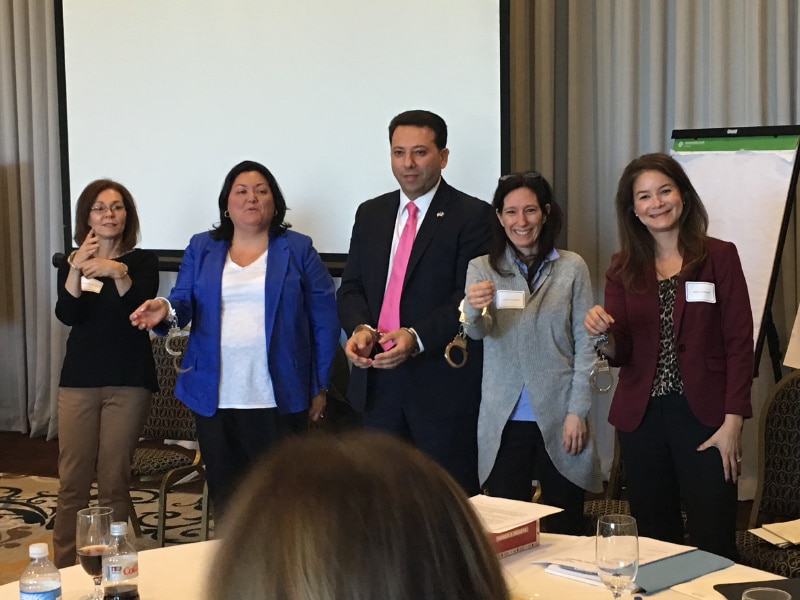 The attorneys of Allstate Insurance gathered for a team retreat in Bethlehem, Pennsylvania at the Sands Resort and Casino. The coordinating attorney was seeking a fun and different activity to the end the day and reached out to The Leader's Institute® for suggestions. We recommended a Creating a Team Culture workshop. Hmm… is this the kind of unique event filled with fun they were anticipating? Well yeah. However, we they had us add the Charade Murder Mystery option to the workshop for extra laughs.
Attorneys Trying the Solve a Crime that They All Witnessed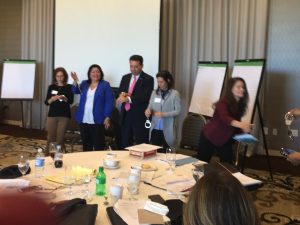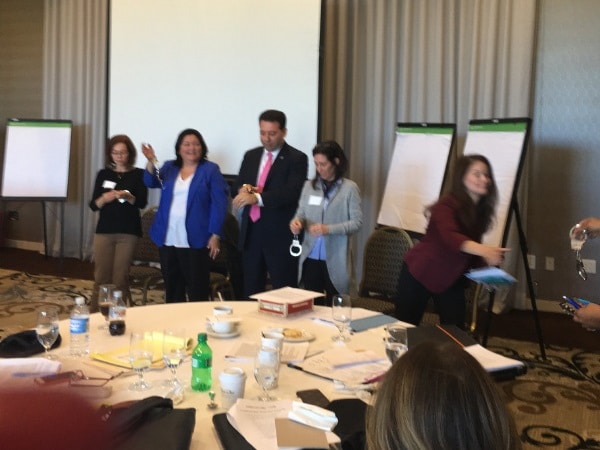 I arrived on the scene and set up my PowerPoint presentation at the front of the room. I then warmed up the group with some introductions and handed out worksheets for participants to complete. While I covered the first few items on the agenda, there were several seemingly rude interruptions from the group. People were talking aloud, coughing, getting out of their seats, leaving the room… I played my part and put on my annoyed face. One of the attorneys returned to the room creating a ruckus. She then fell to the floor and was instantly pronounced dead! The Charade Murder Mystery had begun!
After I revealed my true identity (International Crime Fighter), I had the group identify the six suspects. The group decided to handcuff the suspects for everyone's protection. The question then became, "Who Dunnit?" Details regarding a murderer, victim, conspiring individuals, illegal activities, and more started to unravel as teams examined the clues, interrogated the suspects, and began their own investigations.
Perfect Ending to Team Retreat in Bethlehem, PA
So, "Who Dunnit?" Well, if you were not there then we cannot tell. Nevertheless, one definitive fact remained; the group had that fun-filled activity they were anticipating. However, during the interrogations, they were laughing their heads off. Lots of fun! For details about a team retreat in Bethlehem or Allentown, or for a program anywhere in Pennsylvania, visit our Team Building in Philadelphia, PA page!
| | |
| --- | --- |
| | Michelle Riklan is president of Riklan Resources and an instructor for The Leader's Institute® in the Northeast region. She is based in Marlboro, NJ but she also teaches in New York, Boston, Philadelphia and other Northeast cities. |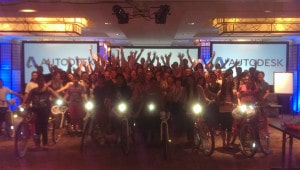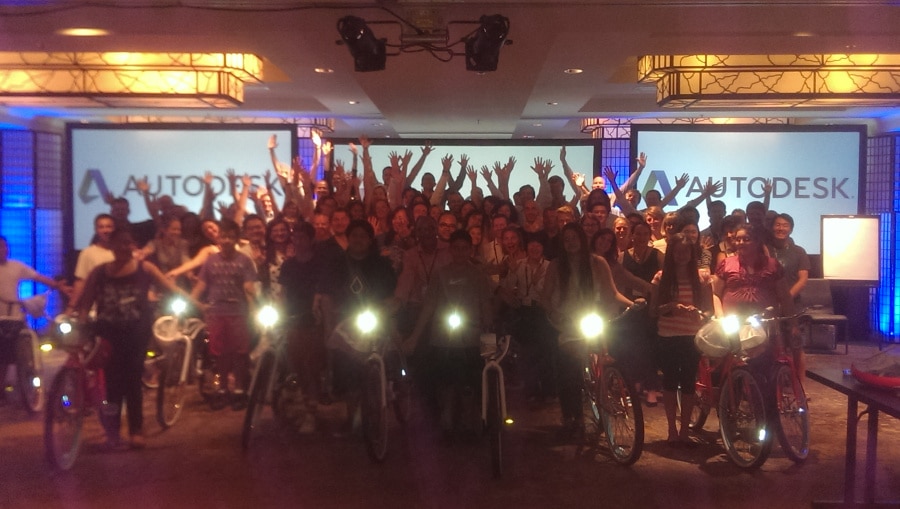 Autodesk decided to end their 3-day summit with team building events in a great location: The Lodge at Sonoma Renaissance Resort and Spa: 1325 Broadway, Sonoma, CA 95476. Autodesk produces software for a number of industries: including architecture, engineering, construction, manufacturing, media, and entertainment. This summit brought together folks from all over the world, from as far as Singapore and the United Kingdom, along with many from their headquarters in San Rafael, CA. The company is going through several changes and wanted to emphasize the importance of teamwork, so they devoted a day to team building activities starting with the Creating a Team Culture activity. In the morning session, participants were able to discuss their strengths and weaknesses with building trust and rapport, and were given tips to be able to improve in these areas. They also learned an easy-to-use technique to gain consensus and be persuasive, whether it be to an individual, or a small or large group. The structure of these activities was very much centered around small group work, as opposed to a lecture. Participants were relieved as they had just been through two days of content heavy material, and were coming into the morning session off of a costume party with karaoke at the hotel the night before! In the afternoon, they participated in Build-A-Bike®, which further emphasized the importance of team building in a fun way. Los Angeles based instructor Chris McNeany enjoyed working with such an enthusiastic. The Boys and Girls Clubs of Sonoma Valley were thrilled to receive the bikes, and Wine Country Cyclery was a huge help in making sure the bikes were all safety check approved and ready to ride!
"Chris, thanks so much for your amazing facilitation on Day Three – Creating a Team Culture really worked out to be the perfect team development activities for the last day of the Summit. I heard many positive comments about you and the day!" – Autodesk
| | |
| --- | --- |
| | Chris McNeany is a Vice President and Instructor for the The Leader's Institute®. He is based in Los Angeles, California, but he teaches classes in San Diego, San Francisco, Las Vegas, and Seattle as well. |
For details about Team Building in Sonoma, California, click here.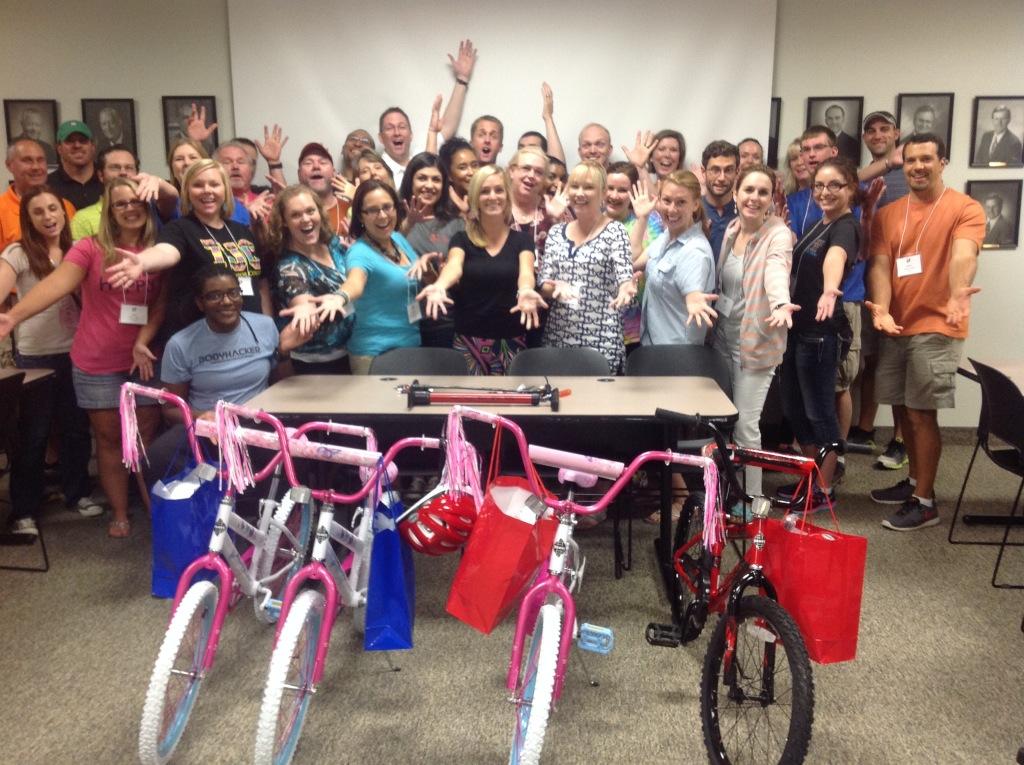 Leadership training programs sponsored by local Chambers of Commerce are very common, but programs that grow on their own, separate from the Chamber are much more rare. Leadership Tyler is one of the exceptions, because they offer a quality leadership program and often have a waiting list for months with people who are wanting to be the next alumni of the program. Early in the year, Leadership Tyler asked us to take part in one of their sessions by having all of the participants of the group conduct a Build-A-Bike® team building event for their group supporting the local Boys & Girls Club in the area building bikes for kids. This was a very fun, high energy group who are going to have a great time over the next six months in their program!
Below are a couple more photos from the event: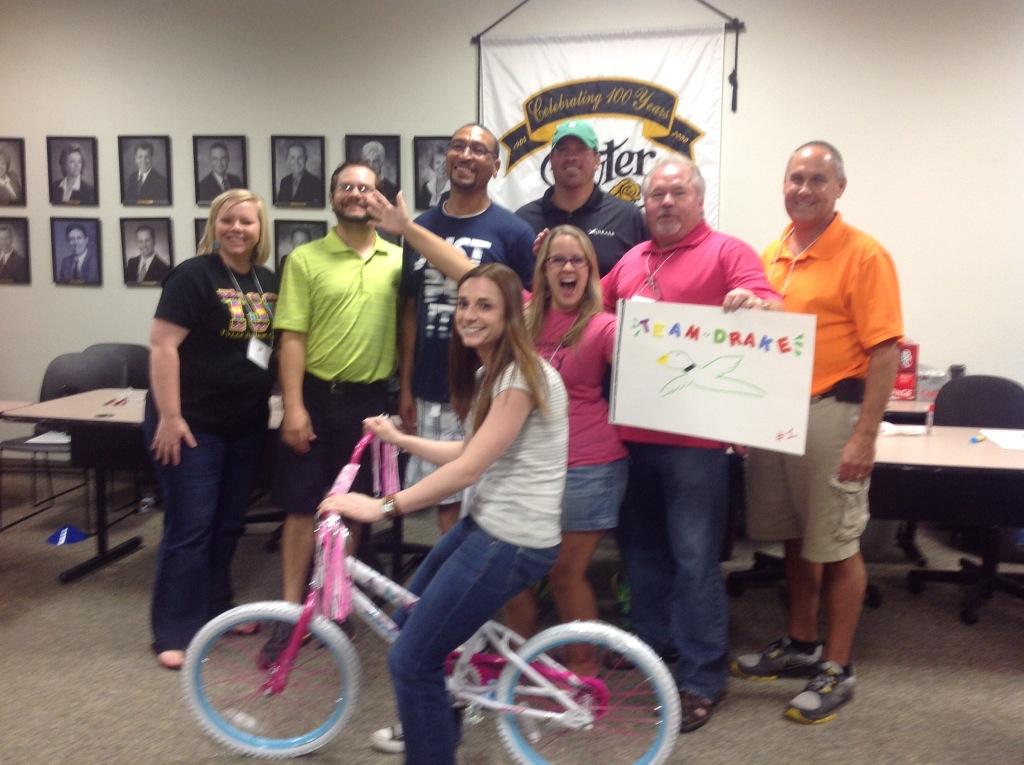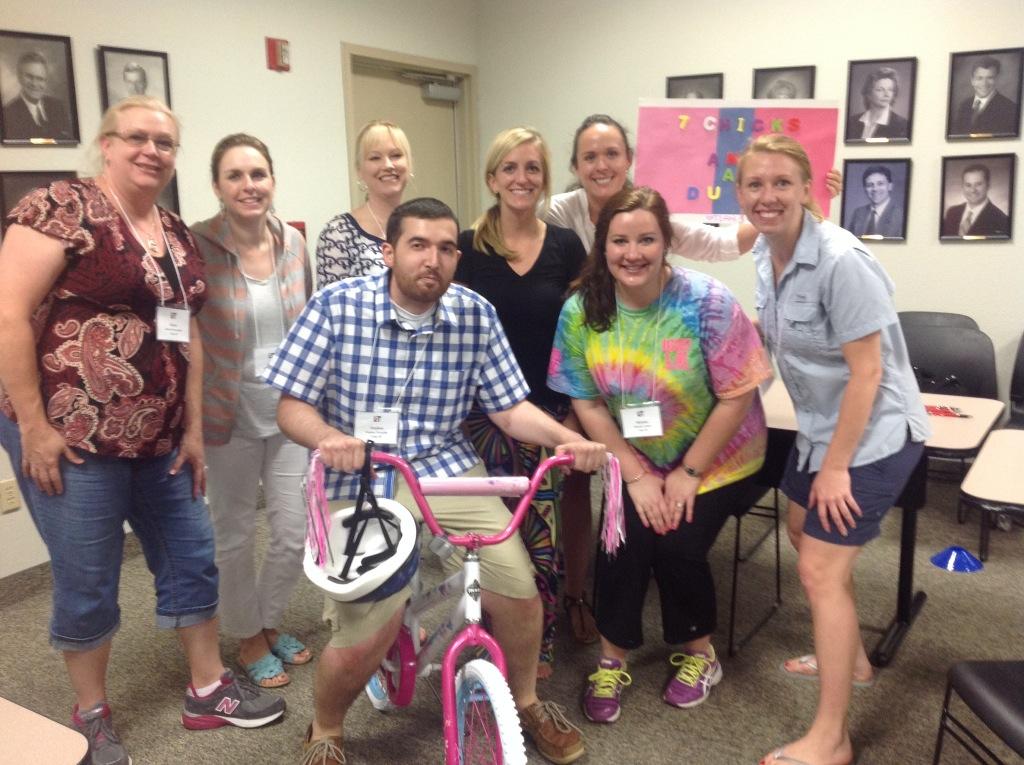 After having gotten a taste of the Build-A-Bike workshop in the previous year, the Biogen Idec group in Boston wanted to mix things up this time around and experience a different type of workshop.  Their Global Market Access department had grown significantly within the last year, and so the planning committee wanted to have a fun and interactive team building activity to allow the group to get to know each other much better.  Therefore, they came to a consensus and chose the Creating A Team Culture Workshop to fulfill that exact need.
The event took place at the Biogen Idec's corporate headquarters in Weston, Massachusetts located just west of Boston.
| | |
| --- | --- |
| | Mitesh Kapadia is the Regional Instructor for the Northeast region. He is based in New York City, but he also teaches in Newark, New Jersey, Philadelphia, and all New England Cities including Boston, Providence and Hartford. |
Fire Rock Casino  Gallup, New Mexico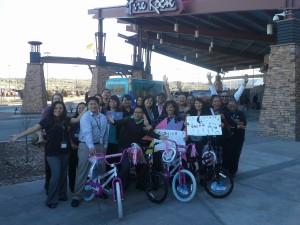 Fire Rock Casino, Gallup, New Mexico chose the Build-A-Bike and Creating a Team Culture events to build cooperation and effective communication among its employees. They found exactly what they were looking for at Leader's Institute. Sandi Tobey was in charge of requesting the Build-A-Bike and Creating a Team Culture, both of which proved to be enlightening and exciting experience for her staff of accountants. The Build a Bike event was the first of the two day team building events. The group was not sure what they were in for as they were split into teams by a fun team exercise  in which they had to scurry around the room like a modern version of musical chairs. The participants had to run around the circle upon answering some fun questions then land back into position  in order to not be the last man out. This was fun and energizing for the participants as you could see their competitive nature come into play.  When the teams were formed, the Build-A-Bike fun began as the teams raced to create their team cheer and team flags. After their exciting performances to be voted the most creative team, more fun began when they were tasked with solving clues to come up with answers to obtain the bike parts necessary to complete a bike. The groups got real competitive, but realized that in order to be successful to answer the clues they had to cooperate with the other teams.The satisfaction of completing the bikes and giving to a local charity proved rewarding for the employees at the Fire Rock Casino.
After they had experienced the rigorous Build-A-Bike event the day before, the group at the Casino spent an enriching day with the Creating a Team Culture event. The group was tasked with exercises and activities that proved to be revealing of their current habits and showed them more successful techniques of dealing more effectively with each other. Fun classroom team building is a fantastic way to generate a "behavior change" and build teamwork in a group of coworkers. If your company is looking for fun team events to boost your productivity and team cooperation with fun team events and a charity component, the Leaders Institute has many programs that will provide a positive and energetic learning experience.
Bob Mills Furniture of Oklahoma City, Oklahoma gets the corporate staff of 28 together to do the High Impact Leaders seminar for two half day sessions. Bob Mills started his furniture business in 1971 in an old IGA grocery store building at 2625 S.W. 29th. The location remained there for 15 years. After years of concentrated effort, the business grew and, in the late 1980s, Mills moved the business to its present location, an 110,000 square foot facility at 3600 W. Reno in Oklahoma City. Jill Hudson, HR Director for Bob Mills Furniture and Bob Mills decided that with the rapid growth of the company and the corporate entity only being about two years old they wanted to bring together the team to get them on the same page. The High Impact Leaders seminar is a powerful leadership training seminar that focuses on developing soft-skills that help participants become stronger, more confident leaders and managers. Skills focused on in this program include public speaking, listening and communicating, people skills and how to motivate people, memory, problem-solving, meeting skills, and the ability to develop more leaders within the organization. The 28 Leadership Principals used by The Leaders Institute are a vital tool in changing the habits of people to help build trust and rapport, resolve conflict, gain buy in and building the next generation of leaders in any organization. Many comments from the group about how easy this will be to apply in their day to day operations with the desk reference at their reach. "The Leadership Principles help a lot on outlook, attitude and ability to look at things in a different light/ perspective". The breakout sessions are helpful in getting the group to realize one another's strengths and communicating effectively even when they work in different departments. The five step problem solving process is a fast easy way to generate possible ideas as well as create buy-in from your team concerning implementation of the solution. "The problem solving time was a great exercise to use in our daily/weekly meetings. Most of us walked away with a few things to work on at the office"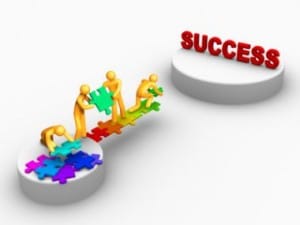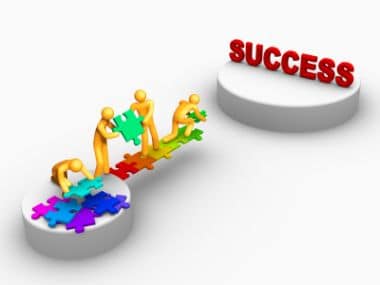 A group from the National Oceanic and Atmospheric Administration (NOAA) gathered recently to participate in a Creating a Team Culture workshop in Norfolk, Virginia. The group of 10 co-workers gathered at the Nauticus Museum near their offices to spend most of the day learning how to apply leadership principles that can help them communication more clearly and improve their working relationships. NOAA  has a wide variety of functions, including collection of data regarding the oceans, the atmosphere, and fisheries. This particular office supports the staff that work on the boats doing this important work.
We began the session talking about personality styles and how they affect our communication styles. Looking at the natural strengths and weaknesses of each personality style created lots of dialogue about how and why people react the way they do to many different situations.
We honed in on the four sets of Leadership Principles that deal with building trust and rapport, managing conflict, gaining cooperation, and building the team around you. The discussion was robust around the first of principles, building trust and rapport, as it is at the foundational base of that which affects most teams' ability to work well together. Without first addressing these fundamental principles in this key area of communication, it is difficult to move forward with a strong team. The material and exercises challenged the group to move out of their comfort zones and interact in a way that had previously been avoided.
By the end of the workshop, the participants had an improved outlook on their ability to work together, and were more open to each other. They still have some work to do, but this workshop provided a strong base of ideas on where and how to start.
"This was a good place to start. We have a lot of work to do but these principles are definitely things that we can begin applying right away. Thank you!" — Jennifer Pralgo, NOAA
Communication difficulties can cause problems in the workplace that extend beyond the workforce and begin to affect our customers in adverse ways. Include Creating a Team Culture team building workshop in your plans to give your employees the tools they need to be more successful together!
| | |
| --- | --- |
| | Ellen Patnaude is Vice President of Instruction for the Northeast region. She is based in Detroit, Michigan, but she also teaches in Chicago, Cincinnati, Columbus, Toronto, Baltimore and other Northeast cities. |
Interested in a Team Building Event of Your Own?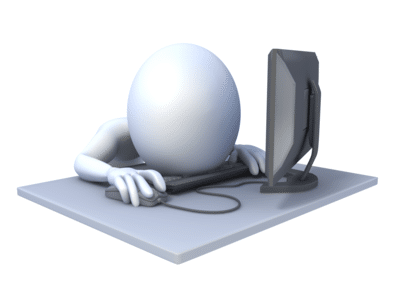 There are probably thousands of different team building activities out there on the market today. How can anyone possibly sift through them all and decide on the "best one" for their group? As soon as you put in the search term "team building" into any search engine, it's easy to become overwhelmed just looking at the number of results that come up.
Here are three important questions to ask yourself when choosing the right team building activity for your group. They aren't the only questions to ask, but the answers will give you a great starting point.
1. What is my goal for this group?
The three questions are equally important in my opinion, but this one happens to be first. If you don't have a clear sense of WHY you are doing a team building activity, choosing one will send you off in a myriad of directions. You just might end up becoming so overwhelmed by the never-ending choices that you just give up.
2. What do I hope the group will do differently after this event?
This question is often overlooked by the planners of a team building event. It is easy to lose focus on where you are going if you didn't have a clear sense of the path before you started. Asking yourself what you hope that your group will do differently or better after the event can help you narrow down the type of event that is best suited to help you reach that goal.
3. How will this benefit our business?
Finally, this question is also often overlooked but equally important. Team building events that are done well can have clear benefits for your business in that they can help your team be more productive, communicate more effectively, or increase your team's collaborative spirit. Thinking about how that can benefit your business may make it easier to select an appropriate activity. It can also help with justifying the expense of a good team building program.
Selecting the right team building program doesn't have to be overwhelming or scary. Gaining clarity yourself before beginning your search can help you stay focused on the goals you have for your team, and how a good program can move you towards reaching them. Happy hunting!
| | |
| --- | --- |
| | Colette Johnston is a Corporate Development Manager who works with clients in over 30 major cities including Seattle, Los Angeles, Chicago, Detroit and New York. Interested in a Team Building Event? |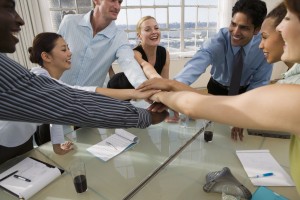 SUNY Downstate Medical Center hosted a Creating a Team Culture workshop in New York, New York for 55 of their Chief Residents recently. The Chief Residents are at the end of their residency programs and SUNY felt it would be important for them to have a leadership development day that included this workshop. SUNY Downstate Medical Center's history spans more than 130 years. It was the first medical school founded within a hospital, making bedside training an integral part of students' education.
The group of sleep-deprived Residents gathered with some skepticism about doing a workshop. They have very intense and demanding schedules, and expertise in their fields. Why did they need something like this to help them communicate better? I shared my own recent experience with Chief Residents with them, as my youngest son was recently hospitalized. Through the lessons illustrated by the story, they were able to see how paying closer attention to their communication strategies is not only helpful but is essential to their success as physicians.
We discussed four sets of Leadership Principles relating to improving communication and team culture. With each set of principles, there were exercises for the group to do that helped them interact with the principles and try them out. The first set of principles dealt with building trust and rapport, which is something this group was struggling with most. We also covered ways to manage conflict, gain cooperation, and build the team around you. As the workshop progressed, the level of interaction in the group rose steadily, and by the end, they were much more relaxed!
"These physicians needed this workshop to help them see their patients through the other side of the lens. If we change one person's thinking about how to communicate in the workplace, it was worth it." — Dr. Nagaraj Gabbur, SUNY Downstate Medical Center
Team building workshops done in a classroom don't have to be dull or lecture style. If your team is struggling with communication issues and wants to enjoy a seminar where they will get to interact with each other and share some laughs while still addressing core issues, include Creating a Team Culture in your plans.
| | |
| --- | --- |
| | Ellen Patnaude is Vice President of Instruction for the Northeast region. She is based in Detroit, Michigan, but she also teaches in Chicago, Cincinnati, Columbus, Toronto, Baltimore and other Northeast cities. |
For details about a team building event in New York, NY, click here!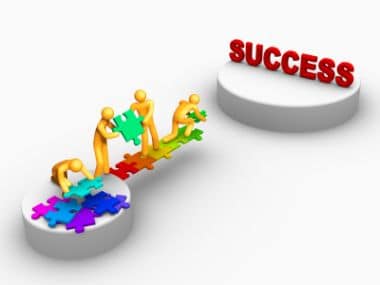 Are you looking for ways to improve your team culture for the new year? Team building activities help build a purposeful team culture within your organization, so why not include a workshop in your annual kick-off meeting?  One of the reasons companies have offsite team meetings is to not only share and gather information but also to improve their team culture by giving people "face time".  If you're planning an offsite meeting, here are some things to keep in mind.
In today's economy everybody has to learn to do more with less.  What happens when we have limited resources?  How do limited resources impact our relationships and integrity?  Teams can learn to think creatively through team building activities. Oftentimes in team building workshops, participants are given a series of creative challenges and problem solving activities. What they realize is just because they've always done something a certain way, doesn't mean it's the way they should continue to do it. To not only survive, but thrive we need to do things differently to get better results.  Rather than looking for what's not working – ask what's possible.  This releases creativity and attracts those who care and are committed to making it happen.
When you have an annual meeting it's a great opportunity for your team to get to know each other through interactive team building activities.  You can build camaraderie with interactive sessions because when we are connected to each other, we participate.  When we have trust, we take risks.  When we care, we are willing to go the extra mile.  Collaboration and creativity start when we begin to know each other as human beings, not just roles or titles.  For example, we provided our Build-A-Bike® team building workshop for a client in the Seattle area last month. Because of the interactive team building activities, the participants said they knew each other better after a half day session than after a year sitting next to each other in cubicles.  And when times are uncertain, it's the relationship that matters.
Team building activities that include a philanthropic twist have become increasingly popular in recent years.  And with good reason!  Service to others is a strong part of the culture within many companies who want to feel good by giving back – and not just during the holidays.   Our charitable bike building workshop is by far our most popular because teams build bikes that are then donated to children in the community.  Do you remember what it felt like when you got your first car – how it expanded your world?  A new bike can change the life of a child, and it's a goose bump moment when you watch them ride it for the first time.  Decide if a service mentality is an important part of your culture, and send that message at your next offsite meeting.
So if you want to improve your team culture, start at your next offsite meeting by learning to think creatively and be resourceful, building camaraderie with interactive sessions, and feeling good by giving back in some way. Your team will discover together what it cares about and set your company up for a successful new year.
| | |
| --- | --- |
| | Colette Johnston is a Corporate Development Manager who works with clients in over 30 major cities including Seattle, Los Angeles, Chicago, Detroit and New York. Interested in a Team Building Event? |