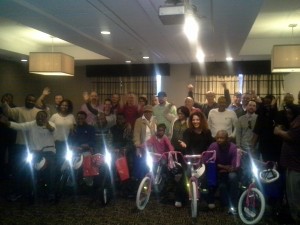 The Home Depot Distribution center for the Southeastern United States was looking for a way to enhance their team network among departments, so they chose the Leaders Institute to do a team building workshop. They wanted the best of both worlds, a fun team event that would also provide some type of learning take away. Home Depot decided on Leaders Institute's Build-A-Bike event for their annual conference, one of the most popular and unique team building events. Before the event began, one of the upper management personnel explained that he was trying to get the distribution departments to be more cohesive and communicative. Six teams were formed after a memory exercise amazed the participants how such a simple exercise doing things a little differently can significantly improve performance. The teams were then challenged to create a team name, flag and a team cheer. This is where the fun began as the teams quickly invented a team identity and practiced a team cheers that were performed. The teams were informed that the winner of the cheer contest would get a 60 second head start in the bike build competition. The teams came up and performed some very energetic and creative cheers to that entertained and surprised the whole group. After the cheer contest ended the individual groups were tasked with answering various questions that that took group delegation to solve successfully. The groups scurried up to the judges tables to turn in their answers and were awarded one bike part per correct question. Since the groups would get mixed bike parts, they found that they had to cooperate with other groups to be successful to complete their own bikes. After the bikes were completed the local Boys and Girls club of Savannah brought some very happy children to receive the bikes for a charitable donation.
---
Author: Steve Stasczak, Date Published: February 3, 2014
Steve Stasczak was an instructor for The Leader's Institute ® from 2013-2014. For more details, you can find him on LinkedIn.
More Articles Like This... Case Studies • Build-A-Bike ® Tagged with: bicycle team building event • build teamwork • corporate teambuilding • fun team building

---