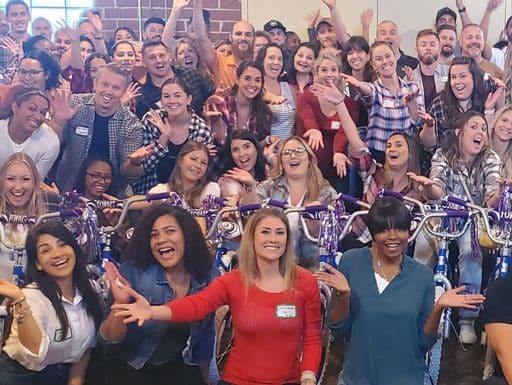 Through recent years, we've seen the absolute necessity, medical professionals provide the nation. Nurses are burning out and opting for more change by taking on travel work assignments. Jackson Nurse Professionals added some fun into the office by completing our Build-A-Bike® program.
Their office link nurses with the ability to explore new locations and continue their passion for patient care. Jackson Nurse Professionals provides necessary, and missing, staffing across the nation. Travel nursing provides the opportunity of change and uncompromised stability. Upon some perusing, their site offers a plethora of resources ranging from making the jump to begin as a travel nurse to money-saving advice. Each recruiter has a supportive, fiercely loyal energy that they put into their day-to-day.
Staffing Team Builds Bikes
Taking a break from their clients, Jackson Nurse Professionals strengthened their team through bonding and camaraderie. First, our instructor, Toby, warmed them up through various icebreakers and games. During these games, Toby pin-pointed certain personalities to create small groups. Each small group received a special set of clues and riddles. Teams depended on each other to answer each puzzle correctly. Once deemed correct by a judge, teams earned their bike part. Eventually collecting the components of an entire bike. Each team assembled brand-new kids' bikes.
Exemplifying their culture of giving, Jackson Nurse Professionals donated their bikes to OneHeart. An organization that aids struggling families overcome and transition through hardships.