The Leaders Institute ® facilitated their signature public speaking workshop in Miami Florida in August, 2013. Ten participants from various industries attended the two day workshop looking to improve their public presentation skills. The participants were attracted to the Leaders Institute's ® Fearless Presentations ® workshop for its' strong reputation in public speaking expertise. They first learned that the combination being coached and practicing a new skill after learning it ensures the chance of developing that new skill. The participants also learned how to reduce their nervousness and anxiety by recognizing and dealing with them. The participants were tasked to give an introductory speech which was videotaped at the beginning of the workshop so that could see that they did not look as nervous as they thought they did, this also served as a tool to measure their progress at the end of the second day. The class went through a series of exercises of how the use stories and examples are important to support their presentations. Each individual in the workshop had some great examples that they wove into their short topics and you could see the confidence starting to grow in their presentation skills. The workshop ended after the first day with the participants developing and delivering a persuasive speech that utilizes a special formula for effective audience buy in. The second day the participants were ready to start developing their final presentation or three point talk. They took all the knowledge and practice learned the first day and developed their final speech. The participants came up confidently one by one and delivered some fantastic presentations. They were amazed how much they had learned and the confidence they had gained from the two day workshop.

For a Complete List of Upcoming Classes, Visit the upcoming presentation skills classes post. You can can click here for details about the Fearless Presentations ® class.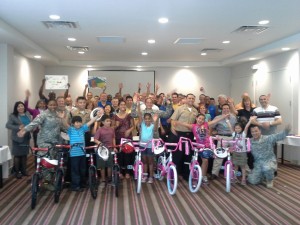 Cisco Corporation chose The Leaders Institute to put on a Build-A-Bike ® team building event for their Military Division at their annual conference in Orlando, Florida. Maggie Shaffer, the planner for this event had gotten strong recommendations from former Build-A-Bike attendees within the Cisco organization to influence her decision. She was looking for a team building event that would include exercises to encourage team cooperation among the employees that were scattered around the U.S. She also wanted an event that would ultimately to contribute to a local military charity which the Leaders Institute arranged for Cisco. The eager participants poured into the room where the fun team building exercises to begin. The attendees were introduced to a few warm up exercises that sparked their energy and enthusiasm. They were then formed into groups and tasked to come up with a team name, team flag and a team cheer to compete with the other groups to get a head start to build the bikes for charity. The teams had limited time to complete their team tasks, so team cooperation was crucial. The teams were judged in an exhibition of their flags and cheers with the winner awarded a head start in the bike building portion of the event.
After the cheer competition, the teams were given envelopes with clues to be solved and redeemed for the bike parts to complete a whole bike. Once again, team cooperation came into play as the groups had no choice but to depend on their team members to be successful. When the bikes were completed, the local military charity brought in the children escorted by uniformed personnel to receive the bikes.
If your company or organization is looking for a fun team building experience with a charitable component, the Build-A-Bike is an exciting event that will satisfy your team building needs.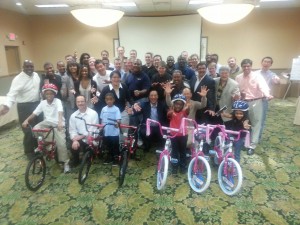 Cisco, a long time client with the Leaders Institute, chose to do a Build-A-Bike with their Orlando Florida  conference at the Embassy Suites. This was a natural choice for Tony Blount of Cisco to include the Build-A-Bike. Tony contacted The Leaders Institute upon recommendation from Cisco employees who had experienced The Build-A-Bike event at other Cisco company conferences. The Build-A-Bike event was put on by The Leaders Institute, a national team building event company. The group consisted of managers and engineers from around the country who knew each other but only get the opportunity to meet a couple times during the year. The team building event served as a great way for them to interact outside the workplace while teaching them fun team exercises that were to their advantage to cooperate and problem solve as a team for higher efficiency and success.
The Build-A-Bike Teams were formed with fun exercises that separated the participants into the groups who competed and cooperated together through fun team exercises.The teams were provided with a bag of fun materials to create their identity making team flags and creating team cheers for exhibition. Once they got started, the energy escalated and the fun began as the participants raced to outdo their co workers. The event got more exciting as they were then tasked with problem solving questions in order to redeem the correct answers for bike parts that were needed to complete a whole bike.
At the end of the event, a local Orlando charity affiliated with the United Way sent six excited children to pick up the bikes. As you can imagine the expressions of gratitude from the children, and the thrill the participants experienced knowing that they contributed to the charity. If your company is looking for an energizing and positive experience to finish your convention or conference, Build-A-Bike proves to be a great team event with a charity component to add to your next meeting.
"We received many positive comments regarding the community team building event and you and your team did an outstanding job for us.  I really appreciate the quick response and partnership in the overall event. "
Thanks so much and best regards,
Tony Blount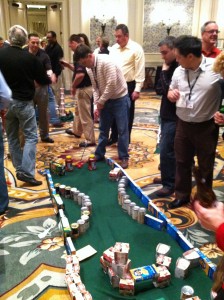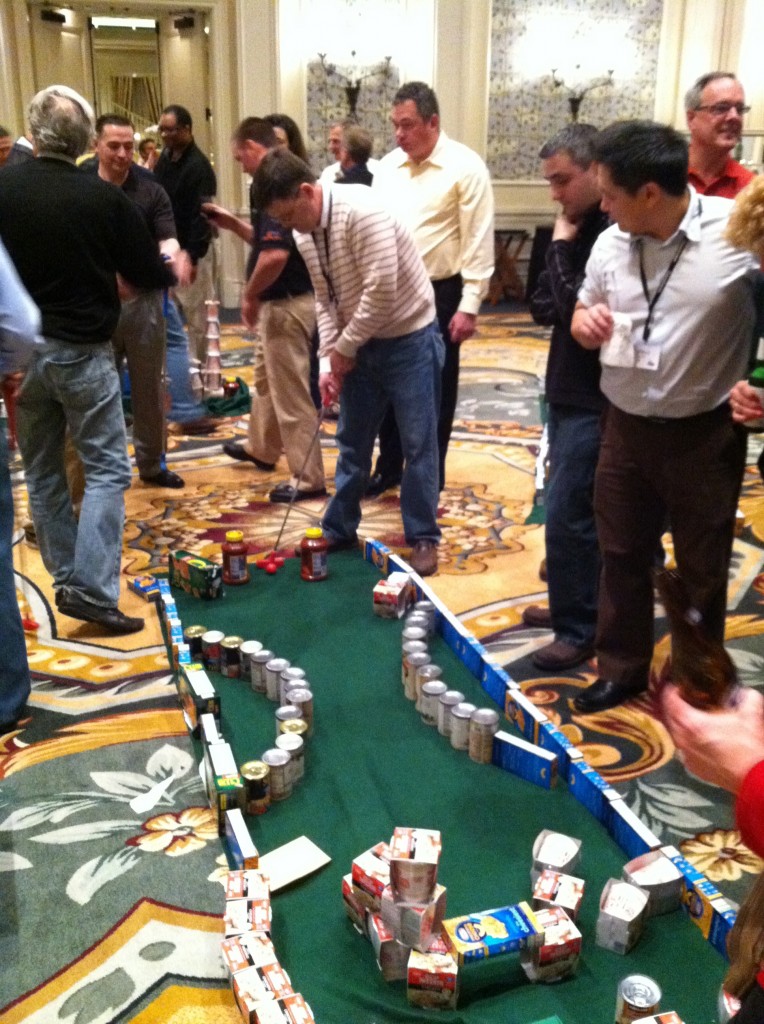 Carestream Health recently included an Ace Race team building workshop in their conference in Orlando, Florida. This healthcare company is headquartered in Rochester, New York and has sales reps scattered all over the US and Canada. They gathered in Orlando's warm, sunny climate for their week-long annual conference. Carestream Health was formed in 2007 when Onex Corporation of Toronto, Canada purchased Eastman Kodak Company's Health Group and renamed the business as Carestream Health. The business continues to thrive with tens of thousands of customers worldwide and operations in 170 countries. They have been a world leader in medical imaging innovation for more than 100 years—with a global team of experts passionately committed to doing whatever it takes to help their customers be successful.
The Ace Race began with a quick warm-up activity that gave the participants a chance to interact with each other and try to learn things about each other that they didn't know before. The group shared a lot of laughs and the competitive spirit was high! Moving into the Ace Race itself, each team created a mini putting green for themselves using non-perishable goods. Each green had a unique design and some included very tricky obstacles! All of the teams then had a race to see which team could get around the entire course first, making a hole-in-one on each green. With 140 people divided into 18 teams around the room, the energy level was high, and it was chaotic!
This group has been working together for a long time and most people know each other pretty well. There was a lot of camaraderie and healthy competition going. Carestream had done a Build-A-Bike workshop with us in Las Vegas at their last conference, and wanted to keep in line with the philanthropic team building type of program. The non-perishable food goods used in the Ace Race are donated to a food bank at the end of the program, and in this case, we selected Second Harvest Food Bank of Central Florida to be the recipient. A representative from the Food Bank came to the event and spoke to the group about their work and the impact that the donation of nearly one ton of food will have in the Orlando community. She also told them about ways they can get involved with their local food backs back home, should they wish to do so. One participant was so impressed that he made an additional cash donation!
"The workshop was great!  Everybody thoroughly enjoyed it and had a fun time.  Ellen did a fantastic job with all of it – she was great with handling this unruly group!" — Neil Bryant, Carestream Health
Team building workshops that are composed of activities that have a point, coupled with a lot of fun and the opportunity to give back to the community are a great way to get people having fun together. Consider including an Ace Race in your next conference and give your team a memorable experience!
| | |
| --- | --- |
| | Ellen Patnaude is Vice President of Instruction for the Northeast region. She is based in Detroit, Michigan, but she also teaches in Chicago, Cincinnati, Columbus, Toronto, Baltimore and other Northeast cities. |
Interested in a Team Building Event of Your Own?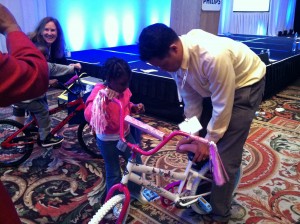 Philips Healthcare included a Build-A-Bike team building event in their annual meeting recently, held in Orlando, Florida. This was a sub-meeting of a larger, mega-meeting taking place in Orlando with the entire company. This event was held with the Ultrasound group. The sales and marketing team assembled comes from regions across the country, and has main offices in Washington state and Massachusetts. Orlando was a nice, warm gathering place for everyone to meet!
Build-A-Bike is a fast-paced, high-energy workshop that gives participants the opportunity to interact, compete and ultimately work together to solve a series of challenges. Due to our competitive human nature, there is typically some skepticism at the notion that the teams need to collaborate to solve the challenges more efficiently. There was great energy in the room as 225 people tried to outwit each other! While this group of people don't necessarily work together in their day-to-day businesses, they did rise to the challenge and help each other, ultimately making everyone successful.
By the end of the event, they had built 36 bikes! Local kids from the YMCA of Central Florida came at the end of the event to receive the bikes. There was not a dry eye to be found! The energy level rose even higher as the adults swarmed around the kids to make sure each one fit their bike.
"What a fantastic event! Meeting the kids and seeing their faces at the end was priceless." — Bart de Boer, Philips Healthcare
Everyone likes to give back to the community, especially to kids in need. Including Build-A-Bike in your next conference gives those you've brought together the opportunity to do just that while adding energy, enthusiasm and fun!
| | |
| --- | --- |
| | Ellen Patnaude is Vice President of Instruction for the Northeast region. She is based in Detroit, Michigan, but she also teaches in Chicago, Cincinnati, Columbus, Toronto, Baltimore and other Northeast cities. |
Interested in a Team Building Event of Your Own?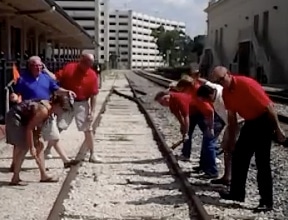 Allied Builders raced through Orlando's historic district, competing with high tech gadgets to win a
Camaraderie Quest team scavenger hunt
. Did I say
competitive?
   No?  They were COMPETITIVE. Instructions given – the race was on to solve clues, take photos, create video's and win the
Camaraderie Quest
.
Old Florida has a lot to offer for a scavenger hunt, like the old railroad station, where the video was zooming.  There was even a little singing of "We've Been Working on the Railroad" and more, anything to finish the scavenger hunt. (Including asking a policeman for directions.)  No penalty.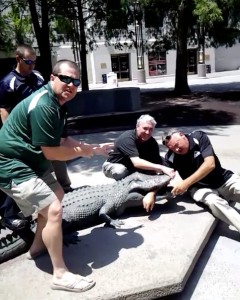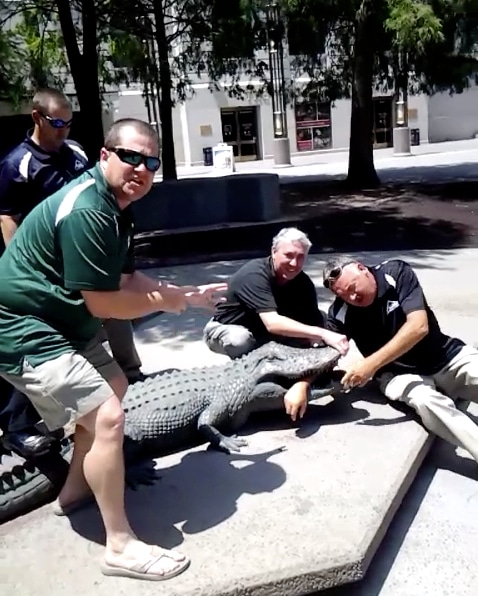 Allied, strengthened its moral with the Camaraderie Quest team building scavenger hunt, learned a little Florida history, and a whole lot about themselves.
Like who knew they would like wrestling alligators? Fear factor?  Forget it.  Not this group.  This was a chance for folks who compete every day, and today the competition showed them a whole lot about themselves, and their strengths.  This scavenger hunt was a perfect way to let loose, and have a few hours of fun-filled collaboration.
When the scores were in, there was a clear winner – the company and all the individual participants who work hard to make the business grow.  This day, the competition was all in the name of fun, teamwork, and collaboration.  By Connie Timpson/Sr. Instructor/Performance Coach/The Leader's Institute
Camaraderie Quest
team building event in
Panama City
,
Florida
.  High tech gadgets in hand  folks from DCF learned about each other and took a walk into St. Andrews history, solving high-tech challenges to collect all the pieces to the puzzle.
Which way did they go?  That was a little confusing.  But they figured it out and ended up working together to create a little drama on historic St. Andrews Bay.  These dedicated people, who make very difficult decisions, got to step back, laugh, and give in to their creative-childlike side.  They learned a little more about each other; how to communicate more effectively, and solve problems as teams competing to win the quest.
They got out of the office, put aside the every day challenges of helping families and children understand how to navigate life.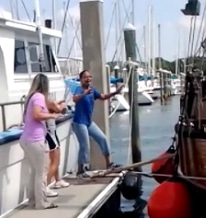 They are tasked with protecting children, guiding them, counseling families on how to be families, and removing any danger to the children.  To say their jobs are stressful is a major understatement.  So this Camaraderie Quest team building event was a perfect way to let loose, and have a few hours of fun-filled collaboration
The quest came to life, with pirates, pelicans, and partners, oh my!  Yes, Peter Pan was there, and more than one person walked the plank!  There is even a grand old live oak that is mythically believed to have protected the cove during the war that pitted north against the south.  This historic little city has weathered many changes.  The folks from DCF learned it all while on a Camaraderie Quest to strengthen their team, and have some fun.
| | |
| --- | --- |
| | Connie Timpson is Vice President of Instruction for the Southeast Region. She is based in Jacksonville, Florida, but she also teaches in Orlando, Tampa, Miami, Ft Lauderdale, Atlanta, and other Southeastern cities. |
Interested in a Team Building Event of Your Own?
Florida's Department of Children and Families (DCF) strengthened its team with a
| | |
| --- | --- |
| | Connie Timpson is Vice President of Instruction for the Southeast Region. She is based in Jacksonville, Florida, but she also teaches in Orlando, Tampa, Miami, Ft Lauderdale, Atlanta, and other Southeastern cities. |
Florida's Department of Children and Families gathered at FSU on the Bay, to learn, share, and Rescue Kids With a Rescue Bear Team Building Event.  These people have devoted their lives to helping families cope with life's problems, and when necessary rescuing a child from an unsafe environment.  This process is stressful for all involved.  For the child it can be the most traumatic event in their life.   It is estimated that In Florida each year, there are nearly 10,000 children removed from their homes, because they experienced neglect or abuse at the hands of a family member. That is when DCF is called in to make some tough decisions.  If it is no longer safe to live at home, the child is removed, at least for awhile.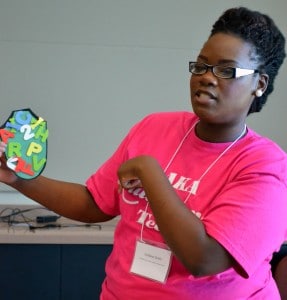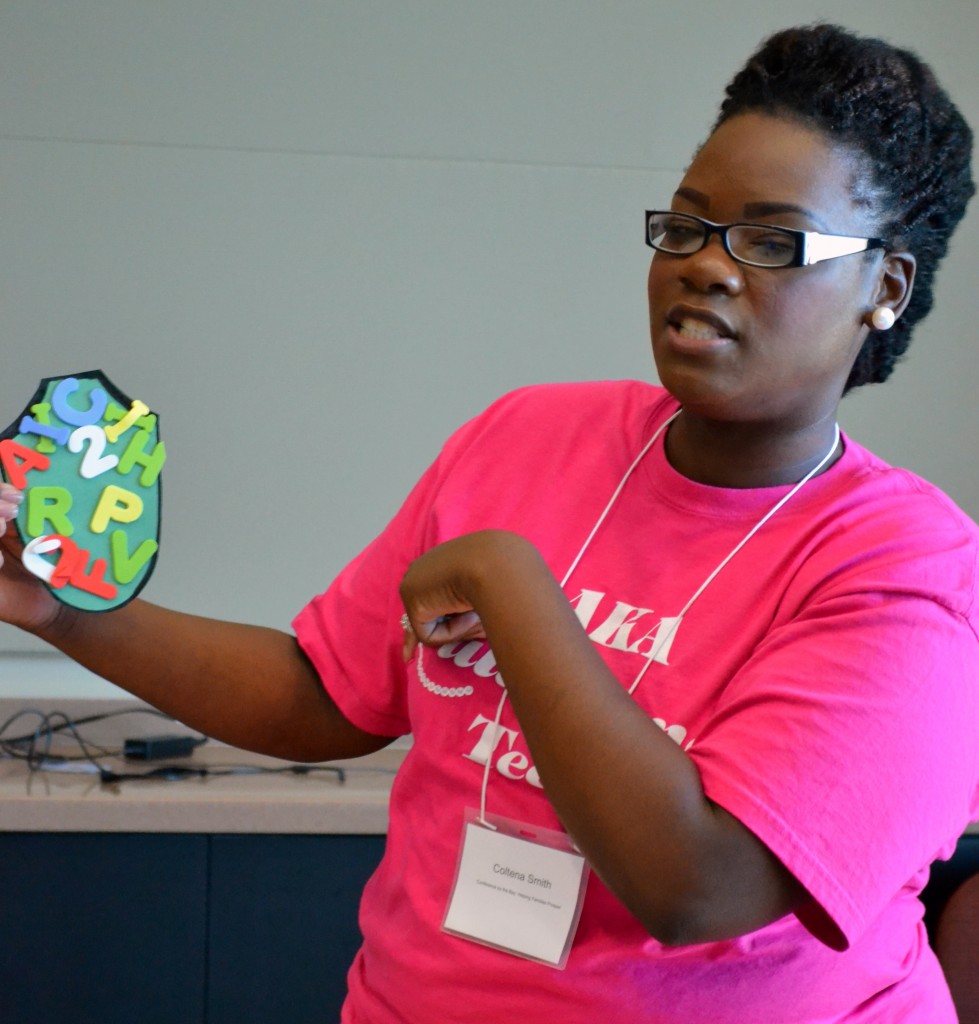 Putting cute stuffed animals into the arms of a traumatized child can ease the pain a bit, and help him feel like he is not alone.  This cuddly buddy will help him feel less isolated, and comfort him during this very painful process. This day, the people who make very difficult decisions got to step back, laugh, and give in to their creative-childlike side.  They learned a little more about each other; and how to communicate more effectively, with different kinds of people, after determining the other person's personality temperament.
 For the entire group, every day, and every home visit, it comes down to one thing – the kids, the families.  They work to keep the family intact, and help them in any way they are able.  These folks would do most anything to take a little fear away from some of the kids they help. Stuffing and dressing some little darlings for some frightened kids felt like they were doing something beyond what their job description says.  Having a cuddly friend during a traumatic time can help the child focus on something other than what is wrong with the world.  For the team, this event allowed them to see beyond the day-to-day business of taking care of problems.  This fun team building brought them together as a team and helped unify their goal.
Interested in a Team Building Event of Your Own?
Below are a Few Additional Florida Team Building Events
| | |
| --- | --- |
| | Connie Timpson is Vice President of Instruction for the Southeast Region. She is based in Jacksonville, Florida, but she also facilitates team building events in Orlando, Tampa, Miami, Ft Lauderdale, Atlanta, and other Southeastern cities. |
Florida's Department of Children and Families, went on a Camaraderie Quest team scavenger hunt near  Fort Walton Beach, Florida to discover hidden treasures within themselves, and learn how to better collaborate and communicate.  These folks have some of the most emotionally demanding jobs on the planet.They make monumental decisions, based on in-home studies, precedence and protection of children.  Their decisions are never easy, always stressful, and filled with hope and caring, that what they do will help put a family, or a child, on more sure footing in today's world.
They take their work so seriously, that some wanted to stay behind and keep working.  Knowing that you can only gain perspective and learn new things away from the office they were nudged into the sunshine, plied with high-tech clues, and sent into the woods – away from every day life. They were sent on a mission, a quest, to bring back treasure, find some answers, and explore their creative sides.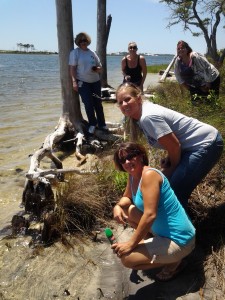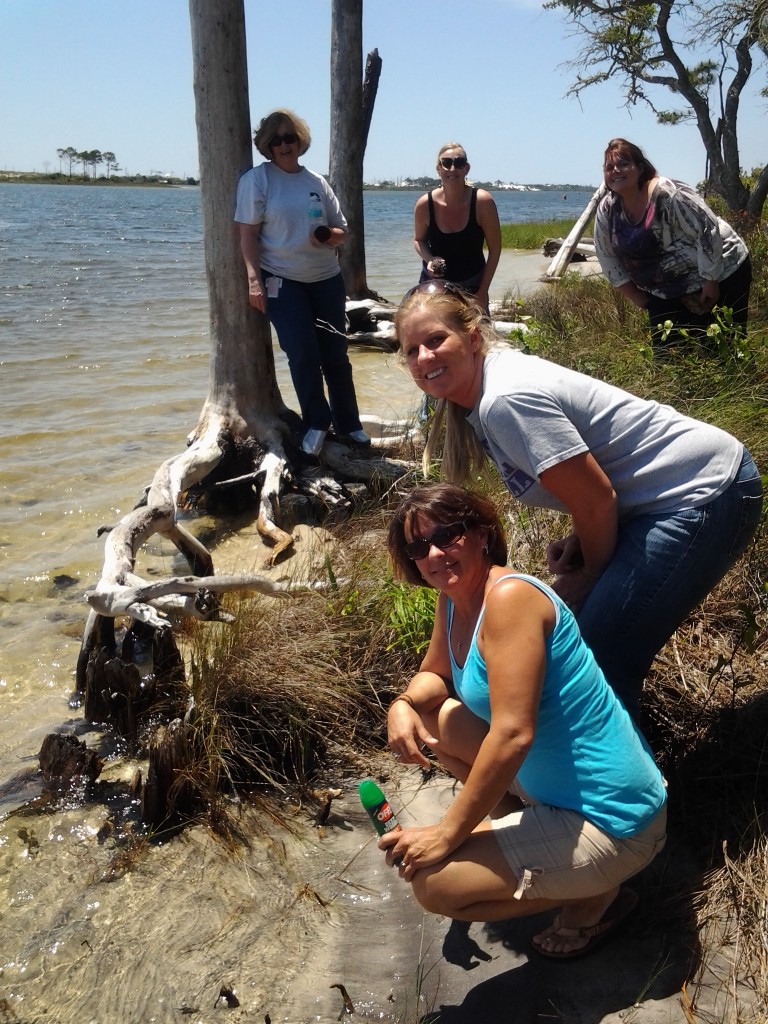 They let loose, and exchanged ideas, put creativity before logic, and became a stronger team.  They learned the value of collaboration, communication, and getting to know each other.  Individuals were no longer an email, or a title to each other.They became breathing, caring, funny people to each other, opening lines of better communication. They worked together, solved problems, and laughed a lot.  Something they do very little of in their jobs.  Being pushed to step away from their responsibilities for just a couple of hours, brought out the "whole" person, not just the case worker, who face such demand and solve some of today's most difficult social situations.  They came together as a team, strengthened their ability to communicate, collaborate, solve problems, and exchange ideas.  Director, Patricia Franklin said, the Quest delivered on its promise to bring the team together, and have a really good time, adding they have not laughed like this in a long time.
Interested in a Team Building Event of Your Own?
Below are a Few Additional Florida Team Building Events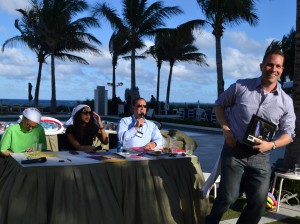 Blackstone came to one of Its most prestigious properties, the Boca Raton Resort and Club,  for annual meetings that put a Build-A-Bike ® team building event, at the center of their sessions. Though Blackstone is a leading global alternative investment and financial managers,  it still believes it can work better, and smarter, by learning better team work.
Communication, collaboration, and solving problems made for a competitive environment, and a whole lot of fun. Laughing and acting out, as I am sure they rarely do, they finally got to their most heart-felt goal, building bikes and making kids smile. Learning about themselves and each other, they built bikes for kids who not only do not own a bike, but most likely have never seen such a beautiful property.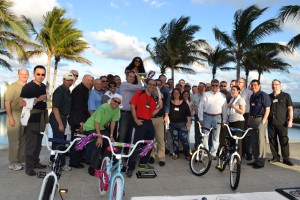 The backdrop for the team building event was magical, against the sea, palm trees, and blue skies, they practiced the companies principles – give back to others.  Getting to know each other was at the center of the event, and they came together for a really good cause. They built bikes for kids who have none. The payoff for their competition and working together – was giving back to some kids who really need a lift. Seeing shy kids smile and made the whole event come together. When one of the child's faces come to mind, they will hopefully remember a bit about what they learned on their day next to the sea. By Connie Timpson/Sr. Instructor/Performance Coach/The Leader's Institute