Posts Tagged 'healthcare'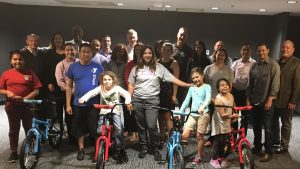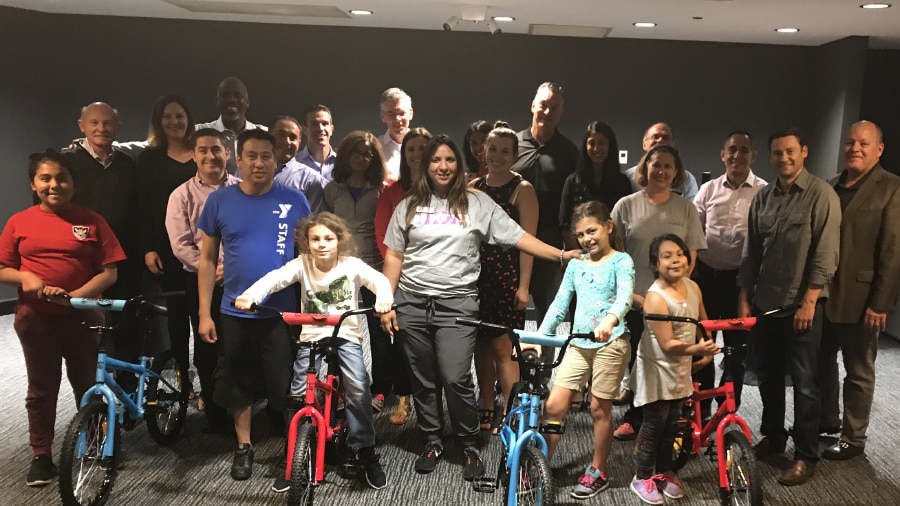 Vyaire Medical hosted several days of leadership workshops in Chicago, Illinois. They decided that a Build-A-Bike ® activity was the perfect way to get their group out of chairs and into some fun team building activities. They were a hardworking group of 22 supply chain professionals gathered from around the world. Like many successful groups, they were highly competitive and teased each other as some groups assembled bike parts faster than other groups. In the end, teams switched from competition to cooperation as they shared bike parts and expertise. They were especially delighted when their surprise guests, four eager children from the local Rauner YMCA, ran into the room to claim their newly constructed bicycles. The teams quickly adjusted seats and put air in tires so the kids were ready to go.
Feedback from Vyaire Medical Build-A-Bike ®
Nisa Ramirez later wrote to Vyaire, "Thanks again for the generous donation! Our children are ecstatic and ready to ride their new bikes. The four children we took today did not have bikes and are very thankful for your kindness."
Samantha. Getzinger, Executive Assistant to the CEO was equally thrilled. "Thank you- everyone loved it!"
The group is now looking to bring The Leaders Institute ® back to lead more Build A Bikes for other locations.
The Vyaire Medical Build-A-Bike ® was conducted at the W Hotel, 644 North Lake Shore Dr., Chicago, IL 60611 by Laura Lewis-Barr on June 28, 2017
For more details about Build-A-Bike ®, click here. For details about other team building activities in Chicago, Illinois, click here.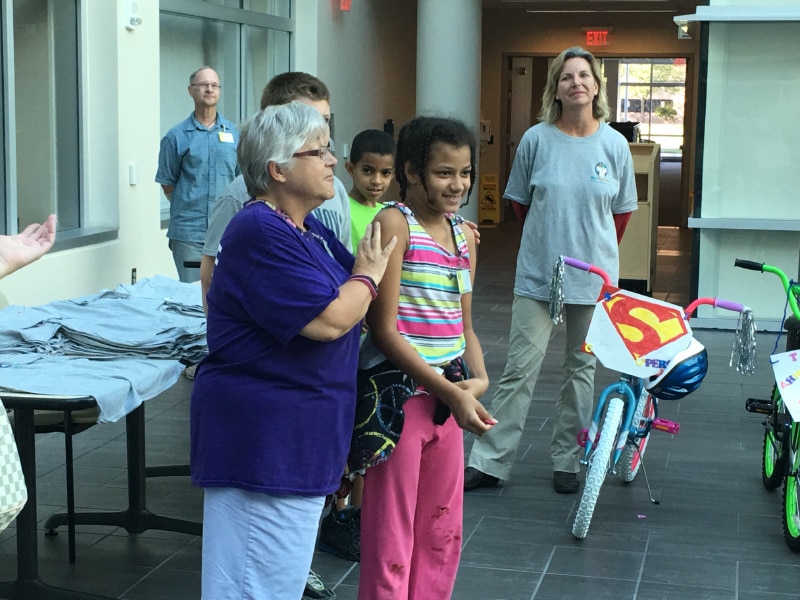 Merck Gives Back, a philanthropic team building event, is a fantastic success in Philadelphia, PA! Awesome things were happening in North Wales (Philadelphia,) Pennsylvania on August 24, 2016. At the end of the day, after employees had been in all-day informational/learning sessions (S&CMI Face-to-Face Meeting), they gathered in-house for a philanthropic team building event. The details of this event were not fully disclosed. As employees signed in and received their T-shirts that proudly stated "Merck Gives Back | Volunteer | Contribute | Connect", they were introduced to The Leader's Institute's ® Trainer, Michelle Riklan by Mary McKay, Associate Director of Innovation. Michelle had several interactive activities to warm up the group of 65 employees including a boisterous exercise in co-worker appreciation, a memory enhancer to improve relations and productivity, and a "ball roll" which worked well to develop roles within the teams and better strategic thinking skills.
Merck Gives Back Philanthropic Team Building Event
The room was filled with enthusiasm and laughter. The employees were then further challenged to define their individual teams and work together to solve the problems needed to acquire pieces for the bike build. After a lot of laughter, a little frustration, and a better awareness of how to work together, 10 bicycles were assembled, safety inspected and ready to go.
The real excitement came when Mary then introduced a representative from the YMCA who talked about their scholarship program for children in need. All bicycles were donated to this cause and a few lucky children from the program were not only onsite to receive the bikes, but allowed to pick the ones that they wanted! Smiling and grateful faces ended the day for the S&CMI group. Merck truly had a full day of "Giving Back".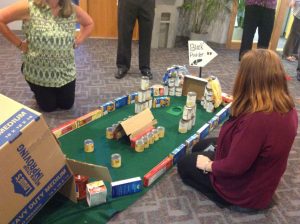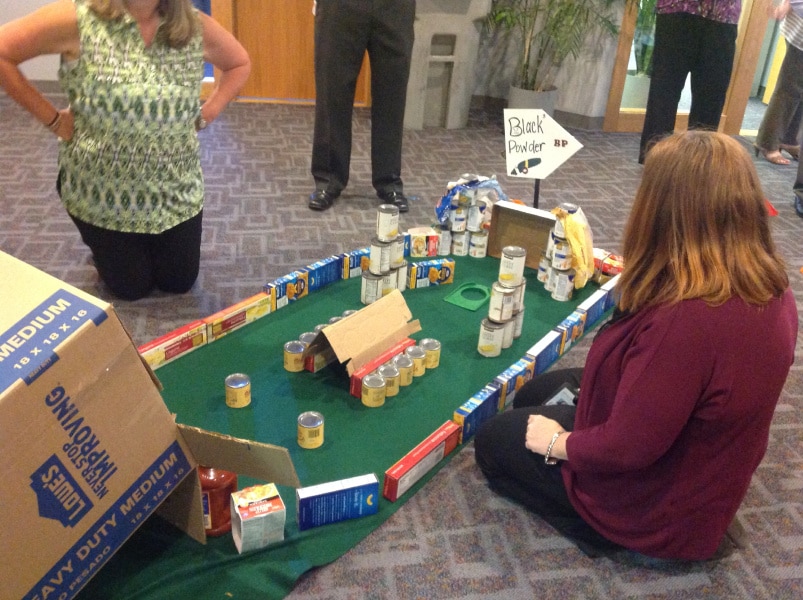 A fun Ace Race ® golf team building event for Depuy Synthes in Philadelphia, Pennsylvania. On June 14, 2016, Johnson & Johnson's Philadelphia, Pennsylvania location for Depuy Synthes held a high-energy, engaging after-hours golf team building event with a philanthropic twist. The event was planned and coordinated between the Customer Support Supervisor at Johnson & Johnson Health Care Systems Inc.; the Depuy Synthes Evaluations-Trauma/CMF Supervisor in Colorado; the Depuy Synthes' customer service supervisor; and Michelle Riklan, National Instructor for The Leader's Institute ®. Michelle arrived on the scene with tons of "interesting items" including golf greens, holes, putts, art supplies, cans of food, and boxes of non-perishable food items. The teams were broken up and mixed so individuals who did not know each other as well had opportunity to work with each other. We had six teams of approximately five participants. The teams worked together, cheered each other on, created interesting markers for their individual greens and then each team built a mini-golf hole out of the supplied food. At the end, we had a competitive miniature golf course and the teams competed to get through the course with hole-in-ones. It was a noisy event! Lots of laughter, lots of cheering.
A Fun Golf Team Building Event for Depuy Synthes in Philadelphia.
All food was donated to a local food bank chosen by Johnson & Johnson. The Leader's Institute ® received positive feedback stating that the event was "FANTASTIC!" and very well received by all participants.
If you are interested in a fun and competitive team building activity like the Ace Race ®, call us toll-free at (800) 872-7830 for details. Or, if you are in the healthcare industry, contact The Leader's Institute ® for Healthcare (https://www.tlihealthcare.com) at (800) 872-7830 x109, and one of our healthcare specialists can help you!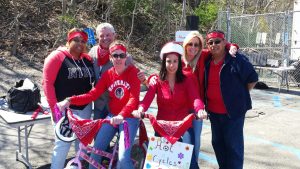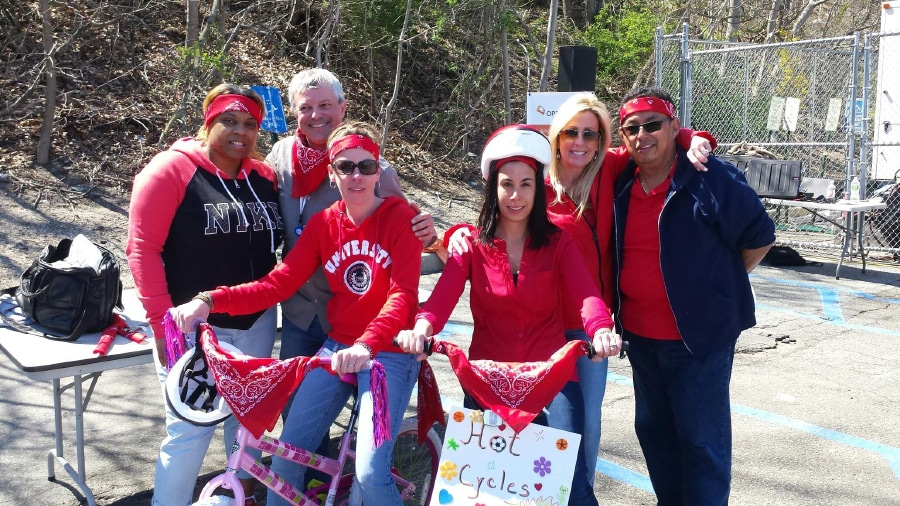 April 14th was employee give-back day at Optum360, a subsidiary of United Health Care as they conducted a cross-country, multi-location, simultaneous event. In Westbury, New York, selected employees were dressed in colorful team gear and had clearly been prepped in advance for an enthusiastic, high-energy day. Four teams of eight employees were ready to tackle the Build-A-Bike® event. The Leader's Institute ® representative kicked off the morning with an introduction, followed by Michael Kasparian, Director, Revenue Cycle Management and Josh Goldman, Chief People Officer at Optum 360. Both employees congratulated all on the company anniversary and explained how they would celebrate with the day's event and give back to the community.
Employee Give-Back Day is Great for Morale
Outside the Westbury location, a section of the parking lot was roped off for the event to take place. The weather cooperated beautifully and the parking lot was soon filled with upbeat music, snacks, pumped-up employees, and bicycle parts to assemble. Additional employees joined the teams outside to be part of the excitement and to cheer on the teams. When all bikes were completed, The Leader's Institute gave each bike a thorough safety inspection and everyone awaited the arrival of children who were identified as children from families in need by the United Way. Each child was a recipient of a brand new bike and helmet.
Want to organize an employee give-back day for your team? Call our consultants at (800) 872-7830 x-109 for a free consultation!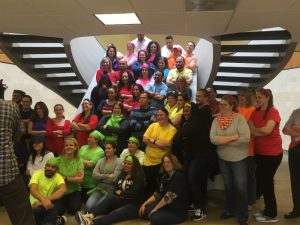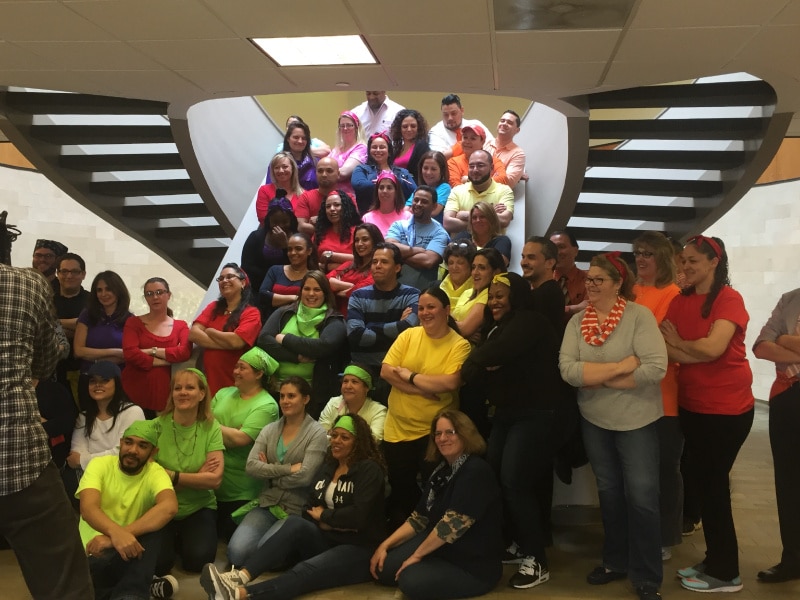 Optum360, a subsidiary of United Healthcare, conducted an across-the-country employee "give back" day in seven of their regional offices. In the Melville, New York location, employees were pumped-up for a fun-filled event of team bonding and building bikes for students from low-income families. Eight teams of 10 arrived to participate, all in team colors from t-shirts to bandanas! Before getting started with the actual Build-A-Bike®, teams met and selected their team captains. Each team presented themselves to the entire group by explaining their team name, showing off their team "flag", and motivating each other with an enthusiastic team cheer. The room was LOUD, full of laughter, and had tons of cheering. We have taught dozens of healthcare Build-A-Bike ® programs in the last few years. So, this series was right up our alley.
Healthcare Build-A-Bike ® Programs are a Blast!
After the first eight bikes were completed and thoroughly inspected by Leader's Institute® Instructor, Michelle Riklan, two more teams were formed to build the last two bikes; a team comprising one team member from each team selected by team Captains, and a managerial team that was ready to prove they were down for the task.
The United Way of Long Island helped to identify children in need. The bikes were presented to eight children in the Call-Center with all teams present as well as employees who were working within that space. Overall, the event was a huge success! Optum360 employees felt positive and excited to have been part of such a moving event, and the children were both thankful and elated that they were leaving the building with brand new bicycles.
If you are in the healthcare industry, and you are looking for a healthcare Build-A-Bike ® team building event, call us directly at (800) 872-7830 x109 for details! We have instructors who specialize in teaching programs to healthcare companies.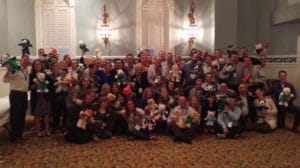 Neogenomics Laboratories, a company that provides diagnostic services in oncology and pathology, wanted to have a way for a newly integrated team to get to know each other at their 2016 National Sales Meeting. They decided to hold a Rescue Bear ® team building event, where participants put together teddy bears that are donated to the community. The group was divided into smaller teams based on personality types. After a quick and fun way to assess which of the four personality types each participant primarily identified with, small groups had to complete challenges that were tailored to the strengths of their personality type. However, they also had to work with the other personality types to successfully complete their challenges. The take-away was that we should be able to work on tasks that are suited to the strengths of our personalities, but we must also be able to work on tasks that may not be in line with our strongest skill sets. Since Neogenomics works with hospitals, it was a great fit for the bears to be given to Golisano Children's Hospital. A representative from the hospital arrived at the end of the event to tell the group how much the donation was appreciated, and describe where the bears would be going.
"That was an excellent event!" – Neogenomics Laboratories
This event was held on January 27, 2016 at the following location:
Pink Shell Beach Resort and Marina
275 Estero Blvd.
Fort Myers Beach, FL 33931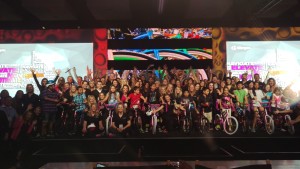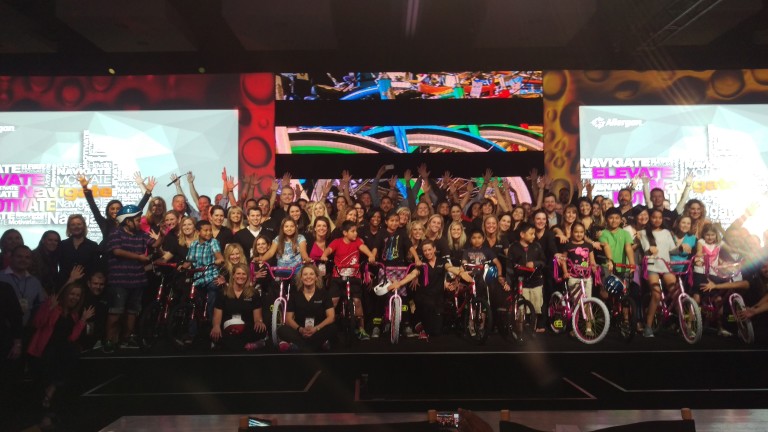 The Leader's Institute ® has an ongoing partnership with Allergan, a global pharmaceutical company. When Allergan's urology department had a national meeting in San Diego, CA, they asked The Leader's Institute ® to do a Build-A-Bike ® bike team event in San Diego. This was an extremely energetic and competitive group. Each group comes up with a cheer to bond with their teammates, and these cheers were outstanding! There were several human pyramids, cartwheels, and even some back handsprings! After the cheer portion, the groups had to work together to solve clues. Once they solved the clue correctly, they would earn a part to a bike. Even though Los Angeles based instructor Chris McNeany told this portion of the event was not a competition, these groups were determined to finish building their bike first. The bikes are only complete once they have been given a safety check approval. This was a fantastic group to work with, and the kids coming at the end to receive the bikes was a total surprise. The Leader's Institute looks forward to working with Allergan on future events!
Allergan Bike Team Event in San Diego, CA
This event took place on February 10, 2016 at the following location:
Hard Rock Hotel, 207 5th Ave., San Diego, CA 92101
Are you looking for a bike team building event in San Diego, CA or anywhere in Southern California? Call our local office at (858) 366-4825, and one of our instructors will be happy to help. Our San Diego office is located at
Feel free to call one of our team building experts for details about conducting an event for your team or group. Our event planners can custom design programs for your group, and since we have instructors in Southern California, no travel fees are added to your investment!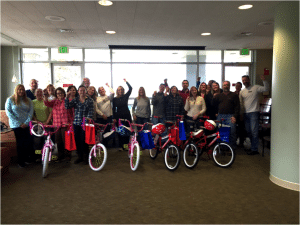 Sharon Hospital in Sharon Connecticut held a cross-functional teambuilding event for employees in the cafeteria of the hospital on Saturday morning, November 14th. Employees had the option to sign up for the event and approximately 20 employees came in over the weekend to participate. This was a great opportunity for individuals in multiple departments to spend time learning about co-workers and working together. Some thought it was an interesting alternative to raking the leaves that weekend! Participants were so anxious to get started that they jumped right in and started putting together bicycle parts! Leader's Institute® Instructor reined them back in and went over what they were going to do leading up to that part of the event. With some recent changes at the hospital, this was a great morale booster and the teams took their "assignments" quite seriously. One of the executives who was assisting with some of the "team challenges" had a hard time not giving away clues to the teams that were struggling a bit but overall, kept a straight face! After quite a bit of activity, the groups collaboratively assembled 6 children's bikes and of course, carefully inspected each one to ensure that no-one would be coming through the hospital doors from an unsafe bike!
At the end of the event, the Executive Director at Housatonic Youth Service Bureau arrived to tell employees about his organization. The Housatonic Youth Service Bureau's mission is to create a supportive environment and empowering experiences where children and young adults can embrace their full potential as individuals, as students, as family members, and as community members. A 501c3 nonprofit, HYSB responds to the needs of the youth living in the Region One School District. The towns include North Canaan, Canaan, Salisbury/Lakeville, Sharon, Cornwall and Kent. Sharon, CT is a small town with a population of not quite 2800 people. The cross-functional teambuilding participants at Sharon Hospital were thrilled that their efforts would positively affect the lives of 6 children in need right in their own backyard.
Location: 50 Hospital Hill Rd, Sharon, CT 06069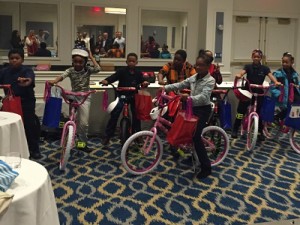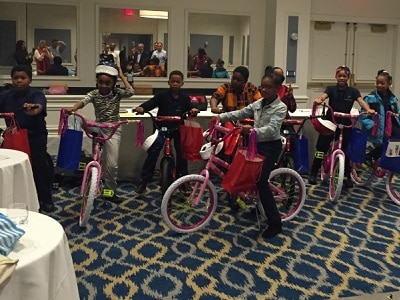 Every Day Health, Inc., a leading provider of digital health and wellness solutions was looking for a fun, team building event in Philadelphia, PA for their inaugural sales meeting. Their mission was to assist employees, some who were getting together for the first time, to get to know each other better and to develop relationships. A Senior VP of Market Solutions at Everyday Health Inc. contacted The Leader's Institute ® and was instrumental in organizing the event at the Westin, Philadelphia, Pennsylvania. Doors to the event room were kept closed until the participants who were coming from a meeting were allowed to enter. The activities were a complete surprise and employees were kept in the dark about what would ensue for the next 2 hours until the very last minute. When the event started, though, all participants had ample opportunity to get to know each other better through revealing, fun-filled, facilitated activities. They were then broken out into pre-planned teams and some serious and stiff competition took place to see which team was the most spirited.

At the end of the event and after working together to assemble 8 children's bicycles, The Boys and Girls Club of Philadelphia arrived with 8 lucky children who were being rewarded for good behavior and efforts and were able to ride out with brand new bicycles and big smiles.
Boys & Girls Clubs of Philadelphia enable all young people, especially those who need us most, to reach their full potential as productive, caring, responsible citizens.

Boys & Girls Clubs of Philadelphia provide a safe place to learn and grow; ongoing relationships with caring, adult professionals; life-enhancing programs and character development experiences; and hope and opportunity for thousands of Philadelphia youth each year

Aerocrine, a medical device company located in Raleigh, Durham Chapel Hill area was looking for a team building solution and requisitioned the Leaders Institute to help them bond their new inside team. Joanne Zellner found that the Leaders Institute had many team building activities and chose the Build-A-Bike ® team event to instill a cohesive team atmosphere. The Build-A-Bike event utilizes exercises that challenge the participants to learn how to look at new ways of coming up with solutions vs. the old ways of solving problems. The Build-A-Bike event also provides the opportunity for the teams to learn how to cooperate and utilize their individual strengths for optimum performance. The event begins with a memory exercise that illustrates how new ways of thinking yield better results, then the participants are divided into groups with a truth or dare/musical chair exercise that is fun and divisive at the same time. The groups are formed after the disc exercise and tasked to invent a team name, team cheer and team flag. The groups are judged on their enthusiastic, creativity and originality and the winning team is awarded a head start in the actual bike building portion of the event. After the teams race feverishly to solve their clues to obtain the bike parts to complete their bikes, the local charity which was the Boys and Girls Club of Durham NC would come in and be presented with girls and boys 20″ bikes. The children are present at the event to receive the bikes as a charitable donation. If you are looking for a fun team building event that can provide a long lasting impression on your work force, the Leaders Institute has many team building events to suit your needs.