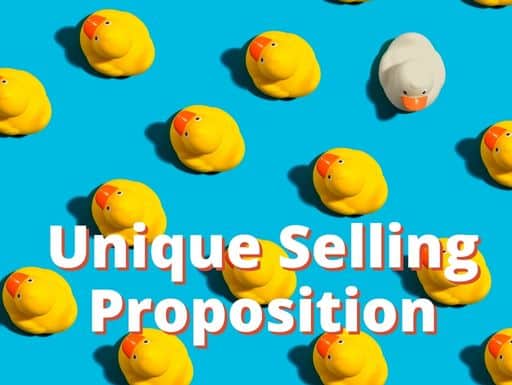 Want potential customers to flock to you? Create a Unique Selling Proposition (USP) that customers can't get anywhere else. You should have one single unique selling point that sets you apart from your direct competitors. Then, design marketing messages that outline this specific benefit to your ideal customer. When you do this, you with create a significant competitive advantage in the marketplace.
In fact, if you do this really well, your customer base will actively promote you to new customers!
If you want to create a successful company, creating a fantastic USP is the starting point. An effective USP will help you develop a more effective marketing strategy. It will help your sales team close more deals and increase revenue. You'll also improve your market share without incurring additional costs.
This simple first step is, by far, the best way to create a competitive edge over every other competitor in your industry.
Important Aspects of a Unique Selling Proposition (USP)
What Is a Unique Selling Proposition (USP)? Why Is It Important?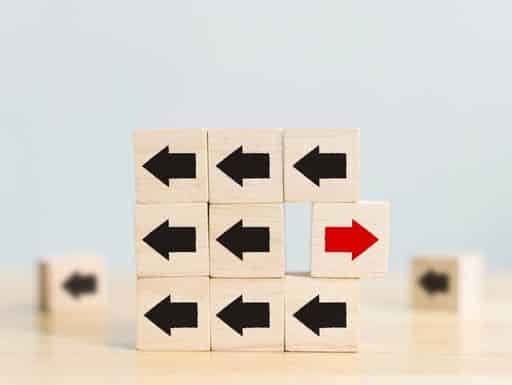 Your unique selling point is the thing that you offer that your customers can't get anywhere else. For instance, all clothing stores sell clothing. All dentists clean and fix teeth. All consultants solve problems. So, if your marketing materials are full of phrases like "name-brand fashions," "best dentist in the area," or "solutions to tough business problems," Guess what? You are saying the exact same thing that every one of your competitors is saying.
Also, your prospective customers don't believe you anymore than they do all those other schlubs.
What makes you stand out from the crowd? How do you solve customer needs that they don't?
The answer to these questions will become your Unique Selling Point.
For example, Kohl's realized people could go to any department store and get similar products. So, they created a unique return policy. (More on this later.) There is a local dentist group here in North Texas called Mint Dentistry. They don't just fix teeth. They make sexy teeth. Billboards all over the DFW metroplex prove it with models that have super-white teeth as they smile.
For my own company, as consultants, we solve difficult problems for our clients. But that isn't our USP. We are most known for "making boring meetings fun." Most meetings are boring. Our professional speakers fix that. It sets us apart.
A Few Examples of Unique Selling Propositions.
Here are a few Unique Selling Proposition examples that make millions every year. Each of these companies came up with unique ways to create brand awareness by doing the opposite of what their competitors did. So, let's take a closer look at a few fun examples of companies that made it big by bucking the norm.
If You Sell a Commodity Like Pizza, You Have to Be Unique.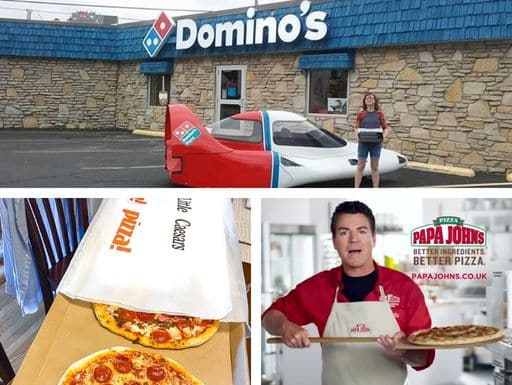 When I was growing up, Domino's Pizza was the top pizza chain in the world. Was it because they had the best product? Nope. Did they have the highest quality pizza? Wrong again. Their marketing efforts were all focused on a single unique value proposition.
"Your pizza will be at your door in 30 minutes or less, or it's free."
Domino's pizza was terrible. No one ever bought one of their pizza because it was better than other pizza chains. They bought it because when we ordered pizza from Pizza Hut, Shakey's, or one of the dozens of local pizza joints, you better get a pitcher of beer too. Because you were going to be there a LONG time. Somehow, Domino's figured out a way to solve that problem. (Apparently, it doesn't take as long to make a crappy pizza. But I digress.)
A decade later, one of their competitors moved into the number three spot in total sales with another good USP. Little Ceaser's created marketing campaigns around the phrase, "Pizza, Pizza." When you ordered one hot pizza, they brought you two. (It got me through college.)
Most recently, one of the fastest-growing pizza companies has identified a different, more sophisticated target market. They aren't looking for impatient pizza buyers. Nor is their target audience the poor college kid. This company's USP is "Better ingredients, better quality, Papa John's." They saw Domino's fall in market share because nobody liked their pizza. So, they decided to fix that problem. (Nothing better than well-made pizza dipped in garlic butter.)
Each of these three companies created a unique selling point. Then, they built a brand identity around that great idea.
Not a Single Bad Seat in the Stadium.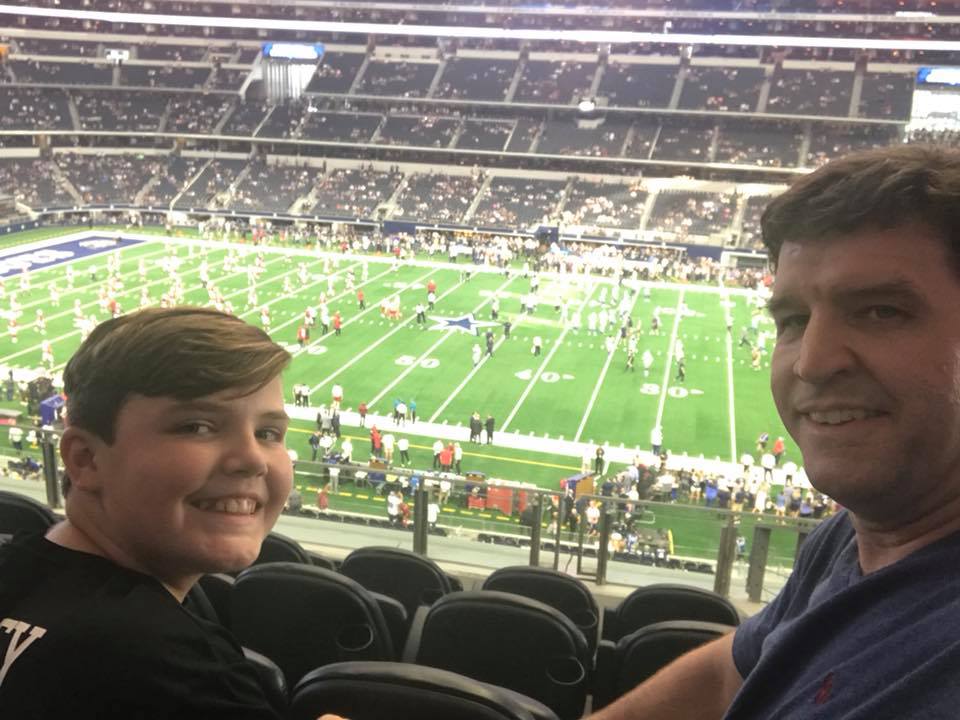 I'm a big football fan! About once a year, I catch a game at AT&T Stadium in Arlington, TX. Every time I enter, I'm in awe of the size and scope of the place. The stadium seats over 100,000 people.
Years ago, my son, Ben, and I went to a Cowboys game and had pretty good seats. We could see every part of the game without much trouble. However, every once in a while, the plays would be on the other side of the field. It was great to be able to look up into that huge screen and see all of the details. In fact, it was difficult to NOT look at the screen. It was pretty mesmerizing.
At halftime, Ben thought it might be fun to go up into the top deck. So, we went on a walkabout. On the way, we went to the end zones where all of the lounge areas were. While we were there, we could still see all of the details on the field. Then, we went to the third deck and could still see very well. We went all the way up to the top row of the top deck, and after getting a little woozy from the altitude, we looked right down onto the field and could see everything. And right above the field was the HUGE screen which added even more clarity.
That's when it hit me. Jerry Jones, the owner of the Cowboys, focused on all of the details. There wasn't a bad seat in the place. But the thing that everyone remembers (and talks about) is the screen. That screen is Jones' Unique Selling Proposition (USP). It's the one thing that his customers (the ticket holders) can't get anywhere else in the world.
HomeVestors Wants to Buy Ugly Houses.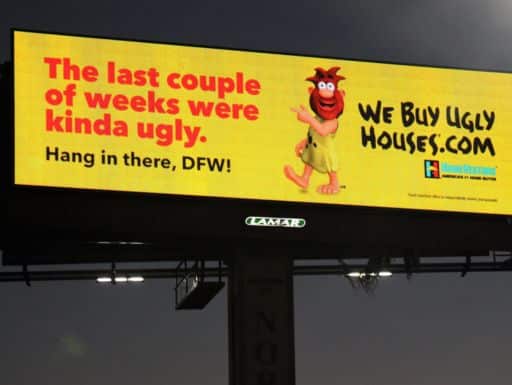 In 1996, HomeVestors realized that real estate agents fought for the best listings. They all wanted to promote the houses that were perfect and would sell quickly. Few wanted to try to sell the ugly houses, though. So, when sellers had properties that had problems, agents may reluctantly list the house. But they wouldn't spend their quality time representing the seller. (Image courtesy of Lamar Advertising in DFW's Facebook page. =>)
In addition, there were house flippers who wanted these properties. But, they had trouble finding properties. The process was very time-consuming.
So, HomeVestors came up with a strong unique selling proposition that solved both problems. They put up billboards all over the city that said, "We Buy Ugly Houses." It worked like a charm. According to their website, they have bought over 125,000 homes that real estate agents didn't want to sell. By my calculations, that is about $1.75 Billion in commission that the agents lost. (Too bad.)
*** The phrase "We Buy Ugly Houses" is a registered trademark of HomeVestors and is used here for educational purposes only.
Don't Have a Receipt? No Problem.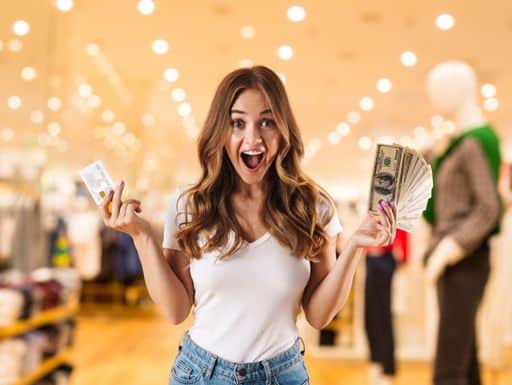 The department store Kohl's has a couple of USPs that have served them well. Earlier, I mentioned that they have a very lenient return policy. They allow customers to return items for up to 180 days after purchase, with or without a receipt. If the customer doesn't have a receipt, they will give store credit for the current purchase price of the item. Also, if you happened to buy the item on a Kohl's charge card, they can find the purchase and give you cash.
Do customers abuse the return policy? Probably. Does it matter much in the long run? Probably not. Kohl's became so famous for their return policy that now Amazon uses it… At Kohl's. If you want to return something you bought on Amazon, you can take the item to Kohl's for a refund. (Amazing.)
The marketing department at this store is so good they came up with a second compelling USP — Kohl's Cash. When you buy stuff at the store, they give you a unique type of cash that you can't spend for a week or so (my timing may be off.) Oh, and the cash expires if you don't come back and buy something in a month. (Again, my timing may be off.)
Cheers to Kohl's for being a Unique Selling Point icon!
How to Write a Unique Selling Proposition.
Great leaders understand this concept. They strive very hard to create their USP in their companies and their industries. The good news is that you don't have to spend a billion dollars to develop your USP. All you have to do is find some way to master a specific part of your job or industry.
For instance, if you are a retail store manager, perhaps your Unique Selling Proposition is that you NEVER have more than three people in any cashier line. How many people will go out of their way to go to your store versus your competitor's.
Or if you are a doctor, maybe your USP is that you never let anyone wait past their appointment time. How many patients will drive a little farther because they know they won't have to sit in a boring waiting room reading three-year-old magazines?
1) Find Out What People Hate about Your Industry.
To identify your USP and become the go to leader in your industry, just ask yourself, "What do people hate most about my (product/industry/position)?" Then figure out some way to solve that problem.
Domino's figured out that pizzas take a long time to cook. Then, Papa John's figured out that quickly made pizzas taste horrible.
Jerry Jones figured that if he was going to cram 100,000 people into a stadium, someone was going to not be able to see the game very well. He figured out a solution, and that solution created the buzz that is driving millions of people to his games.
HomeVestors figured out real estate agents don't like to sell ugly houses.
Kohl's figured out that their ideal customers often have second thoughts about their purchases. Most of their competitors make returning items very difficult.
What problems do your potential customers experience in your industry?
2) Solve this Problem for Your Customers Every Time.
Once you know what your competitors are doing that annoy their customers, do the opposite. Get your pizza to your customers faster. Build the biggest TV screen in Texas. (Just kidding. That is already been done.) Represent that niche, "ugly" market that everyone else minimizes. Reduce the risk of making buying decision by offering a hassle free return policy.
Don't just clean teeth, make them sexy.
3) Publicize Your USP. (Or, Better Yet, Get Your Customers to Do It for You.)
Many of the examples above use marketing to promote their USP. For instance, HomeVestors and Mint Dentistry used billboards. Domino's and Papa John's used TV advertising. This type of marketing is very expensive (and not really effective with customers today.)
If you look at the rest, though, their USPs' were spread by happy customers.
AT&T stadium sells standing-room-only tickets for Dallas Cowboy games. For $40, fans can get into the stadium and watch the game. They just don't get access to a seat. Not sure how many of these seats that they sell for each game. But if it is just 1000, they make an extra $40,000 off each game.
They also have 4000 people who go tell all their friends at work how awesome the view was. (Every week.)
Kohl's, though, is really one of the best examples. I'm sure their return policy is posted in the store. But the major marketing is actually coming from word-of-mouth advertising from their customers. Look at how many blogs and social media posts indirectly promote their USPs. Not to mention all of the conversations between friends. That type of marketing is priceless.
The key here is that if you just do what all your competitors are doing, they will dislike you as much as they dislike them. So do the opposite of them. Be unique.
Do these things, and customers will flock to you too.