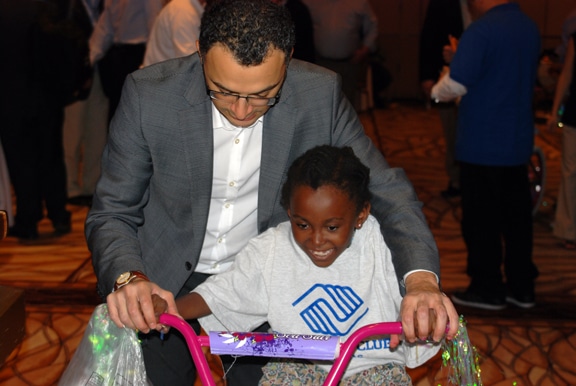 Starbucks Partners kicked off the New Year by gathering together at the Gaylord Opryland in Nashville. They built ten new bicycles for the Boys and Girls Clubs of Middle Tennessee in a Build-a-Bike ® Team Building Event. This team building project was initiated through the Starbucks Shared Planet program.
Obviously, Starbucks is most known for giving the world access to high-quality coffee. The motto of the company is, "share great coffee with our friends and help make the world a little better." So a really fun team building event that helps a children's charity was a great fit for their meeting.
The first Starbucks store opened in Seattle in 1971 in the Historic Pike Place Market. Since that first store opened, the Starbucks team has worked to make it more than just a coffeehouse.
"It's not unusual to see people coming to Starbucks to chat, meet up, or even work. We're a neighborhood gathering place, a part of the daily routine – and we couldn't be happier about it. Get to know us and you'll see: we are so much more than what we brew." — Starbucks
So the focus of this meeting had a similar atmosphere.
Starbuck Builds 10 New Bicycles for Kids in Nashville.
The 10 bicycles were donated to the Boys & Girls Club.
"Some of the children receiving bicycles had never owned one before. Now, through the Starbucks bike team building event, the kids are the proud owners of their own bike. This donation of their time is greatly appreciated. Thank you, Starbucks!" — Kim Kaine of Boys and Girls Clubs
Starbucks website explains the Shared Planet program, "From the neighborhoods where our stores are located to the ones where our coffee is grown "we believe in being involved in the communities we're a part of. Bringing people together, inspiring change and making a difference in people's lives. It's all part of being a good neighbor. And it's a commitment rooted in the belief that we can use our scale to be a catalyst for change."
If you want information about how your team can organize a "bike build for charity" click this link.
Thanks, Starbucks!