Posts Tagged 'New Jersey'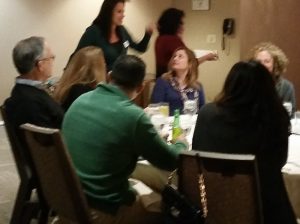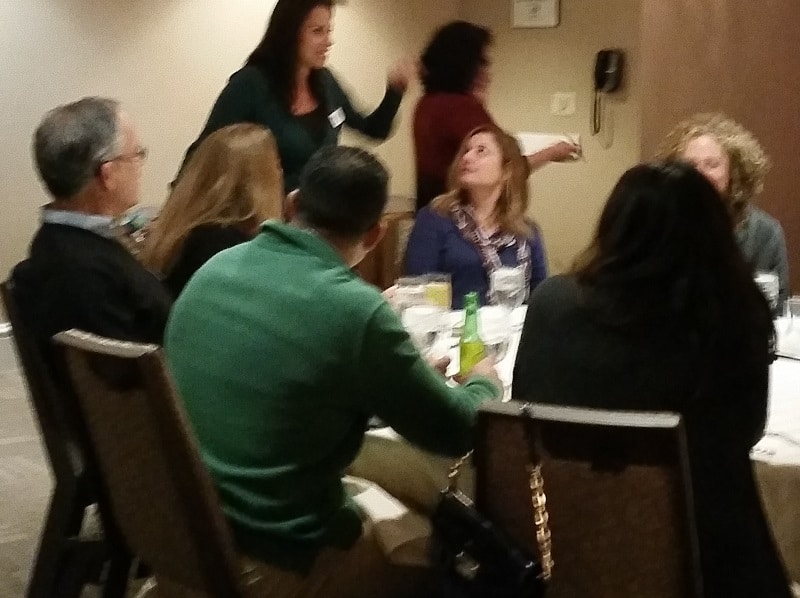 It seemed like an ordinary cocktail party but then suddenly there was a fight. A woman was breaking apart cigars but the company CEO had the last one. He rushed from the room. The room quieted again as the crowd from Everyday Health laughed and joked. They stood in line for drinks from a busy bartender. It had been a full day of meetings. They were ready to unwind. Suddenly the CEO lurched back into the room, spun around, sputtered, coughed and then dramatically fell over "dead." Laura grabbed a nearby microphone, "Nobody move, this is a crime scene." The Everyday Health Murder Mystery Team Building event in Morristown, New Jersey had begun!
Everyday Health Murder Mystery Team Building Activity in Morristown, NJ
The group moved to tables and began to question each suspect. Was it wise-cracking Mr. Brown, who had a wild excuse for why he was out of the room so often just before the murder? Was it quiet Ms. White who wouldn't answer any questions and looked nervous? Was it zany Miss Red who offered several changing conspiracy theories?
After interviewing five suspects and examining the incriminating physical evidence (check book entries, airplane tickets, letters) each team concluded their investigation and named the murderer. There was much laughter and groans when the true villain came forward. Only one team had deduced the true criminal.
"That was fun!" said Joan Arata, SVP with Everyday Health.
This Murder Mystery was facilitated by Laura Lewis-Barr on November 16, 2016 at the Westin Hotel, 2 Whippany Rd, Morristown, NJ 07960.
---

Laura Lewis-Barr is president of Traning4Breakthroughs, and she is an expert presentation skills coach based in Chicago, Illinois. She teaches team building events in Chicago, Minneapolis, Indianapolis, St Louis, and other cities in the Midwest, and works with clients all over the world.

---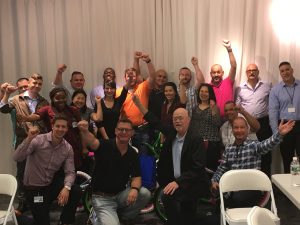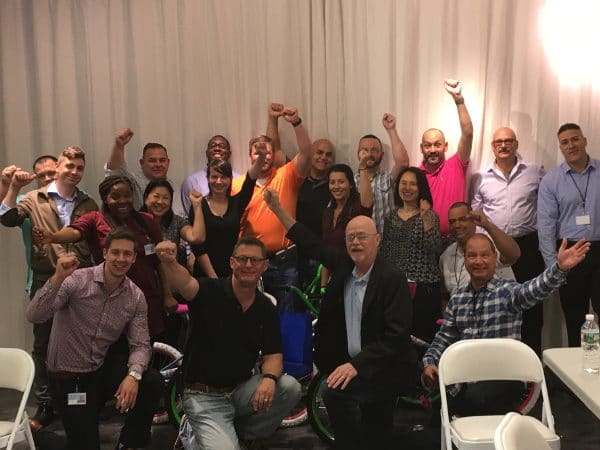 Recently, The Leader's Institute® arrived at the headquarters of The Children's Place in Secaucus, NJ for a Build-A-Bike® event. The Children's Place is the largest pure-play children's specialty apparel retailer in North America. This company designs, manufactures and licenses to sell fashionable merchandise at value prices. The Director of Loss Prevention at The Children's Place was looking for some fun team activities and challenges that would encourage camaraderie and teamwork. He also wanted the program to serve as an opportunity to give back to the community. The Leader's Institute® had it covered.
A Variety of Team Activities and Challenges
Instructor, Michelle Riklan got the group warmed up with a variety of team activities and challenges. The participants worked together with partners and then teams. The room was loud with laughter and cheers as the teams encouraged each other to complete their initial tasks.
We then moved on to even more challenging activities that required teamwork and investigation. Since we had several investigators in the group, we assumed these problem-solving tasks would be easy. Not. There was some frustration, a lot of contemplation, and obvious fun.
At the end of the day, the overall objective was met and four children's bicycles were built. Cynthia Banks, Vice President of Operations at the Newark NJ Boys and Girls Club arrived at the end to tell the group about her organization. She also told of the wonderful work they do with children ages 6 to 19. The bicycles will be auctioned off to children at the Boys and Girls Club's Halloween party.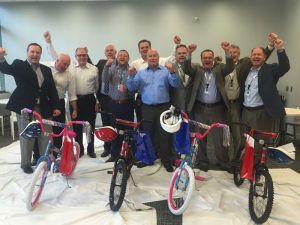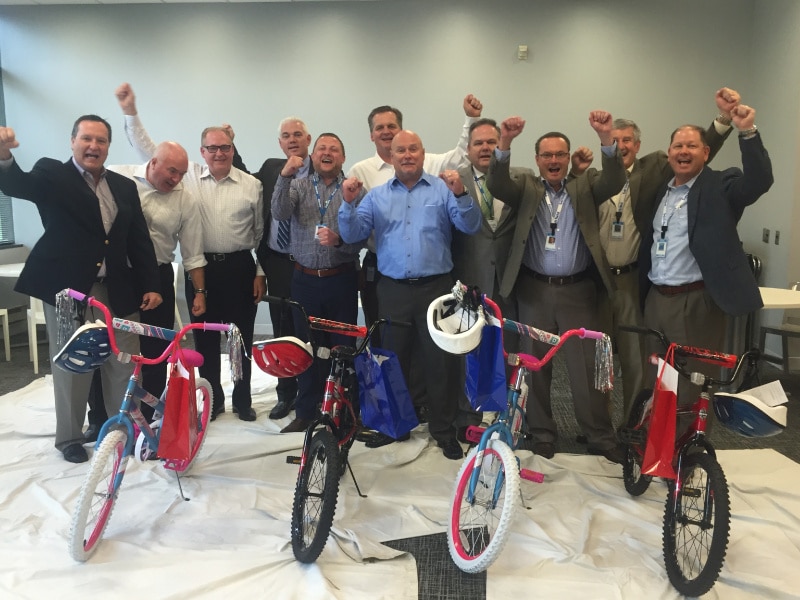 On Tuesday, May 25th, The Leader's Institute ® arrived at Philips Lighting in Somerset, New Jersey to deliver a fun sales team building event. Philips Lighting is a global market leader with recognized expertise in the development, manufacturing & application of innovative (LED) lighting solutions. Executive Assistant, Linda Perricone sought a fun team building activity that also gives back to the community, and The Leader's Institute delivered! The teams were comprised of 10 Vice Presidents from across the country, all sales professionals. Bill Schoettler. Senior Vice President, Head of Professional Sales – Northeast gave facilitator Michelle Riklan carte blanche to do whatever was needed to get this group ready for an exciting, impactful event. Immediately she engaged the team with icebreakers (with a few twists thrown in) that amassed enthusiasm, positive energy, and complete participation. The 10 Vice Presidents had an opportunity to get to know each other better while exercising some of their leadership muscles.
Sales Team Building is Fun!
Sales team building (team building events for sales teams) can be really fun and energetic, and this one certainly was! Without knowing what was in store for them during this event, the group was quite curious about the empty bicycle boxes and scattered bicycle parts. They were armed and ready to "earn" their parts and build their bicycles. The group found the building component to be much easier than the earning activity! Earning the parts was challenging, but at the end of the event, we had four well assembled and safety checked bicycles; the group was very proud of their efforts.
Denise Cook, Case Worker from Big Brothers Big Sisters arrived at the end of the event to share information with all about their programs and how their efforts would benefit children in need. The group applauded Denise and were clearly thrilled to be giving back to a worthy organization. They were more thrilled when children arrived to accept them! We had two families arrive, each with brother/sister siblings and the look on the children's faces was priceless.
If you have a sales team and want to add some energy to your next meeting, have us come out and conduct a sales team meeting for you, too! Call us at (800) 872-7830 for details.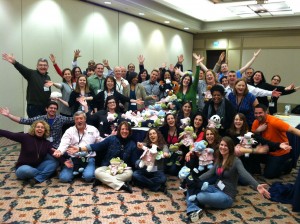 Mars Chocolate recently included a Rescue Bear charitable team building event in their annual meeting of Human Resources personnel near Newark, New Jersey. Mars Chocolate is the famous maker of M&Ms, Snickers, and many other well known, delicious treats. Headquartered in Mount Olive, New Jersey, Mars Chocolate is one of the world's leading chocolate manufacturers and employs more than 15,000 Associates across 19 countries. Mars Chocolate is committed to leading the industry in sustainability and responsible communications. This gathering of Human Resources personnel from various locations was an opportunity to celebrate 2012's victories, look forward to 2013, and enjoy some camaraderie and fun together!
Rescue Bear is a workshop that is designed to help people see the importance of matching a person with the right talent for the right role within the company.  It helps participants identify the strengths of themselves and others and rely on those strengths when under pressure.  It shows how/why "Silos" are created and how to deal with the "Silo" effect more effectively. Human Resources personnel are more familiar than most in a workplace with the ways in which personality styles and "silo" tendencies can hurt us, and they had a great time poking fun at various personality styles that emerged during the program, and drawing on each group's strengths to solve various riddles and challenges. As each group acquired different materials needed to build the stuffed animals, the trading began so that the task could be completed.
At the end of the workshop, the stuffed animals that are put together and dressed in fire fighter uniforms are donated to a local organization that helps kids. In this case, the donation was given to the Saint Barnabus Burn Foundation for the many children that come to their facilities to be treated either short term or long term for burn injuries. The Director of the Foundation came to speak to the group about their work, and gave a very powerful speech that moved many of the participants to tears.
"This was a great program! We've done Build-A-Bike in the past, and this program was a great way to build on the charitable theme while still having a great time. Thank you!" –Kelly Carpenter, Mars Chocolate
Rescue Bear is a great event for giving people a chance to see how their natural strengths can help them be stronger communicators and better co-workers, while giving something back to the local community. It's also just a lot of fun!
| | |
| --- | --- |
| | Ellen Patnaude is Vice President of Instruction for the Northeast region. She is based in Detroit, Michigan, but she also teaches in Chicago, Cincinnati, Columbus, Toronto, Baltimore and other Northeast cities. |
Interested in a Team Building Event of Your Own?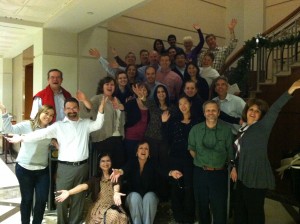 Janssen recently included an Ace Race team building workshop in an off-site meeting near Newark, New Jersey. Janssen Pharmaceuticals, Inc., a pharmaceutical company of Johnson & Johnson, provides medicines for an array of health concerns in several therapeutic areas, including: attention deficit hyperactivity disorder (ADHD), general medicine (acid reflux disease, infectious diseases), mental health (bipolar I disorder, schizophrenia), neurologics (Alzheimer's disease, epilepsy, migraine prevention and treatment), pain management, and women's health. Janssen's ultimate goal is to help people live healthy lives.
The Ace Race began with a couple of quick warm-up activities that get at some of the fundamentals of good team communication. The group shared some laughs and their willingness to collaborate as a group was impressive! Moving into the Ace Race itself, each team created a mini putting green for themselves using non-perishable food goods. Each green had a unique design and some included very tricky obstacles! All of the teams then had a race to see which team could golf the entire course first, making a hole-in-one on each green.
This group had a lot of energy right from the beginning. There was a lot of laughter and cheering as they created and then played their course. Two of the teams stumped most of the rest of the group with the difficulty of their holes, and the determination to make the shots was impressive! When everyone had finished the course, the group invited the New Jersey Food Bank to come in and accept the donation. The NJ Food Bank is the largest food bank in the country, serving more than 900,000 people every month. With the recent Hurricane Sandy, the need is huge, and Janssen's donation was much appreciated and very timely. In addition to the food, the group wanted to do something extra, so several people brought wrapped gifts for kids between K-8 that will be distributed to families at food centers in some of the hardest hit areas.
"This event was a lot of fun! The group really had a good time. Thank you!" — Denise Toolan, Janssen Johnson & Johnson
Team building workshops that are composed of activities that have a point, coupled with a lot of fun and the opportunity to give back to the community are a great way to get people having fun together. Consider including an Ace Race in your next conference and give your team a memorable experience!
| | |
| --- | --- |
| | Ellen Patnaude is Vice President of Instruction for the Northeast region. She is based in Detroit, Michigan, but she also teaches in Chicago, Cincinnati, Columbus, Toronto, Baltimore and other Northeast cities. |
Interested in a Team Building Event of Your Own?
Every summer the Goldman Sachs group brings on a cadre of University and MBA graduates to join their New Analyst / New Associates Program within each of their respective business units.  The Analysts are composed of undergraduate and graduate level students from any field of study, and typically take on an Analyst position as their first full-time role in the industry.  Associates on the other hand, typically come into the program after having completed an advanced degree such as an MBA, JD, MD, or LLM.  They also have two to five years of work experience under their belt.
The Leader's Institute was called in to help create a fun an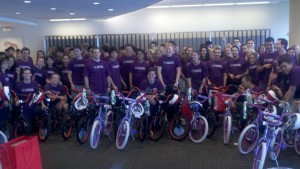 d challenging atmosphere for the future leaders within Goldman Sachs and strengthen the bonds amongst the new Analyst and Associate groups within the Investment Management Division (IMD).  The 200-person group was given very little information about the type of workshop they'd be experiencing.  Many walked into the third floor space within their Jersey City office building with wide eyes and curiosity as they saw a mountain of bicycle parts.  The group quickly caught on and figured out that they would be taking part in a Build-A-Bike Charity Team Building Event.
With much excitement and enthusiasm, the entire group was split into 30 individual teams and immediately given a challenge with the Helium Stick exercise.  After some frustration and multiple attempts to meet the objectives of the challenge, the team members eventually figured out the solution and also took home a message of leading by example rather than verbal directions.
Soon after, the participants wer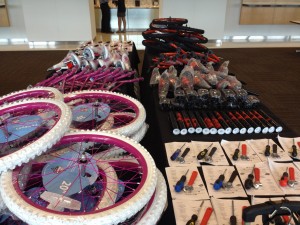 e given numerous puzzles to obtain the parts necessary to construct their bikes.  With rapid fire intensity the teams took on their puzzles in order to achieve their objectives as quick as possible.  Eventually, they came to the realization that their success lies in team work and not individual accomplishments.  Overall, the Goldman Sachs team performed to the high standards of the workshop.  The 30 bicycles which were constructed were graciously donated to the YMCA of Newark.  15 boys and 15 girls were super-excited to receive their brand new bikes.  Coincidentally, the YMCA of Newark is celebrating 30 years in existence and they were indeed grateful to receive one bike for each year of their celebration.
| | |
| --- | --- |
| | Mitesh Kapadia is the Regional Instructor for the Northeast region. He is based in New York City, but he also teaches in Newark, New Jersey, Philadelphia, and all New England Cities including Boston, Providence and Hartford. |
For details about a team building event in New Jersey, click here!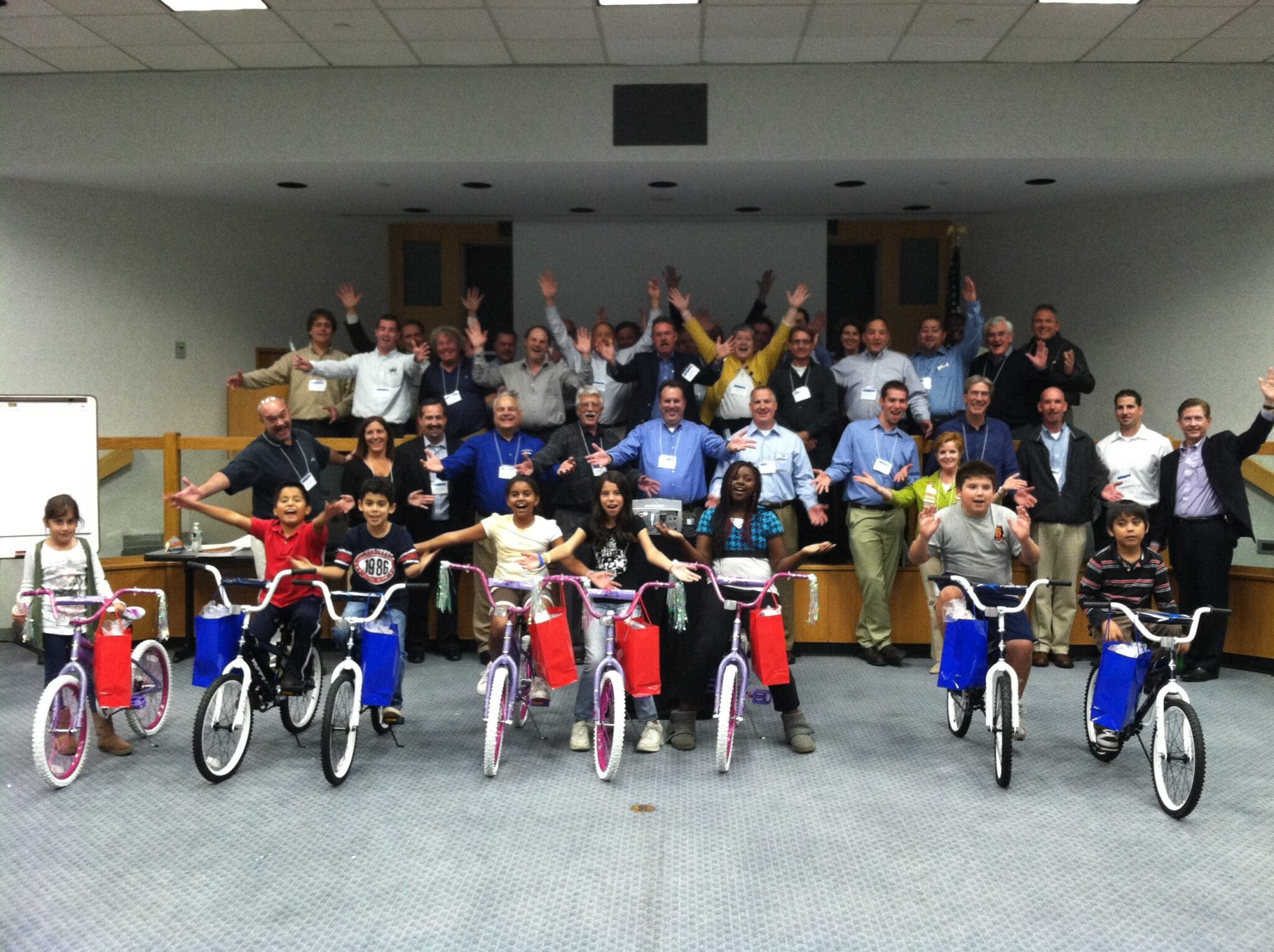 Linde hosted a Build-A-Bike workshop for its Supply, Transport and Sales Managers near Newark, New Jersey recently. This was the second Build-A-Bike event in a series of four events to be held at each of their regional headquarters around the country this fall. The Linde Group is a world leading supplier of industrial, process and speciality gases and is one of the most profitable engineering companies. Linde products and services can be found in nearly every industry, in more than 100 countries. Linde has more than 50,500 employees working in more than 100 countries worldwide. They are gathering the managers in the four regions for their annual conference, and included Build-A-Bike as a way to keep their commitment to the communities where they work by donating bikes to local children.
Build-A-Bike uses a series of challenges and exercises to encourage team building. Meant to be something of a caricature of behavior we can see in the workplace, the participants have a good time poking fun at themselves and each other as they move through the exercises together. This group enjoyed the challenges together as they brought out their competitive sides. In the end, they collaborated successfully and were able to build their bikes.
They wanted to keep the impact of this event local, so they selected an organization near Newark to receive the 8 bikes that they built. Linde works with the United Way very closely throughout the year, and they used that relationship to bring children who didn't have bikes to the event to receive the donation.
"Ellen does a fantastic job. She is super dynamic, and really gets everyone engaged and having fun during the activity." — Tracy Pelaia, Linde
Groups within an organization that want to have fun while giving back to the community and emphasizing some great team building lessons can benefit greatly from Build-A-Bike. And everyone loves to see the looks on the kids' faces when they get a brand new bike! If you want to encourage team building while giving back to your local community, consider including Build-A-Bike in your next conference.
| | |
| --- | --- |
| | Ellen Patnaude is Vice President of Instruction for the Northeast region. She is based in Detroit, Michigan, but she also teaches in Chicago, Cincinnati, Columbus, Toronto, Baltimore and other Northeast cities. |
Interested in a Team Building Event of Your Own?
Covanta Energy, a company that turns waste into energy, strengthened its team with  a Rescue Bear team building activity and put cuddly, stuffed animals into the arms of kids at Goryeb Hospital in Morristown, New Jersey (Greater New York Area).  Remember when you were four or five – a lot of things were scary.  One of the biggest, baddest, scariest things for a child, is being hospitalized.  Even the doctors who are there to help them get well, may seem like giants wearing masks.
Child Life Specialists, a sort of childs' social worker, at Goryeb hospital, work to take away the fear by walking the kids through just what will happen to them.  What a relief for Mom and Dad!  An IV, "Yes it will pinch, but this will give you medicine to make you feel better."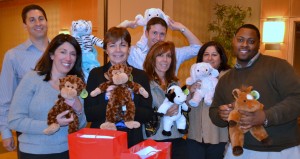 And now the hospital has a host of cuddly animals, dressed like doctors and nurses, courtesy of Covanta Energy, to help them demonstrate what will happen to them.  The animal will get the IV first.  He won't cry or even be frightened, and he is now the child's best friend.  He is there to rescue the child.  Covanta employees learned about themselves and each other.  What makes each personality type unique, and how they relate to each other.  As they learned, laughed, and figured it out, they stuffed and dressed "Rescue Bears" cows, horses, monkeys, and bunnies" for children who really need rescuing, a gentle hug from a little friend, dressed in his "doctor" or "nurse" best. with a mask like the doctors will wear.
For details about a team building event in New Jersey, click here!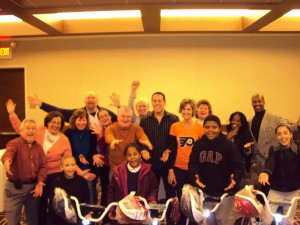 10 employees of Sodexo came together for Team Building in Atlantic City, New Jersey, for a great Build-A-Bike Team Building Event which ended with 4 children from the New Jersey Boys and Girls Clubs receiving new bicycles. The event was filled with fun activities that had the participants learning and laughing. Throughout the 2 hours there were communication and team building ideas presented both overtly and subtly. The fun activities were filled with applications that will help each of the individuals and their leadership abilities. The ideas presented weren't theories but skills that throughout the activities the participants had opportunity to put into practice.
During the Build-A-Bike Team Building Event there were many opportunities to learn great team building and leadership skills and put them into practice. It is stressed from the start of the program that it is not a competition. The idea is to support and work with one another. It is a hard concept, especially when you're divided into groups. By dividing into groups competition is almost automatic, even if it is discouraged. The problems that needed to be solved to get the bike parts were most easily solved when working with other teams. The most effective and efficient way to solve many problems is to ask others for help, but it is a hard thing to do, especially if you view it as a competition. But divisions, different locations, any thing that segments one company into many parts, can create unhealthy competition that keeps them from sharing vital information with other groups. Ultimately, the 10 participants from Sodexo realized that they were one team, not 3 teams, but one team- made up of 3 sub-groups, with one goal- to build bikes for kids. They did a fantastic job and not only did the 4 children that received the bikes benefit but so did the communities they live in.
Thanks, Sodexo, for a great Build-A-Bike Team Building Event and for making a generous contribution to families in New York and New Jersey.
For details about a team building event in New Jersey, click here!
Horizon Healthcare included a Build-A-Bike team building event in their holiday party in Newark, New Jersey recently as a way to add more energy and fun! Horizon Healthcare Innovations is a subsidiary of Horizon Blue Cross Blue Shield of NJ, created to spark a catalyst for change in the Health Care System — Improve quality, affordability and patient experience in New York and New Jersey. This team was formed about a year ago, while Horizon Blue Cross Blue Shield of NJ has been around since 1932. There were about 80 employees involved in the team building event.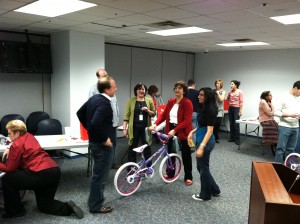 Build-A-Bike is a high-energy, fast-paced team building workshop that challenges teams to work collaboratively to reach their ultimate goal – building bikes for charity. Each team must engage in a series of problem solving quests that allows them to accumulate the parts necessary for building a complete bike. The Horizon team rose to the challenge, even finding creative ways to still reach their goal when some unexpected obstacles presented themselves! Horizon was looking to make sure that even though the members of this team often work in silos due to the nature of their specific jobs, they came together in a way that reinforced the fact that they are all part of one large team. The participants struggled at first to break out of their teams to share information and resources. But as the event progressed, they realized that they could much more successful by working together than apart.
"I am hearing over and over again what a blast everyone had today! Many thanks to Ellen and The Leader's Institute for making it such a great success! We will definitely include you in our future team building plans." — John Fuller, Horizon Healthcare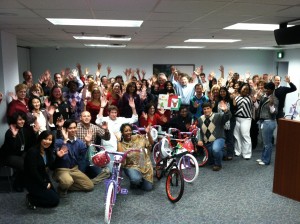 The group did not want to pull kids out of school in the middle of the day, so they chose to donate the bikes to the Boys and Girls Clubs of Newark and have an adult representative come to receive them. The 14 bikes that they built will go to children in a local community that would not have had much under their Christmas trees this years. Knowing that they will help bring smiles to those kids' faces really made the event special. The holidays are a particularly difficult time for families in need, especially when it comes to making them special for children. Including a Build-A-Bike event in your holiday party plans can help really light up the season for kids in your community! It's also a great way to reinforce the message in the workplace that we are stronger by working together than when we stay in silos.

For details about a team building event in New Jersey, click here!