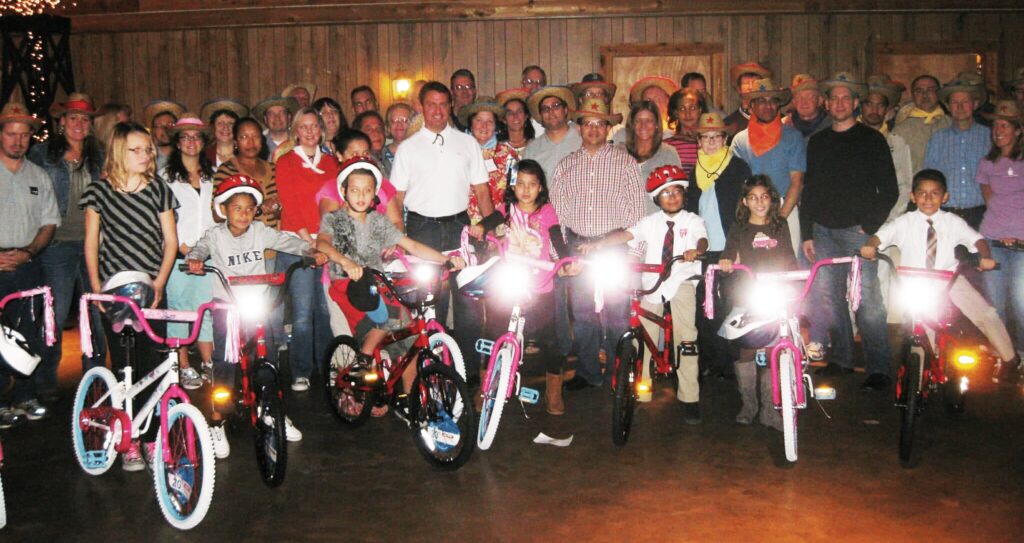 On October 22, VCE came together in Grapevine, TX at The Austin Ranch of Hilton DFW Lakes to host the Build-A-Bike ® team building exercise for their engineers. VCE, the Virtual Computing Environment Company, is an American computer integration company. Massachusetts has a rich heritage of technology innovation, including from VCE's parent company. VCE is building on that heritage with this center in Marlborough and its world-class capabilities and staff."
This group of sixty came from Marlborough, MA to experience some of the culture that Texas has to offer. The Austin Ranch conference center just outside of DFW airport was a great venue for this.
The group had dinner at a chuck wagon buffet. Cowboy Carl and his cowhands perform rope tricks during the meal. At the end of the evening, the group went outdoors for some Cowboy poetry by a campfire.
VCE Participates in a "Cowboy" Build-A-Bike ® Event in Grapevine, TX.
Build-A-Bike ® uses a series of challenges and activities to encourage team building and from the beginning, this group was very competitive. The Build-A-Bike ® is meant to be something of a caricature of behavior we can see in the workplace. The participants had a good time poking fun at themselves and each other during the event. We had a mixture of New England Patriot fans and New York Giant fans which seemed to come up a lot. It was funny to watch as they move through the exercises together.
The group had been in meetings, so they were ready to have some fun. Beverley and Dan were the organizers of the meeting. I had them help me as "judges" in the series of activities. The goal of the event was to have everyone walk away with a fulfilling experience that was fun and unexpected. We also wanted the group to get a true sense of "team".
The activities in the Build-A-Bike ® program are designed so that the participants learn team building in an experiential way. The group was broken into teams and were given tasks that cement their team identity. Ultimately they had to go beyond what they assumed was their team to accomplish their goals. Not only are the teams more effective when they work together but they are happier because of the sense of camaraderie.
If you want information about how your team can organize a "team bicycle build" click this link. For a list of all of the great team building in Fort Worth, click here.
By the end of the event, they saw that sharing information and working through problems with communication is the path to everyone winning. The YMCA of Irving brought a group of kids to accept the bikes that VCE had assembled. The kids arrived without the group realizing it and cheers were heard as the kids ran in to accept these bikes.