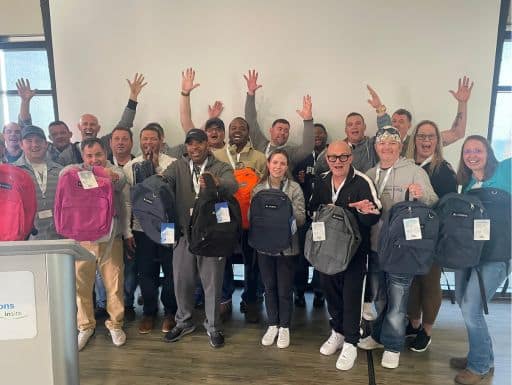 BP added an Amazing Builders team building activity to their leader development training. The team of twenty four was scheduled for a full day of training and coaching, and their organizer decided a great way to end the day would be with a charity event. The event was held at the Mascot Hall of Fame in Whiting, Indiana—not far from Chicago, IL.
BP is a global energy company originally founded in 1909. It has since grown to become one of the largest companies in the world. They operate in more than 70 countries and provide energy to millions of businesses every day. On top of their commitment to delivering energy safely and responsibly, they're also helping the world transition to a lower-carbon future that uses cleaner forms of energy.
BP Leadership Development Team Takes on Obstacle Course for Charity near Chicago, Illinois
Each year, BP identifies team members who have the potential to become executives within the company. This time, the focus was on a group of up-and-coming leaders from their plants in Whiting, IN. To ensure that they have the necessary leadership skills required for the role, BP enlisted the help of The Leaders Institute. Many of the same members from this year's group attended a Build-A-Bike® event last year. In order to switch things up, however, it was decided they'd try an Amazing Builders obstacle course, instead.
In this activity, a custom-built maze is created. Various items for charity, such as backpacks full of school supplies, are placed within the maze. Team member must then help navigate a blindfolded coworker through the maze to retrieve the items. The backpacks the teams recovered were donated to a nice group of children from the Hammond Boys & Girls Club.
We owe a great deal of thanks to BP and the Boys and Girls Club of Hammond for participating in this generous team building activity!