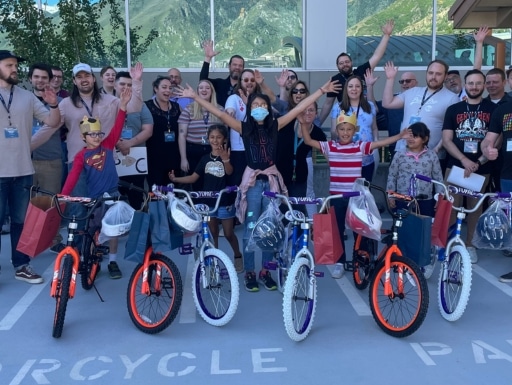 Instructure partook in a Build-A-Bike® team building event in Salt Lake City, UT. The event aimed to foster collaboration among forty team members while making a positive impact on the community. The bicycles built during the event were generously donated to the local YMCA, an organization dedicated to promoting youth development, healthy living, and social responsibility.
Instructure is an educational technology company renowned for its web-based learning management system, Canvas, and assessment management system, MasteryConnect. With a mission to elevate student success and empower teachers, Instructure strives to inspire a love for learning and create an inclusive educational environment.
Instructure's Build-A-Bike Event Strengthens Collaboration and Supports Local YMCA in Salt Lake City, Utah
The Instructure Build-a-Bike® event brought together 40 participants who were eager to work collaboratively and contribute to a worthy cause. The event provided a vibrant and energetic atmosphere for team members to engage with one another. The participants represented diverse roles within the company, fostering a sense of unity and shared purpose. Ultimately, the most rewarding part of the event came from the partnership with the local charity. The bicycles that the team built during the event were donated to a group of lucky children from the YMCA.
We extend our heartfelt appreciation to Instructure for their dedication to student success and their commitment to making a difference in the community. The donation of bicycles to the YMCA will have a positive impact on the lives of young individuals. We also express our gratitude to the YMCA for their invaluable work in nurturing youth development and creating a positive community environment.
Want bring the best out of your teams while helping the community? Join us in one of our inspiring team building games in Salt Lake City, UT!