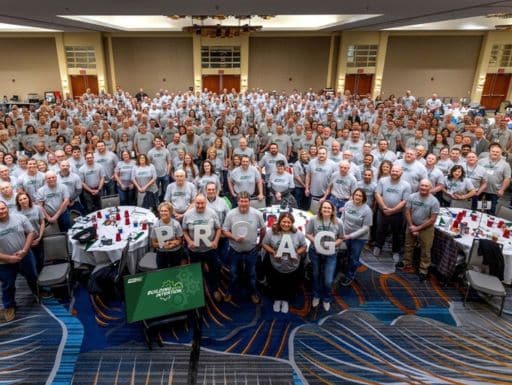 ProAg added a Build-A-Bike® charity event to the end of their three-day employee retreat in Omaha, Nebraska. This was a special occasion for them, as this was the first time that many of the employees had actually met each other in person.
ProAg offers crop insurance to farmers and ranchers, providing them with security against unfavorable market and weather conditions. Their customers know them for their prompt response and efficient claims service. No organization is more knowledgeable about agricultural risk management than ProAg.
Crop Insurance Provider Brings Huge Team to Charity Event in Omaha, NE
ProAg decided to do things a little differently this year. Normally, this three-day retreat was reserved for managers and upper management. Ever since COVID, however, they've opened the event to the whole company. For the first time in years, team members from all over the Midwest were able to come together. Until now, many of them had worked together for years but never met in person.
Due to there being over 300 employees in attendance, the Build-A-Bike event was broken up into three sessions of 120 people. Each session, made up of people from all different regions, worked hard to assemble bicycles. At the end of the event, the Boys & Girls Club of the Midlands surprised everyone by bringing in the children who would be receiving the bikes. The children made the crowd smile and shed tears with their giant group "Thank you!"
Thank you ProAg and Boys & Girls Club of the Midlands for bringing everyone together to create an amazing charity event!