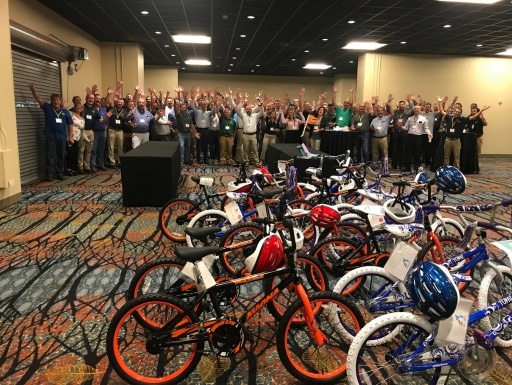 Co-Alliance LLP added a Build-A-Bike® team building event to their annual meeting in Indianapolis, IN. With over 100 attendees, the event aimed to strengthen team dynamics and foster collaboration among the participants. The event partnered with the Boys and Girls Club of Indianapolis. All in all, the team's efforts provided bicycles for 7 girls and 7 boys in the downtown area.
Co-Alliance LLP is a prominent agricultural cooperative, providing essential services and resources to farmers and rural communities. With a commitment to sustainability, innovation, and community support, Co-Alliance LLP strives to enhance the success and well-being of its members and the communities it serves.
Co-Alliance LLP builds bikes for children in need in Indianapolis, Indiana
Co-Alliance LLP met at the JW Marriott for their annual meeting. The highlight of the event was the Build-A-Bike® activity, where teams worked collaboratively to assemble bicycles. The purpose of the event was not only to strengthen teamwork and communication but also to make a meaningful impact in the community.
In line with their commitment to community engagement, Co-Alliance LLP chose the Boys and Girls Club in the downtown Indianapolis area as the beneficiary of the event. Through their collective efforts, the attendees successfully provided 7 girls and 7 boys with brand new bicycles. The joy and excitement on the faces of the children exemplified the success of the event, creating a lasting positive memory for everyone involved.
We express our gratitude to Co-Alliance LLP for their generous donation to the local community. In addition, we also extend our appreciation to the Boys and Girls Club in Indianapolis. We thank them for their collaboration and invaluable work in providing a safe and nurturing environment for children.
Ready to make a positive impact while building strong teams? Join us with one of our engaging team building games in Indianapolis, IN!